Click for Dylan Ingram Highlights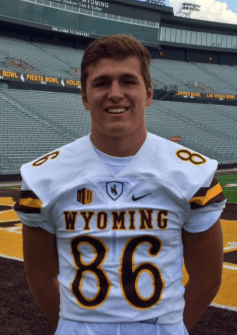 Currently ranked #2 in our 4A top ten, the Camas Papermakers are 4-0 on the season and 2017 TE/DE Dylan Ingram has had a big impact early on.
The Papermakers have gone on the road the last two week with win over Davis (Yakima) and Coeur d'Alene, but return home this week to start Greater St. Helens League play against a highly ranked Battle Ground Tigers team.
"We are very excited, there's nothing like playing at Doc Harris," Ingram told Northwest Elite Index. "The last two weeks have been four plus hour drives throwing us off our schedule so we even more excited to get back to our regular game schedule, playing in front of an amazing town, against a very tough opponent."
The 6-foot-5, 235 pounder is a three-sport athlete for the Papermakers and finished 3rd last year in the state wrestling tournament, something Ingram feels translates well into football.
"It has taught so much about balance and moving people around," Ingram told Northwest Elite Index. "I feel like I can get off blocks very well because of how I can use their body against themselves with angles.
"Along with the physical part of it, it has helped me mentally too, with that toughness never give up attitude and that competitive mindset that no one can beat me."
Ingram plays with a non-stop motor on both sides of the ball. Just size and length alone make him a recruitable D1 athlete, but his work inside the classroom, where he sports a 3.6 GPA, is just as impressive.
"Academics are very important to me," Ingram said. "I have always driven myself to perform at my best and have tried to push myself in the classroom just as much as on the field.
"I have challenged myself with three AP courses at CHS along with many science classes."
Recruiting has been slow but is surely to pick up as his film makes the rounds.
"Right now I am in contact with a couple different schools," Ingram said. "I talk to Wyoming on a weekly basis and receive mail from them quite often. I have been in touch with multiple coaches from Eastern Washington and I talk with University of San Diego often.
"I have been in touch with Portland State too, along with calls and texts from coaches at Central Washington, George Fox, and Linfield."
Knowing he needed to take to the road to get his name out, Ingram has made a few trips over the offseason and early in his senior year.
"This summer I went up to Eastern Washington and was apart of their renegade team for a day," Ingram noted. They wanted to see me live and get a better look at me. Late July I took a visit to the University of Wyoming. The coaches up there wanted a chance to see me work and show me around the campus.
"Two weeks ago I was up at Eastern Washington again, they invited me up for a game day visit. Last week I was up at Central Washington for the same deal.
"I was invited to Portland State's game on the first of October. I plan on going on more visits but no dates set yet."
Time will tell with Ingram and the Papermakers and we will be sure to keep you updated along the way.