A DIARY OF EXCELLENCE…
---
Taylor Barton
---
High School Career: As a senior, he was the Gatorade Player-of-the-Year in Oregon, when he also earned Prep Star All-America honors as the fifth-rated quarterback in the west. Super Prep also tabbed him as an All-American, ranking him as the No. 14 quarterback nationally and the third-rated player overall in the Pacific Northwest….The National Recruiting Advisor selected him on its All-America team…USA Today selected him as a honorable mention All-American and designated him as Oregon's player-of-the-year.
Prep Football Report tabbed him as a preseason All-America…A member of the prestigious Tacoma News-Tribune's Western 100 list…He also earned first-team all state and all-Metro League honors and was the Oregonian offensive player of the year…The National Recruiting Advisor ranked him as the No. 3 quarterback in the west and Athlon mentioned him as a Top Blue Chip for the Western Region…He was a second-team all-league and honorable mention all-state performer as a junior.
As a senior, he completed 233-369 passes for 4,047 yards, a 63 percent completion rate, and threw an incredible 56 touchdown passes and only 10 interceptions…The 56 TD passes was one shy of the national record…He rushed for close to 400 yards and two touchdowns, and even caught one pass for an eight-yard score…In Beaverton's four game playoff run, he passed for over 1,600 yards and 21 touchdowns….in the state championship game, a 51-48 loss to McNary, he had 592 yards of total offense, including a 26-of-41 effort passing for 450 yards and six touchdowns (the seventh TD by Beaverton was his TD reception)….As a junior, he completed 136-of-223 passes (61 percent) for 2,413 yards and 26 touchdowns, with only six interceptions.
He did not start as a sophomore, but did throw for 617 yards and seven scores…Career Numbers, 413-of-648, 63.7 percent, 7,077 yards, 89 touchdowns and 17 interceptions…Beaverton was 13 – 1 his senior year (losing in the state finals), 10 – 2 his junior year (reaching the state quarterfinals) and 5 – 5 his sophomore season under coach Faustin Riley (BHS was a triple option team his sophomore year, but they switched gears to a multiple offense prior to his junior year and he proceeded to lead the team to a 23 – 3 mark over two seasons)
He was a member of four Metro League champion teams (two in football and two in basketball)….Also lettered three times in basketball (starting point guard sophomore through senior years)…he was an all-league pick and an honorable mention all-state selection…the Beavers won the Oregon State Champion in his senior year…played for the legendary Nick Robertson…highly recruited…selected the University of Colorado over Oregon State, Washington, Arizona State, Oregon and Arizona.
College Career: Redshirted in 1998 at the University of Colorado….appeared in two games for the Buffaloes as a redshirt freshman, completing three passess….transferred to San Francisco City College where he helped the Rams become the 2000 Junior College National Football Champions…rated by SuperPrep as the nation's top-ranked junior college player…named Offensive MVP of the 2000 JC Grid-Wire National Championship game, completing 22-of-37 passes for 281 yards and three TDs in CCSF's 31-13 win over Bakersfield…started six games (alternated with another quarterback, each playing every other game), completing 62.5 per cent of his passes for 2,059 yards and 24 touchdowns, an average of 343 yards and four TDs per game…held a passer rating of 208.6…merited four of a possible five stars from Rivals. com….named first team All-Golden Gate Conference quarterback and co-offensive player-of-the-year…….honorable mention All-America. Taylor selected the University of Washington over the University of Arkansas and Oregon State University….in 2001, junior season, he completed 44 of 86 for 647 yards and 5 touchdowns….vs. USC, he was Huskies MVP, completing 11 of 20 for 197 yards and two touchdowns….against UCLA, he completed 22 of 44 passes for 316 yards and a touchdown…earning the ABC Player of the Game for the Huskies.
College Coaching Career: Taylor coached with Mike Riley at Oregon State University.
---
Jordan Johnson
---
NEI Co-Founder
Barton Football Director of Recruiting
Jordan was an all conference athlete at Beaverton High School on both the Football and Baseball field from 1995-1997. He graduated from Portland State University with a Bachelor's Degree in Public Health Education in 2004. From 2005-2007 he coached football and baseball at both Canby and Beaverton High School.
As the creator of NEI, Jordan has teamed with Taylor Barton and T12 Sports to help elevate recruiting in the Pacific Northwest. The detail put into all of the rankings is unmatched and will be used by college coaches and fans throughout the United States.
For all the latest news from Jordan you can find him on Twitter at https://twitter.com/JordanJNEI
---
Ryland Spencer
---

Publisher and Managing Editor
Washington Analyst
Webmaster
Ryland is a life long resident of Kirkland, WA and a 2002 graduate of Juanita High School. He has played, coached and now covers football. In August of 2011 he began writing a blog documenting his high school football travels.
His knowledge of the game, players and history of high school football in the state of Washington impressed Taylor Barton and Jordan Johnson so much they decided to bring him to NEI.
In 2012 he also began working for PlayON! Sports as a producer for Friday Night Football and other high school sporting events.
He is a huge sports fan and regularly attends Seattle Thunderbirds, Seattle Seahawks, Seattle Sounders and various local college events.
He enjoys traveling, especially if there is a hockey game to watch. Spencer is a life long Nebraska Cornhuskers fan and can usually be found yelling "Go Big Red". He is self described as the "Biggest Miami Marlins fan in Washington".
Ryland is currently on a quest to see every high school stadium in the state of Washington. You can follow his stadiums travels at https://www.facebook.com/wshsfs.
You can follow Ryland on Twitter https://twitter.com/RylandNEI
Any questions or comments on the site should be directed towards – Email Ryland
---
Breck Johnson
---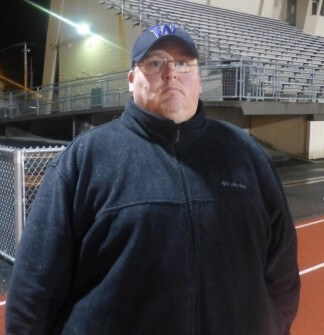 Youth Analyst
Breck Johnson has spent most of his life in the Northwest, He Graduated form Peninsula high School in Gig Harbor in 1986.
He's a coach with a decade of coaching experience, seven of those years with a Federal Junior Football program with 6 of those years as their Athletic Director/Webmaster, he is also in his third year as a Arena Football Coach.
Breck also has 10 years of playing experience ending with a injury with an ARMY Semi-pro team in South Carolina.
Breck truly believes that some of the proudest moments a coach can have is to see them go on to attend and play in college, so he's now committed to player development as a founding member and director with the Indoor Youth Football League (IYFL)
Even though he loves to watch the Seahawks, Huskies and Eastern Eagles. His favorite is watching Friday night and Saturday youth northwest football.