Ryland Spencer
Publisher and Managing Editor
Washington Analyst
Webmaster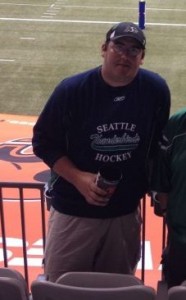 Ryland is a life long resident of Kirkland, WA and a 2002 graduate of Juanita High School. He has played, coached and now covers football. In August of 2011 he began writing a blog documenting his high school football travels.
His knowledge of the game, players and history of high school football in the state of Washington impressed Taylor Barton and Jordan Johnson so much they decided to bring him to NEI.
In 2012 he also began working for PlayON! Sports as a producer for Friday Night Football and other high school sporting events.
He is a huge sports fan and regularly attends Seattle Thunderbirds, Seattle Seahawks, Seattle Sounders and various local college events.
He enjoys traveling, especially if there is a hockey game to watch. Spencer is a life long Nebraska Cornhuskers fan and can usually be found yelling "Go Big Red". He is self described as the "Biggest Miami Marlins fan in Washington".
Ryland is currently on a quest to see every high school stadium in the state of Washington. You can follow his stadiums travels at https://www.facebook.com/wshsfs.
You can follow Ryland on Twitter https://twitter.com/RylandNEI
Any questions or comments on the site should be directed towards – Email Ryland