Ryland Spencer
Publisher and Managing Editor
Washington Analyst
Webmaster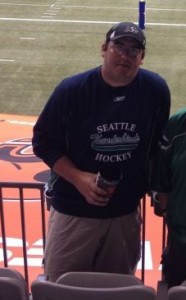 Ryland is a life long resident of Kirkland, WA and a 2002 graduate of Juanita High School. He has played, coached and now covers football. In August of 2011 he began writing a blog documenting his high school football travels.
His knowledge of the game, players and history of high school football in the state of Washington impressed the staff so much they decided to bring him to NEI.
In 2012 he also began working for PlayON! Sports as a producer for Friday Night Football and other high school sporting events. He also works on ROOT Sports football broadcasts.
He is a huge sports fan and regularly attends Seattle Thunderbirds, Seattle Seahawks, Seattle Sounders and various local college events.
Spencer attends over 50 high school football games a year. Between 2012 and 2016 he attended 270 total games.
Ryland is currently on a quest to see every high school stadium in the state of Washington. You can follow his stadiums travels at #/wshsfs .
You can follow Ryland on Twitter #/RylandNEI
Any questions or comments on the site should be directed towards – Email Ryland