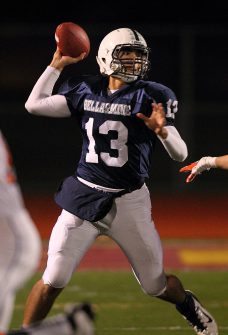 As a junior he's made a name for himself, leading Bellarmine Prep (Tacoma) to the top ranking in the NEI polls and an undefeated regular season before falling to state runner-up Skyview (Vancouver). As a sophomore he led the Lions to the State 4A Semi-Finals where they lost to eventual state champion Ferris (Spokane).
With his productivity — 4,800 yards and 44 touchdowns with only 15 interceptions — the past two seasons as well as his ideal size (6'4″, 215) and athleticism, Liufau already has been hearing from schools across the country including the Pac 12, but unlike fellow junior Max Browne from Skyline (Sammamish) he has yet to see an offer roll in.
"I don't have any offers yet, but I'm getting a lot of letters and I've been talking to a few schools so far," Liufau told NEI recently. "Alabama has been sending me stuff recently and I have UCLA, Mississippi State, Oregon State, Oregon and Washington State all sending me stuff.
"I haven't heard from Washington yet, but it's still pretty early and I'm just going about my business."
Over the offseason, Liufau worked on his footwork and mechanics and said he's really started clue into studying film too and that helped him make some throws this season that were much more difficult for him as a sophomore in 2010.
"I worked a lot with Jack Thompson on all of my mechanics and it made some of my throws a lot easier this year," Liufau said. "Things really slowed down for me this year and I saw things better. I felt like I personally really improved, but we just didn't go as far as a team as we wanted to."
In addition to his exploits on the gridiron, Liufau is also a top-notch basketball player, filling the power-forward role for the Lions, averaging 12 points and 11 rebounds so far this season.
Liufau as well as fellow junior teammates Isaiah Flynn and Calvin Chandler will head down to San Antonio for the Army All-American Combine to be held on Friday, January 6th and then he plans to take part in several camps and combines this spring, but is unsure which ones will get him to attend.