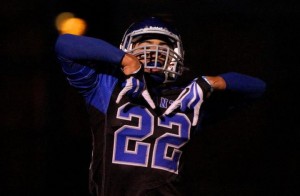 *This game will be played on OSAA.TV and Playonsports.com for all those wanting to watch the contest over the internet
GRANT
QB
Sam Davis 5-11 170 Jr.
*The junior had an outstanding first game as the starting QB for the Generals going up top to Nathan Halverson, and breaking multiple school records while dropping 42 points with multiple scores called back. He's not a big kid but very talented.
RB
Bryant Peek Jr. 5-10 175 Sr.
Dominic Penn 6-1 190 So.
*Peek was a first team all league kid last season and started the year out on a good note. He's kind of the under the radar, because he didn't do much in the off season but he is a good back. Domo is the brother of PSU quarterback Paris Penn and one of the most talented young athletes in the area
WR/Slot
Nathan Halverson 5-11 175 Sr.
Cordell Harris 5-7 155 Sr.
Ryan Robertson 5-11 165 Sr.
Kyrell Bishop 5-10 180 Sr.
Lynn Owens 5-5 165 Jr.
*Halverson is committed to SMU and is one of the top players in the state. He broke multiple school records in the season opener with 12 receptions for 244 yards and 3 Tds, not to mention an 82 yard kick return. Expect Halverson to be double teamed and Harris to be a solid second option out of the slot.
OL
Taeve'on Ashley-Thompson 6-4 270 Sr.
Jordan Smith 6-1 220 Sr.
Nick Alvey 5-8 220 Jr.
Max Glicker 6-1 185 Sr.
Ta'aste Cross 5-8 260 Sr.
*A senior dominated up front cast lead by two time all conference lineman Taeve'on Ashley-Thompson who has been a solid leader for the last couple of seasons. Jordan Smith also brings back legit experience, and Cross is undersized but tough.
DL
Caleb Wells 6-7 250 Sr.
Taveon Ashley 6-4 275 Sr.
Ta'aste Cross 5-8 260 Sr.
Nick Hudlow 5-10 220 Sr.
Jaylen Lincoln 5-11 180 Sr.
*The Generals are looking to make some adjustments as Centennial did what they wanted against Grant last Friday. Changes were made and they should be well prepared this week
LB
Brandon Redeau 5-8 205 So.
Dominic Penn 6-1 190 So.
*A young couple of LB's that have talent but are still learning to read at the Varsity level. Centennial's misdirection was tough to anticipate, but both of these kids will do well moving forward and should have a big day against Jeff
DB
Nathan Halverson 5-11 175 Sr.
Kyrell Bishop 5-10 180 Sr.
Cordell Harris 5-7 155 Sr.
Isaiah Pernell 5-11 170 Jr.
Mikale Carter 5-11 175 Sr.
*Halverson is one of the most talented athletes in the state and will most likely be locked up on Brown for most of the evening as one of the region's top corners. Bishop is a baller and earned 1st team all league honors a year ago. Harris, Pernell, and Carter are all very capable and the Generals DB's are a strong point
JEFFERSON
QB
Deven Jackson 6-1 190 Sr.
*Jackson is a very athletic two year starter, looking for a big senior year. He's a really good kid that loves the game but hasn't really been able to thrive in the system with so many changes over the last couple seasons
RB
Troy Frison 5-10 170 Sr.
*Frison will split time with a host of backs, but has done a good job while in the backfield.The team loses 2nd team all league RB Richard Ramsey who transferred to Milwaukie this season.
WR/Slot
Kendall Fletcher 6-1 170 Sr.
Jamarte Brown 6-2 220 Sr.
Kelsie Turner 5-9 170 Sr.
*Brown's a big target that can play ball and really create matchup problems if used right. Look for him to be a primary weapon with Fletcher and Hunter being primary targets as well.
OL
Jalean Webb 6-0 260 Sr.
Joshawn Woods 5-10 260 Sr.
Treyvaughn Brazile 6-1 270 Sr.
Larry Brister 6-0 210 Sr
Junior Tulumolu 6-1 250 So.
* Webb is one of the toughest and most talented two way lineman in the PIL and they will need his leadership, while Junior is a big strong powerful sophomore that will be called upon to do a lot things from a young age.
DL
Jalean Webb 6-0 260 Sr.
Treyvaughn Brazile 6-1 270 Sr.
Junior Tulumolu 6-1 250 So.
* Webb is tough for anyone to stop so once again look for him to use his overall athletic ability and wrestling talents to get in the Generals backfield.
LB
Haszell "BamBam" West 6-0 175 Jr.
Laquan Sanders 5-9 170 Sr.
Kasseem McClendon 5-10 175 Jr.
* West "BamBam" is another hard hitting backer that is also a talented wrestler and is someone to keep an eye on. Sanders will be another kid that could step up and be a factor.
DB
Troy Frison 5-10 170 Sr.
Kelsie Turner 5-9 170 Sr.
Kendall Fletcher 6-1 170 Sr.
* Turner is a quality DB and competed and did well at our elite events. Expect him to be keying on Halverson most of the game and Fletcher and Frison to contribute.
Summary:
Grant is going to be a team that we see improve over the season as they lost three big time D1 athletes from a year ago in Paris Penn, Daniel Halverson, and Jamar Graves all at Portland St. Nathan Halverson is the real deal and played on our NEI-North team that traveled to Vegas for the national 7 on 7 tournament. In week 1 he broke the school record for receptions (12) and receiving yards (244) in last weeks 49-42 controversial loss to Centennial. Head Coach Diallo Lewis is one of the most respected members of the northwest coaching community and always has his guys ready to go.
Expect junior quarterback Sam Davis to be looking Halverson's way once again, but probably using other targets as well. The Demo's lost to 21-14 to Woodburn last week in a tough season opener. Grant has an experienced senior offensive line, but had a terrible time stopping the same consistent traps from Centennial a week ago. Expect to see changes made defensively by Grant, and new Jefferson Head Coach and former Oregon Duck Aaron Gipson to mix up his play calling.
Two of Oregon's top athletes in Richard Ramsey and Vontrelle Mills transferred over the off season, leaving a couple gaping holes for Jeff from a year ago. Jalean Webb should be considered the teams top overall player as his skills coming off the ball are nice. If Jeff wants to compete they will have to cut out penalties and mix in some trickery. Grant had 15 penalties a week ago for 165 yards and they will have most definitely have to reduce that as well.
There is no love lost when these two rivals play so expect a battle regardless of the outcome. Grant has been a traditional power in Portland and should respond well as Coach Lewis knows what it takes to win.
PREDICTION: Grant 42 – Jefferson 16