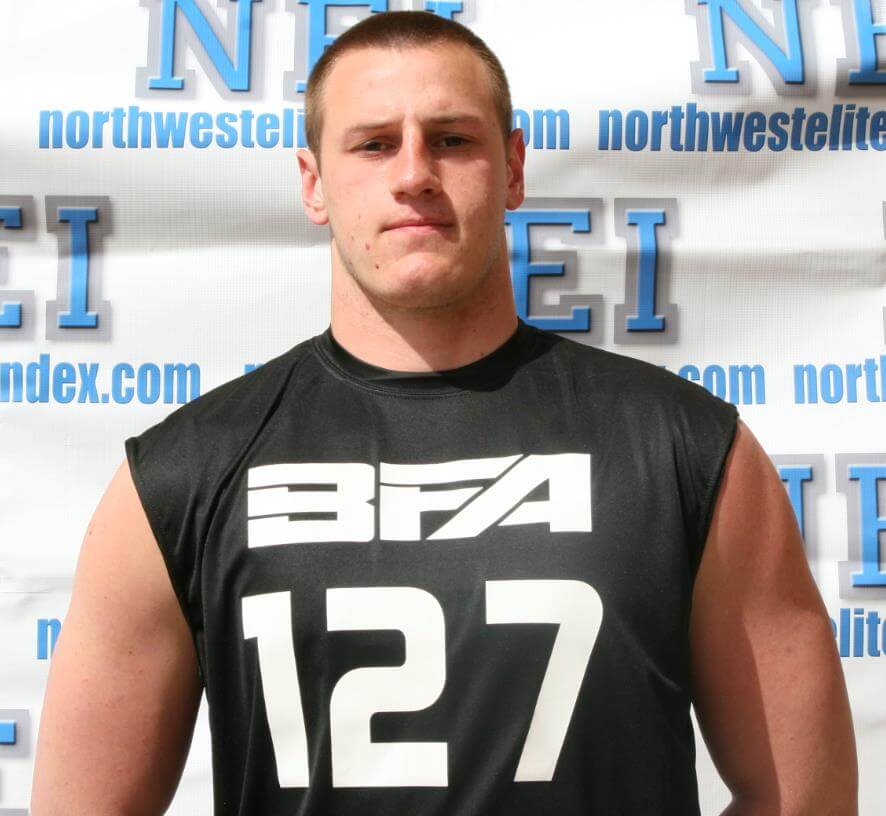 The Region's #1 ranked junior D Lineman, Connor Humphreys (6-4 245 Jr. DE) of Central Catholic, is the only underclassmen with offers other Tanner Sanders and Cade Smith in Oregon right now. Humphreys comes off the end as hard as any kid we have seen and is extremely athletic, being very mobile for his size.
Thus far both Wyoming and Portland St have offered, and he is humbled by the early attention he has gotten. " Mail has really started to pick up and I feel good about where I am right now", Humphrey's said. " We want to be the first team to ever win the conference title 5 years in a row, and the ultimate goal is obviously a state championship".
Humphreys currently sits with 6.5 sacks and a bunch of other complimentary statistics that show off the type of player that he is. Connor was a fixture on the NEI/Barton Camp and Combine Tour and he didn't disappoint. He upped his stock in front of a bunch of D1's at the UW Showcase Event, as this is going to be a big off season for him on the recruiting front.
Before any of the personal stuff Connor is focused on the season. "We got Gresham who is 5-0 and they are going to be tough with Devauntae (Hoffman) playing so well, so we are preparing for them this week", Humphreys said.
Central has some ridiculous overall talent and is a legitimate state title contender. The senior class is complimented by a quality junior group that up ended #1 Jesuit a week ago. " Dallin (Leavitt-NW Top safety) is a leader and makes everyone step there game up, and Xavier (Griggs LB) is underrated even though he has D1 offers", Connor added.
Aidan Wilder, Aaron Washington Jr., Ryan Nall and Chase Cole are four of the better juniors state wide, and the Rams have a shot moving forward. Head Coach Steve Pyne does a great job, as Connor will be another high profile kid to come through the CC system.
Connor says, "Personally I would like to be an Army All American, and I am going to work as hard as I can to make that happen". Humphreys MVP'd one of our regional combines in the off season, and was one of the only underclassmen in the northwest to do so. He is on a host of recruiting boards and is a great kid to boot. He has a 3.2 GPA at the private school and also works in his off time. Connor's the type of kid that you want to root for, as he doesn't expect anything to be handed to him. He is willing to go out and work for everything that he earns, and that attitude resonates with everyone around him".
When referencing Humphrey's one of the country's top safeties Dallin Leavitt says, " He's a player, there's no doubt about that.. He's an extremely hard worker and you can tell he wants it by the way he works in practice, the weight room and in classroom". He continued, " Connor's always positive and one of those players at practice that makes you feel like you are playing on another level…You know he is D1 just when talking to him".
We look forward to following Humphreys and this very talented Ram team for the remainder of the 2012 season, and we wish Head Coach Pyne and the entire Central group continued success.
(Top D Lineman #54 Connor Humphreys, with one of the state's top junior backers in Ryan Nall 6-3 220 #34)