*This game is being featured as a Game Of The Week and you can find the online broadcast at WIAANetwork.com . When the game ends it will be archived and available to view within the hour. This is a free service presented by PlayOn! Sports.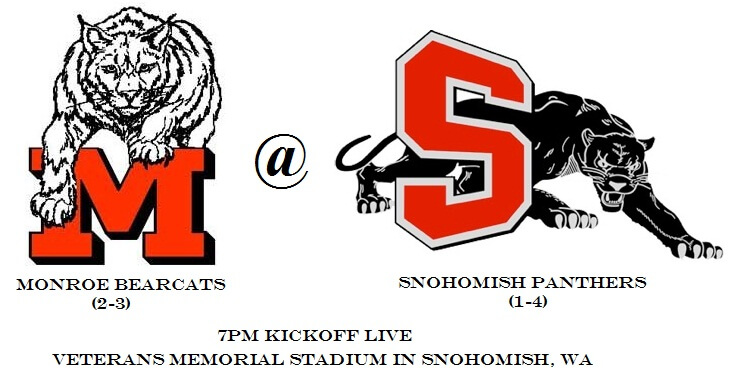 QB
Advantage: Even
Both teams start senior QBs who do more handing off than throwing. For Snohomish it is Kyle Gionet (6-0 170) while the Monroe Bearcats counter with Mitchell Price (6-2 175). Both teams have Jr backups that have seen very little time in Mike Sanders (5-7 145) of Snohomish and Hunter Bingham (5-10 170).
RB
Advantage: Monroe
No bones about it running games is what both teams throw at you. Their starter is listed as Jr Gabe Moore (6-1 180), but through three games the Monroe Bearcats were actually led statistically by backup Max Blais (Jr, 5-11 185) who had 340 yards rushing and 2 TDs. Moore wasn't far behind with 284 yards on 64 carries. Both players were rushing about about a 4.5 yard average. Snohomish is led by a three headed monster in Riley Herzog (Sr, 5-10 165), Russell Crippen (Sr, 6-0 210) and Garrett Sitch (Jr, 6-1 200).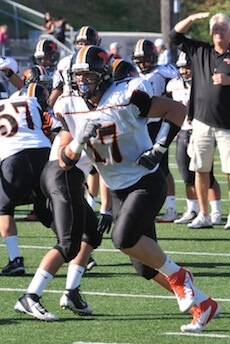 WR/TE
Advantage: Monroe
I give Monroe the advantage here based almost solely on the fact that I think so highly of Sr. TE Dylan Judson (6-4 225). Judson does more blocking than receiving because of the offense. If he played for a team that utilized the TE position more as a receiving option, he would be a household name. At WR for the Bearcats is some experience in Peter Kampmann (Sr, 5-10 165), Jake Dimmagio (Sr, 5-10 180) and Robbie Schabb (Jr, 6-2 175). The Panthers do have some size as well with Sr. TE Kyle Yeomans (6-3 210), but the rest of the receivers are smaller with Ben Johnston (Sr, 6-0 170) being by far the biggest.
OL
Advantage: Even
Both teams are a bit undersized on the offensive line. Straight across the board Snohomish features all underclassman in Nathan Jacobson (So, 6-4 220), Josh Sharpe (Jr, 6-2 205), Spencer Lipke (Jr, 5-11 220), Justin Kearney (Jr, 5-11 197) and Alex Fairhurst (So, 6-2 220). The Bearcats do have a couple seniors so you could give them the slight edge based on having more experience. More from left to right is Lucas Waller (Jr, 6-3 190), Brennan Brown (Jr, 5-11 190), Tanner Lippincott (Sr, 5-10 235), Alex Vidican (So, 6-0 185) and Jacob Cogar (Sr, 6-4 220).
DL
Advantage: Even
I could give the advantage to Monroe here because I like their size against the Snohomish OL. I think this will be a key to the Bearcats winning the game. Tanner Lippincott is the anchor on both sides of the line and should have a big game. Alex Vidican and Jacob Cogar also start both ways while Mitchell Johnson (Sr, 5-10 220) rounds out the front four. The only Panther that starts both sides of the line is Josh Sharpe. Ty Carlson (Jr, 6-0 200) and Tristian Baus (Jr, 6-1 210) are nice peices, but is is Josh Belford (Sr, 6-5 255) that makes this matchup even.
LB
Advantage: Monroe
I really like the Bearcats LBs. They are all well rounded football players Dylan Judson, Jake Dimmagio, Game Moore and Hunter James (Sr, 6-0 195). It's not that I don't like the Snohomish LBs in Kyle Yeoman, Tanner Perry (Sr, 5-9 ), Isaac Meyer (Sr, 5-6 170) and Jake DeHann (Sr, 6-3 210), but the all around speed, size and athleticism of Monroe will be too much.
DB
Advantage: Even
Both teams feature mostly two way players at their 3 DB positions. The one exception for Snohomish is CB Boomer Vuori (So, 5-9 170).The Panthers also play Russell Crippen at Safety and Ben Johnston at the other CB position. For the Bearcats the exception is backup QB Hunter Bingham who plays the Safety position. On the corners for Monroe are Mitchell Price and Peter Kampmann. You will also see Robbie Schabb and Shayden Mixayphone (So, 5-10 160).
Outlook
I don't see many scenarios that have the Panthers coming out on top. It is homecoming which should have the boys fired up. I just think the physicality of the front 8 on the Monroe defense will be the difference between Snohomish scoring points or not. Monroe will put up points, probably not a ton, but enough to win.
Prediction
Monroe 28 – Snohomish 14