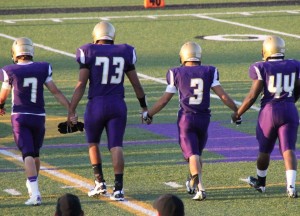 Oak Harbor is a program that comes in ranked #8 on our NEI Top 10 (3A) Rankings in the State of Washington. The Wildcats sit at (4-1) and run the Wing-T in what amounts to a roster full of pretty talented kids. Most of the athletes come from Naval families, and you can't help but appreciate how well spoken and focused the military kids are.
The offensive makeup obviously exploits the run game, but that doesn't mean there aren't athletes all over the field. They don't play in the toughest conference, but all of the kids have bought into the team concept and take pride in the fact that they are a close knit group.
QB Ian Kolste (6-2 170 Sr.) is a super talented kid that we saw on the camp circuit during the off season. He's been efficient throwing the ball hitting on 53 % of his passes with 7 Tds to 2 Int's. He's probably one of the more underrated quarterbacks in the region, and a kid we will keep an eye on.
There's a healthy balance of skill position players that take their turn getting the rock. There are 17 athletes that have run the ball this season, so to say they do it on a committee basis would be accurate. The top rushers include senior's Fred Webster (5-11 225 FB) and Isaiah Thrower (5-9 165 RB) who both have done an outstanding job thus far. Webster leads everybody carrying the ball 81 times for 522 yards and 7 Tds, while averaging 104.4 yards per game. He is your power back, where Thrower is more of your speed guy. He is averaging over 12 yards per touch, rushing for 350 yards on 28 carries and 4 Tds.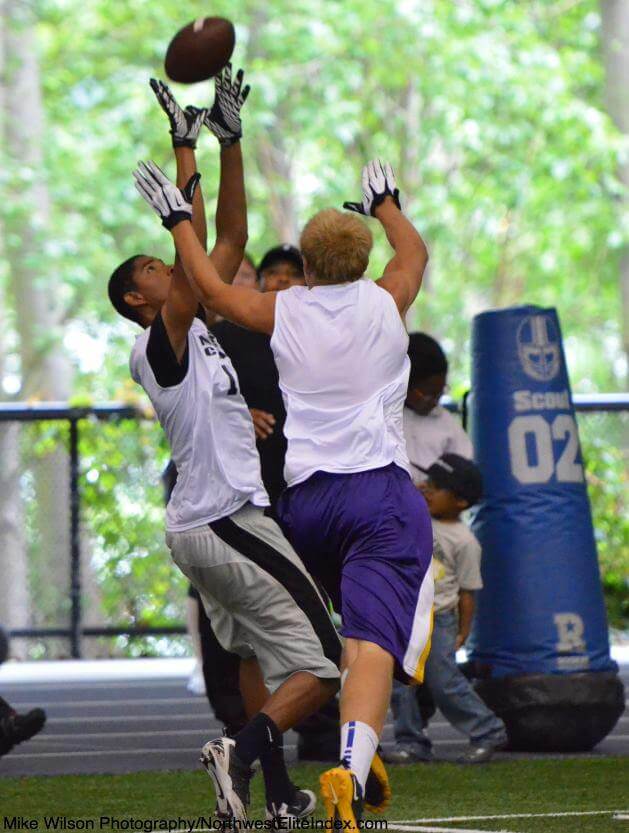 The running game will remain the bread and butter of the Wildcats attack, but they have a couple talented receivers that have legit college ability. JoeJoe Webster (6-1 170 Sr.) leads everyone with 17 catches for 353 yards and 5 Tds through 5 games. These are extremely impressive numbers considering its a Wing-T attack. Both he and his brother (Fred) have very bright futures moving forward.
Andre Cumberbatch (6-2 170 Sr.) is the other athlete offensively that doesn't have big numbers, but has a huge upside and was impressive on the NEI/Barton camp and combine tour in the off season. Dre has two catches for 37 yards and a TD, but more importantly is a student of the game and your ultimate team guy. The reason Oak Harbor is one of the better teams in Washington are due to kids like this. Andre says, " none of us are worried about stats, we just want to work hard everyday and make a deep run in the playoffs".
The up front cast is lead by one of our favorite Washington athletes in Dayne Herron (6-4 270 Sr. OL), who was a fixture out our elite events in the off season and really put himself on the map. You would be hard pressed to find a better kid than Dayne, as he epitomizes everything that is good about a student athlete. Kudos to all of the families within the Oak Harbor system, who have instilled such a positive environment for these athletes to grow.
Dakota Sinchak (5-9 160 Sr. RB/DB) and Jon Lanningham (5-8 195 Sr. LB) are two of the other seniors who have played a prominent role in 2012. Sinchak has been one of the league's best both offensively and defensively rushing 18 times for 95 yards and a Td, with 30 tackles on the defensive side of the ball. Lanningham leads the team in tackles (30) and sacks (3.5), and is a defensive stopper that has come up big time and time again.
Jeremy Foster (Sr), Sheyenne Sams (Jr), and Julian Faralan (Jr) are three names you will hear often. A kid we really like moving forward is talented sophomore Dejon Devroe (5-8 150 So. ATH), who is going to be one of the better skill players in the state of Washington over the next couple of seasons.
It is looking like Oak Harbor will finish the regular season strong and be one of the better teams at the 3a level going into the playoffs. The entire Wildcat coaching staff deserves a great deal of credit for running a class program, as its a group the community can be proud of. We look forward to following these athletes into the post season, and will give you updates as they happen.