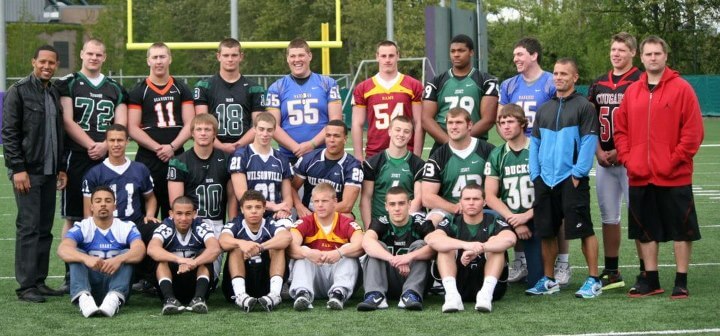 6A
| | | |
| --- | --- | --- |
| Week 1 | 23-2 | |
| Week 2 | 18-7 | |
| Week 3 | 17-5 | |
| Week 4 | 15-7 | |
| Week 5 | 17-4 | |
| Week 6 | 19-2 | |
| Week 7 | 17-5 | |
| 2012 Season | 126-32 | 79.7% |
2011 6A RECORD 83%
6A TOP 10 PREDICTIONS
#1 Sheldon (7-0) @ Thurston (4-3) – The Colts will probably be the best team that Sheldon plays all conference season. Thurston's Coach Starck has done a phenomenal job with not a lot of returning starters. They beat Crater 33-10 last week which was impressive, but the Irish have just continued to get better and you can bet Connor Strahm and company will look to trounce the crosstown rival. (Sheldon 47 Thurston 17)
Lakeridge (2-5) @ #2 Lake Oswego (7-0) – What can you say? The Lakers have won 21 straight games and done it in impressive fashion. They probably have the top defense in the state and the Pacers have been up and down. This is a rivalry game so expect Lakeridge to show up and play well but LO is really good. Sr's Justen Ruppe (QB), Connor Griffin (WR), and JB Holmes (RB) have really stepped up offensively.
Barlow (2-5) @ #3 Central Catholic (5-2) – Central's D had been lights out the past month pitching two shutouts in 4 games and only allowing 7 to Jesuit.. Aidan Wilder has done a great job leading the offense with WR's Lawrence Wilson and Beau Duronslet having outstanding seasons.. The Rams will roll this week (CC 38 Barlow 7)
#4 Aloha (7-0) @ #7 Jesuit (5-2) – So many thoughts..Where to start? Jesuit rarely loses back to back games, but not having AJ Glass is a factor. The Warriors have played close games against almost everybody (Lakeridge, Grant, Sunset). The Crusaders will do their best to make someone else other then Tyner beats them, as you can expect Jesuit to have a spy on him at all times. They will hit him in bunches and make sure he feels each carry..That said it's Thomas Tyner so its always possible he could go off.
Probably the most intriguing aspect to the game will be the line play. Brayden Kearsley is one of the best lineman to ever come out of Oregon and Mike Kluge is a defensive force and a legit D1 kid even at 5-10. The Crusaders will have their chance to prove that all the D1 athletes up front, lead by UW Commit Andrew Kirkland can beat a team with an equally talented up front cast. (Jesuit 27 Aloha 26)
#5 Tigard (6-1) @ Newberg (1-6) – Tigard's just getting better dropping 80+ on Hillsboro last week after throttling a good Tualatin team 41-0 the week before. Newberg is going the opposite way losing to a win less Forest Grove team last week. (Tigard 60 Newberg 7)
#6 Southridge (4-3) @ Westview (2-5) – Southridge has talented kids all over the field, and they showed that they can beat anyone with last week's 26-21 upset of Jesuit. NEI's #1 ranked Jr WR Jordan Morgan has continued to go off adding two more clutch Tds (82 kick return, 54 td reception) in last weeks win giving him 10+ for the season. (Southridge 35 Westview 13)
Tualatin (6-1) @ #8 Century (6-1) – I think the Jags offense is going to put up points regardless of who they play. Tualatin has tradition on their side, but this is the best Jaguar team in school history and the T Wolves will have a tough time putting up enough points to get the W. (Century 37 Tualatin 27)
South Salem (4-3) @ #9 West Salem (6-1) – The Titans control their own destiny and they will have to beat a much improved Saxon team that has been playing very well. There will be no love lost in this contest. West Salem basically grabs another conference title with a win, but South's Jaylynn Bailey and Jr. Jacob Benton have gone off scoring another 3 Tds each last week. (West Salem 31 South Salem 29)
#10 Sprague (6-1) @ North Salem (0-7) – The Oly's may be the most dangerous team state wide that I could see people sleeping on. They are a very talented senior based group lead by Devvon Gage, Austin Wilson, John Marshall, and a host of other all league seniors. This will be over by half. ( Sprague 54 North Salem 6)
Other 6A Scores
| | | | | |
| --- | --- | --- | --- | --- |
| Score | Visitor | – | Home | Score |
| 28 | Clackamas | @ | Oregon City | 33 |
| 26 | Centennial | @ | Lincoln | 30 |
| 27 | Forest Grove | @ | Hillsboro | 13 |
| 25 | Glencoe | @ | McMinnville | 31 |
| 31 | Grant | @ | David Douglas | 24 |
| 26 | McNary | @ | McKay | 23 |
| 26 | Reynolds | @ | Gresham | 33 |
| 21 | Roseburg | @ | Grants Pass | 28 |
| 10 | South Eugene | @ | Crater | 42 |
| 38 | South Medford | @ | North Medford | 14 |
| 21 | West Linn | @ | Canby | 36 |
| 20 | Beaverton | @ | Sunset | 28 |
5A
| | | |
| --- | --- | --- |
| Week 1 | 16-7 | |
| Week 2 | 15-4 | |
| Week 3 | 17-5 | |
| Week 4 | 15-5 | |
| Week 5 | 18-2 | |
| Week 6 | 20-1 | |
| Week 7 | 18-1 | |
| Season | 119-25 | 82.6 % |
5A TOP 10 PREDICTIONS
Sandy (3-4) @ #1 Sherwood (7-0) – The Bowmen are just good..That's all you can say. They beat a good Wilsonville team 35-14 last week and also beat a Marist team that hadn't lost a regular season game in 4 years a few weeks back. They are definitely the team to beat at the 5a level and Sandy has been struggling. (Sherwood 53 Sandy 17)
#2 Silverton (7-0) @ #10 Crescent Valley (5-2) – The Foxes defense is super legit and they have dominated teams without a fluid offense. CV has some of the best athletes in the state on its roster but hasn't blown out teams like (Lebanon, Dallas, South Albany) which raises eyebrows. Silverton is a really good 5a team, but will get CV's best on Friday. (Silverton 28 CV 10)

#3 Marist (6-1) @ #6 Springfield (6-1) – No Kamerun Smith makes this a completely different Marist team. He will be out this week, while Springfield is the real deal with their only loss coming to #2 Silverton by 2 pts to start the season. With Smith playing I would take Marist by a couple Td's, without him I will take Springfield by two at home in what could be the biggest win in school history (Springfield 24 Marist 22)
Lebanon (3-4) @ #4 West Albany (6-1) – The Bulldogs drop 50+ on most everybody and the Warriors of Lebanon are down a little bit this season. Lacoste will go for over 200+ again and West Albany should roll (West Albany 46 Lebanon 14)
#5 Wilsonville (5-2) @ Liberty (1-6) – The Cats of Wilsonville will take out some frustration from last week's loss to Sherwood on Liberty. This game will be over by half as Wilsonville be a legit threat in the playoffs. (Wilsonville 50 Liberty 13)
#9 Redmond (7-0) @ #7 Mt View (4-3) – One of the best games of the week, as the defending state champs from Bend are playing their best ball of the season. Chad Bach and John Carroll lead a talented group with two losses to Top 10 6a teams (#8 Century, #10 Sprague) and #5 Wilsonville…Redmond has 33 seniors and a host of all league kids on their roster, but have played 4 (4a) teams which puts the competition question into play. This is not to take anything away as they are a good football team, but they will get a huge test this week. (Mt View 35 Redmond 27)
#8 Hermiston (4-2) @ Hood River (5-2) – Hermiston is playing as well as anybody in the state and have played some impressive ball this season. Hood River has done well beating a decent Pendleton team on the road last week, but the Bulldogs are legit beating up a Southridge (WA) team.. There 35-28 loss to #1 Sherwood speaks to their potential. (Hermiston 35 HR 20)

5A Other Scores
| | | | | |
| --- | --- | --- | --- | --- |
| Score | Visitor | – | Home | Score |
| 31 | Ashland | @ | Willamette | 17 |
| 17 | Dallas | @ | Corvallis | 32 |
| 34 | Franklin | @ | Benson | 14 |
| 7 | Jefferson | @ | Roosevelt | 44 |
| 14 | Marshfield | @ | Eagle Point | 42 |
| 29 | Milwaukie | @ | Rex Putnam | 31 |
| 14 | North Eugene | @ | Churchill | 34 |
| 30 | Pendelton | @ | The Dalles | 16 |
| 43 | Ridgeview (4A) | @ | Cleveland | 12 |
| 34 | South Albany | @ | Woodburn | 14 |
| 27 | Summit | @ | Crook County | 21 |
| 41 | Wilson | @ | Madison | 13 |