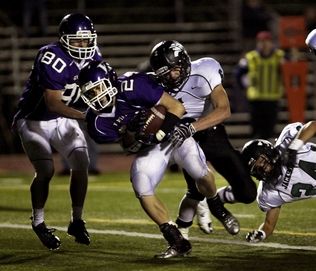 Turning our focus toward some of the top in-state players for the 2014 class (prospects who are juniors this year), one player who wasn't on our radar at the beginning of the season, but who has definitely staked a claim as one of the top tailbacks in the state that year is Kamiak (Mukilteo) RB Austin Hall, a -11, 175-pounder who has already racked up over 1,300 yards and 16 touchdowns while helping to lead his to a winning season.
"We're just having fun as a team," Hall told Northwest Elite Index recently. "We like playing with each other, we all compete hard all the time and I feel like some people have underrated us, so we sorta have played with a chip on our shoulder for a lot of the year."
Hall runs really well between the tackles, using his outstanding vision and his ability to run behind his pads to his advantage, however, he said he prefers to get outside to use his speed.
"I guess, if I had to choose one, it would probably be running outside," Hall said. "It's mainly just because I like to get into space and use my breakaway speed. I run a 4.6 forty, so it doesn't seem like I'd be that fast, but when I get on the field, I feel like I play faster than that and no one catches me."
"Austin is a great kid and a great leader for us," Kamiak head coach Dan Mack said earlier this season. "He's really talented, he's a good student and overall he's just a great kid so he's the ideal player and teammate."
As far as recruiting, Hall is still in the infancy of his recruitment, but he has heard from a few schools.
"Mostly I've just gotten letters," Hall said. "Most of them are from Utah State, Colorado, Missouri and Arizona State. I know it's still early and honestly, I'm not worried about it. I just want to focus on my season, my team and also just making sure I'm doing what I need to do."
Hall and his teammates play Snohomish on Friday for their cross-over game and their hope is that they get the win and finish the regular season with a 5-4 record.