For all the latest news on athletes in the NW you can follow us on Twitter. Taylor Barton ( @TaylorBarton12 ), Jordan Johnson ( @JordanJNEI ), Ryland Spencer ( @RylandNEI ) and NEI ( @NWEliteIndex ). You can also find us on Facebook by giving us a *Like* at NEI Facebook .

http://www.hudl.com/athlete/1302241/highlights/20706952 Nick Underwood HUDL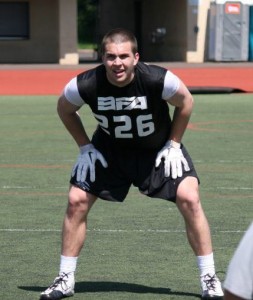 One of the top linebackers in the entire Northwest, Nick Underwood (6-1 215 Jr. LB/RB) of Lake Oswego, has yet to lose a Varsity game in the last two seasons. He was an all league LB on last years (14-0) state title team, and has helped the #2 Lakers go (9-0) so far this season.
Underwood is as dedicated a football player as you are ever going to come across. He's the poster boy for the type of athlete that you want your daughter to date, as he's an even better kid than he is a linebacker.
Nick's speed, size and overall football smarts put him on a different level then most athletes. We have him ranked the #2 linebacker state wide for the 2014 class, as he is a legit D1 prospect. He is very comparable to our #1 ranked Jr backer Joey Alfieri of Jesuit. Underwood has division one genes and a high ceiling.
The Lakers have one of the top defenses on the west coast after a #14 National ranking by USA Today last season. Its rare for any sophomore to get all league recognition out of LO, because they are usually so deep most kids don't play until their junior year. After winning the state title Underwood showed up at our elite events , and killed it against top competition. Nick says, "My overall goal as of right now is to help my team win another state championship… In the long term I hope to have the opportunity to play D1 ball somewhere, and I will do whatever it takes to make both of those goals a reality".
Underwood plays with some of the top seniors in Oregon such as Mitch Lomax, Austin Faunce, and Jack Anderson and he feels grateful for all of his teammates. " You couldn't play with a better group, they all help me work to be the best I can be". Nick also trains year round and has some of the top testing times of any athlete in the state. " I owe a lot of my success to PTC which has made me the type of athlete that I am today..Mark McLaughlin, Chris Berg, Jake Jenson, and Tim Weber have all contributed in helping and training me…During the off season PTC helped me raise my squat Max:500, Bench:305, 40 Yd Dash- 4.45 Barton/NEI Combine (Hand), Shuttle 4.10, Vertical 34″
These are just some of the numbers that justify why Underwood is one of the top backers anywhere in the region. We look forward to seeing him in the playoffs as LO is a state title favorite along with Sheldon.