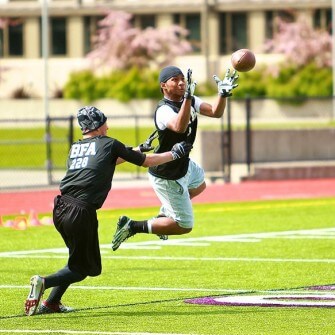 A group of kids we have been impressed by on the camp circuit are the Jackson Timberwolves. The Joel Vincent led group went (9-2) in 2012, going undefeated in league before losing to Roosevelt in the second round of the playoffs.
The kids out of Mill Creek have done a great job representing their school on our Barton Camp and Combine tour the last two years. One of the state's most exciting players, Keynan Foster (5-9 160 So. ATH), will return after a double digit TD, second team all league season. He is currently ranked our #2 Slot/Athlete in the state of Washington for the 2015 class, behind Federal Way's Chico McClatcher who has multiple Pac 12 offers.
Foster went for 11 Tds and caught 37 passes for 604 yards. He says, "Our main goal for next season is to get to the Tacoma Dome and repeat as Wesco champs. Keynan broke out as a freshman, testing extremely well at our camps and combines. He is a class kid from a football family and someone that projects at the D1 level.
Add in maybe the most underrated player in Washington in Trey Robinson (5-8 170 Jr. ATH) Aka "The Slot Machine", and you have one of the most dangerous duos in the entire region. Trey's numbers have been pretty ridiculous over the last two seasons, earning 1st team all league, and 1st team all area honors for the last two seasons. His 64 receptions, 21 Tds, and 2nd team All-State honors showed the respect opposing coaches had for him. If I had an all time "Nickname Team" he might be the MVP there as well.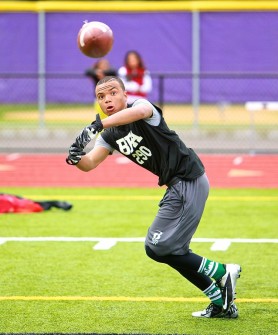 Trey says, "My goals are to become a student athlete at a university… My junior year was good for me as I learned a lot and achieved a lot". Robinson added, "Watch out for us this season, we will be fun".
Two other kids who showed up at our camp/combine and did very well for themselves in 2012 were Nick White (6-0 185 Jr. RB/SS) and Jake Miles (6-0 230 Jr. LB/OL ). Both kids earned 1st team All-Wesco honors last season, making this group even more intriguing moving forward. One of the state's top Sophomore QBs Alex Cheeseman says, "This could possibly be the most talented Jackson team ever to set foot on the field, as Keynan Foster and Trey Robinson will play on both sides of the ball and have a bigger impact on offense". He added, "Nick White, Jake Miles, Jacob Saldana, and John Woolley will all play key roles for us this year".
White was a 1st team all conference kid on defense last season, but will probably see quite a few more carries offensively. He rushed 27 times, for 240 yards and 4 TDs last year. Nick says, "I want to play for a state championship, be an all area and all state strong safety, and sign with a college that is a good fit."
Miles accounted for 103 total tackles, also earning 2nd team all league honors on the offensive line. He says, "As a captain for next season I hope to motivate my team and help us get past the 2nd round of the playoffs and to the dome."
The glue that will be holding all of this together is junior to be Cheeseman. His season ending injury last season was a tough break, but much like Foster he has been training with us at Barton since his freshman season and the kids a gamer. Alex says, "I'm excited for the opportunity to work with such a tremendous group of athletes, be prepared for Jackson football to do big things next year".
Give a lot of credit to the Jackson parents and coaches as the athletes have been 100% class. Academics is a priority and each of the kids mentioned is doing well on and off the field. Wesco lacks some of the competition of other conferences, but this years team has a legit shot.
We look forward to seeing the Jackson kids over the off season. The potential for the best year in school history is real, and we can't say enough good things about the student athletes of Mill Creek.