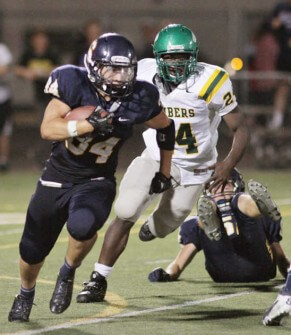 Kadin Diaz is a workhorse.
The Kennewick (Wash.) Southridge running back / linebacker is a player who carries the load for the Suns both on and off the field.
Coming off a junior season that saw him earn 2nd Team All-Conference and 2nd Team All-Area while rushing for 1,246 yards and 11 touchdowns, the 5-foot-9, 195-pounder is hoping to build on the success he had in 2012.
The two-way starter, who was Southridge's only non-senior team captain last season, was also selected as a captain for 2013, a reflection of the type of person and player his teammates and coaches see him as.
"I am excited about being named a captain again," Diaz tells NEI. "I want to exceed the stats I had last year, and as a team we want to exceed our win total. My motivation to work to improve as a player isn't just for myself, but to do my part to make us better as a unit."
The Suns and Diaz have hopes of a Mid-Columbia League title and State Tournament berth, but understand the work and commitment to one another it will take to get there.
"We are working to become are more dynamic team and be better as a whole unit from top to bottom," Diaz says. "Team unity is a big focus for us, because if you play together as a family, you will be teams with individuals who play for themselves."
Diaz adds that much of the Southridge team has been playing together since junior high school, and that the team has a strong bond.
A relentless competitor when the pads come on, Diaz is equally as passionate about the causes he is involved with off the field.
"Beyond the football field, I am very serious about my faith," Diaz says. "I am a Christian and a student leader in YoungLife. Next year I have been given the opportunity to lead the talks for middle school kids at WyldLife. I can't take credit for anything, I can only use the gifts God has given me. Fortunately, He has given me a talent to play the game of football and from there I will honor Him in what I do on and off the field."
Diaz takes his academics seriously, as well. "In school, I work hard and maintain above a 3.0, I don't want to be seen as just a football player, but a football player with a good head on his shoulders."
At the end of the day though, football is what drives and motivates Diaz. "Football has been my life for so long and I will give everything I have to keep playing at a higher level."