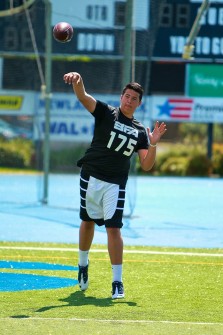 Two of the top young athletes in the State of Oregon will reside at a typical SWC power in South Medford. Head coach Bill Singler has consistently led his guys towards the top of the charts and these two should help keep the trend.
Craig Contreras (6-3 1/2 220 Jr.) will come in our #5 ranked QB state wide for the 2015 class, after a very impressive sophomore season where he stepped in and helped the Panthers to a (8-3) record. Contreras is a big kid that can sling it and was very impressive at our Portland Elite Events and on the Camp and Combine tour.
Referencing the up coming season Contreras says, "We want to have a great team camp at Gold Beach and carry that on to our first preseason game against West Salem." He continued, "Personally I would like to be very consistent and accurate this year, and lead by my actions."
He will have help around him in the form of his cousin, sophomore to be Makai Manuwai (6-2 225 LB), who looks like one of the better young backers in the entire region. He was the only freshman on last years 73 man varsity roster speaking to his skill set. He is physically dominant for his age and has a high ceiling due to his size.
Its early but both of these kids project at the D1 level with continued progression. Craig is pushing 6-4 and Makai has freaky size for a young athlete. South will most likely be Sheldon's biggest challenger next season for the SWC tittle, with a North Medford team across the way that has improved a great deal.
The Panthers future looks bright with two of the state's better athletes and cousins leading the way. We will keep you updated on the Southern Oregon pair as the year progresses.