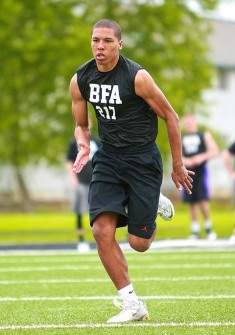 Anyone familiar with high school football in Oregon will tell you that the Reynolds Raiders have had a tough time on the grid iron over the last half decade. Since 2007 they have gone (13-47), including last years (5-5) team. That said, they look to be getting things turned around.
Quentin Bates has been a huge bright spot for the Raiders, catching 34 passes for 633 yards and 5 Td's last season. He impressed all off season, showing up at our Portland Elite Events with the other top athletes from around the state and doing very well. Bates work ethic has spoken volumes about his abilities as a football player. He rarely missed a workout, and was a fixture on our camp and combine tour over the Spring.
He says, "I would like to go for over 1000 yards receiving and help lead my team deep into the playoffs." He continued, "We are still trying to change the name of Reynolds Football, as we want to go out with a bang after playing together for the last 8 years."
Quentin showed up to our Vancouver Barton Camp/Combine with teammate Hutu Spencer who looked the part and then some. He was hurt last year but looks ready to go in 2013. Bates says, " Hutu will be key for us at corner and running back, he looks ready to do some big things."
Spencer looks like a kid that could burst on to the Mt Hood scene this up coming season, and QB Josh Schleining (6-2 175, 2014) will be in his 3rd year as the starter after throwing for 2850 yards and 28 Tds a year ago. Schleining has legit size and a big upside completing 65% of his passes a year ago, but will need cut back on his INT's (21).
You can also expect junior Kanyon Flynn (5-11 165 Slot) to be one of the better skill players in the conference, after catching 49 passes for 555 yards and 4 Tds.
Defensively the Raiders bring back one of the state leaders in picks (6) in JJ Hawkinson (2014 DB/WR). They also return talented D lineman Theo Samue who will make a huge difference up front. Quentin says, "Theo was a 2nd team all league kid and is a power house coming off the ball squatting 530 pounds."
Reynolds went (8-3) back in 2006 but its been a while since they have made a run. With continued progression Bates could have a successful college career and help lead the Raiders to there best season in years. We will keep you up to date on the kids from Troutdale as the 1st game is less then 90 days away.