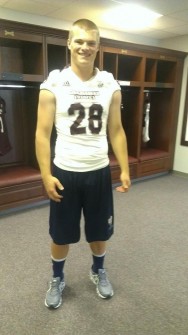 He's barely 15 years old and Aberdeen HS Sophomore to be Joel Dublanko (6-3 215 LB) is already being courted on a national level. Dublanko comes in ranked the #2 backer nation wide for the 2016 class (SigningDay.com), and just recently picked up his first SEC offer from Mississippi St on his tour of SEC and ACC schools.
As most know Joel is talented beyond his years and has been training with us since early winter. He was part of Team USA's 16 and under squad this past season and one of the top athletes on the roster. This past week he visited Georgia, Tennessee, Mississippi State, and is currently headed to Florida State.
Yesterday he got some good news and says, "Its always been a dream to play SEC ball and it feels good to get my first offer within the conference." He continued, "Mississippi St is a fantastic school with a very nice campus and top notch facilities and Coach Collins is a great coach and someone I would love to play for."
It's still very early in the process as Joel still has three years left of HS football. He will be one of the most recruited kids in the country over the next few years, and a projected All American with 50+ offers. Dublanko understands there is still a lot of work to do, and has an amazing support system within that will help him moving forward.
Referencing his most recent offer Joel added, "I met with Head Coach Mullens for about 20 minutes and it blew me away when they offered me a scholarship to come play for Mississippi St…. Honestly it was just a very humbling experience that just motivates me to work even harder."
Dublanko now has three offers and is just getting done with his Freshman season. Montana offered after his 8th grade year and Akron came in recently. You can expect most PAC 12 schools to get in the mix sometime soon, as you would be hard pressed to find a better kid on and off the field. We will keep you updated on all of Joel's accomplishments moving forward as the young backer is just getting started.