Over the next week we will be posting overviews of the 2014 Oregon and Washington updated rankings by position. All of us at NEI and the Barton Football Academy feel fortunate to be able to work with a majority of the region's top athletes. There's not a perfect ranking system, but we do our best based on all of the criteria listed. The Pacific Northwest is the fastest growing football region in the country and the kids have a lot to be proud of.
**A special thanks to Ryland Spencer and Scott Enyeart for all of their hard work and dedication. They are as good as they come at what they do.
Running Backs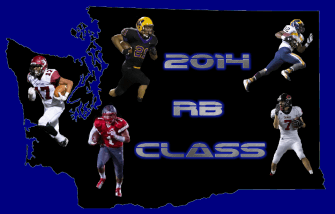 Budda Baker #1 (Bellevue) and Devante Downs #1 (Mountlake Terrace) are two of the top athletes in the country and even better kids. Both were selected to the prestigious Army All-American game and will represent the Northwest as well as anybody.
Drew Lewis #3 (Eastlake) has committed to UW and is athletically freaky. Conner Baumann (Newport) is one of the fastest rising recruits in the Northwest, adding offers from 4 D1's, and jumping up the charts to #4.
Jack Gellatly (Isaaquah) will be a three year all-league athlete and has legit D1 capabilities, while #6 Teague James (Graham Kapowsin) had an outstanding off season after a first team all-league campaign last year.
6-0 bruiser Kurt Calhoun #10 (Zillah) made a big jump in the rankings and will lead the 1A state favorite next season, while Jack Flor #7 (O'Dea) is equally talented on both sides of the ball, playing the fullback position but looking like a half back.
#12 Leon Siofele (Union) had an impressive showcase event and will be one of the top backs in the GSHL, while one of our favorite kids Jake Tumblin (Coupeville) jumped into the mix at #16. Don't sleep on Colin Cossette (Kennedy) #8 as he could average 30 carries and 200 yards a game.
Click here to view the 2014 Washington RB Rankings
Wide Receivers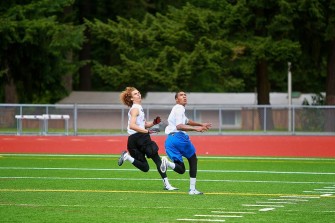 Terence Grady (Kentwood) went off over the last few months and has jumped up to #1 on our board, landing an Eastern Washington offer. The kid can go up and get it as well as anybody.
Jalani Phelps #2 (Lynden) and Melvin Walser #4 (Mt Vernon) both had breakout performances at our Bellingham Camp/Combine and project at the FCS level or above.
(Gig Harbor) standout Reese Carlson #5 balled out at Montana, earning his first offer after being one of the standouts on the BFA tour.
Drew Griffin #7 (Bellarmine Prep) MVP'd multiple Barton events over the off season, and projects as a kid that could climb this list as quickly as anyone.
Darius Pati #8 (Eisenhower) is returning after suffering severe head trauma and missing last season. He projects at the D1 level if healthy, while teammate Ridge Harmon #6 (Eisenhower) is equally filthy.
Garrett Starr #9 (Vashon) and Connor Mcleod #10 (Graham Kapowsin) both have upped their stock a great deal over the last few months with stand out performances at the RDAF Showcase and Battle in Seattle 7 on 7 tournament.
Torrance Baker #11 (Garfield) is an incredible overall athlete, but will be in a running offense due to a coaching change. #12 Adrian Shocks (Beamer) has legit side to side quicks, and will have to go off this season to keep his team competitive offensively.
Click here to view the 2014 Washington WR Rankings
Athletes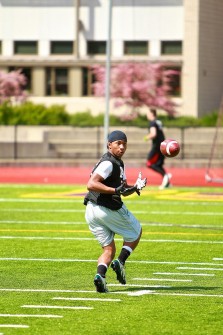 Isaiah Brandt- Sims #1 (Wenatchee) is one of the fastest kids in the country and equally impressive off the field. He will be headed to Stanford where he will also run Track.
Anyone that goes by the 'Slot Machine' doesn't need much of an introduction as Trey Robinson #2 (Jackson) went for 21Td's last season. Co Conference GSHL Players of the Year Nathan Beasley #3 (Camas) and Zach Eagle #3 (Camas) return to lead what will be a dominant Papermaker team this fall. Both are outstanding students and overall kids.
Max Gray #5 (Arlington) is one of the fastest rising athletes state wide, and a kid that we have become big fans of. Add to that Caleb Lyons #5 (Lakes), one of the most exciting athletes in Washington, and you have two potential D1 kids.
Asan Neil-Evergin #7 (Timberline) has a huge upside, already being offered by E.Washington. He will get his turn this year with the departure of POY Spencer Crump.
(Graham Kapowsin)'s Dylan Campbell #9 had an outstanding showcase event and upped his stock, while David Ungerer #11 of (Pullman) is climbing the list quick grabbing his first offer from Idaho.
Braydon Shields #17 (West Valley) had multiple standout performances on the BFA tour and is also an outstanding track athlete.
Click here to view the 2014 Washington Athlete Rankings