Over the next week we will be posting overviews of the 2014 Oregon and Washington updated rankings by position. All of us at NEI and the Barton Football Academy feel fortunate to be able to work with a majority of the region's top athletes. There's not a perfect ranking system, but we do our best based on all of the criteria listed. The Pacific Northwest is the fastest growing football region in the country and the kids have a lot to be proud of.
**A special thanks to Ryland Spencer and Scott Enyeart for all of their hard work and dedication. They are as good as they come at what they do.
Offensive Line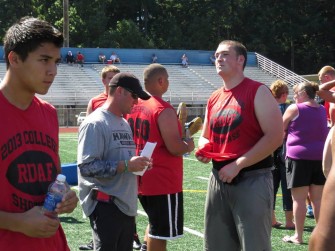 The Oregon offensive lineman will be playing with a chip on their shoulder this fall, as we have 8 D-lineman with D1 offers and none among the offensive kids, yet. That's not to say their isn't plenty of talent.
6-7 David Reese #1 (Clackamas) comes back more focused on football then he has ever been. Most know he is a talented overall athlete and his frame makes him a viable D1 recruit. Tanner Davies #2 (Sheldon) will be a three year starter for the defending state champions, and racked up a big time MVP award at the NIKE NFTC in Eugene among offensive lineman.
Bryson Dizon #3 (David Douglas) is a kid that just recently jumped up on the radar, and Jordon Haas #3 (Springfield) has vaulted up the charts over the off season having successful elite events, while MVP ing the RDAF Showcase for Oregon.
Noah Bagley #5 (West Linn) has made the biggest leap of any lineman, dropping 45 pounds from last season and earning multiple all camp awards on the Barton Camp and Combine Tour.
Austin Phiilips #6 (Mt View) projects as the state's top center, coming back as an All State O-Lineman with a 4.1 GPA. Mike Miller #7 (Jesuit) had an outstanding off season, and will have to be lights out this year with the departure of 4 D1 lineman.
Tyler Cox #7 (Southridge) has upped his stock a great deal, already earning a preferred walk on spot from a top 20 team nationwide in Utah St. He will anchor the O line on the state's top ranked team. Austin Holmes #9 (Eagle Point) projects more on the defensive side of the ball, but his size provides options at the college level.
Zach Kraus #10 (Canby) is a kid that will lead one of the state's biggest and best lines, with his teammate Craig Fobert #18 (Canby) being a kid with size that did well on the Barton Camp and Combine Tour.
Ellis Eaton #13 (West Linn) is an ideal center and teammate Isaiah Molden (West Linn) is climbing the charts quickly. Joe Kuenzi #12 (Silverton) had phenomenal Salem BFA Camp/ Combine and will be one of the best lineman in the state.
Click here to view 2014 Oregon OL Rankings
Defensive Line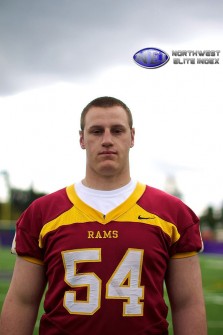 Oregon's 2014 DL class could be the best in state history. Its not even August and there are 8 D-lineman that have been offered D1 scholarships.. Conner Humphreys #1 (Central Catholic) and Henry Mondeaux #1 (Jesuit) are two of the top players in the country and are being courted by some of the best football schools in the land.
Both are double digit offer athletes, with Humphreys having USC and Mondeaux with Oregon. Henry is a Dion Jordan type player and someone that will go down as one of the better athletes in Oregon HS Football history. His body control for a big man is ridiculous. Humphreys comes off the ball as quick and hard as any DE in America, as his 15+ offers speaks to that.
Sione Taumoe'anga #3 (Roosevelt) and Semise Kofe #6 (Roosevelt) will terrorize the 5A PIL as they both hold multiple offers with Oregon State being very high on Sione.
Liam Talty #4 (Sheldon) has risen quickly after an MVP like performance in last year's state title game, while Josh Brown #5 (Sunset) has had a phenomenal off season and returns after a 1st team all league season at DE. Both kids hold 2 D1 offers.
Brody Haehlen #7 (Clackamas) and Marqueese Royster #7 (Lakeridge) have both had outstanding offseasons and they will battle one another in conference. Haehlen grabbed a big time offer from Montana and Royster has committed to Portland St.
6-7 Drake Brennen #9 (Grants Pass) could the most intriguing prospect people don't know about as the kid has legit size, earning 2nd team all league honors last season.
Co #9 Willie Eteaki (Southridge) makes the transfer back to his old school from Skyview, WA and could climb this list quick. He will be a 4 year Varsity starter, and is a game changer due to his size and strength.
Very similar to Eteaki is Korey Thompson #10 (Marist) who is an absolute beast inside, with Ellis Eaton #12 (West Linn) being one of the quicker D ends in the state off the end.
Wade Perry #13 (Thurston) was an all league kid last year and is one of the fastest rising DL in Oregon. He will be one of the top players in the SWC.
Click here to view 2014 Oregon DL Rankings
Tight Ends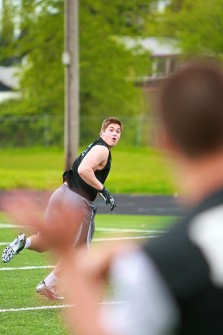 As we said earlier Henry Mondeaux #1 (Jesuit) is one of the top players in the country, and can play at the highest level on both sides of the ball which is rare.
Brody Haehlen #2 (Clackamas) and Josh Brown #2 (Sunset) have legit size and much like Mondeaux can play on both sides of the ball. The colleges love their options with these two.
Isaiah Hall #4 (Horizon Christian) has a D1 body and should have a monster season, while Jacob Ridgeway #8 (South Medford) and JT Taula' I #6 (Southridge) will be added to the list and are two of the fastest rising athletes in their respective conferences.
Click here to view 2014 Oregon TE Rankings