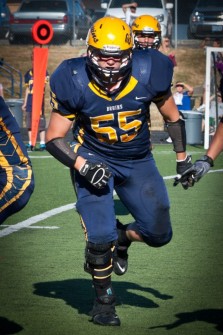 An athlete that has gone under the radar as much as anyone is Barlow lineman Garrett Stauffer (6-3 260 Sr. OL/DL). The kid is legit on multiple levels, and will jump up our rankings board immediately after earning 1st team all-league honors on both sides of the ball in 2012.
The Bruins have athletes coming back at the skill positions with talented kids up front. They will be Central Catholic's toughest competition in Mt Hood Conference play. Stauffer says, "This years goal is to be conference champions and go beyond the first round of the playoffs."
Barlow went (2-8) last season, but their record was deceiving. They lost four non conference games to decent teams by close margins to start the season, before going (2-3) in league play. Stauffer is unique in that he is equally talented on both offense and defense. He is a three sport athlete (Wrestling, Track) and does well in the classroom, sporting a 3.9 GPA.
Garrett will be ranked among the state's top lineman, as he provides colleges options being athletic enough to play multiple spots. Any individual earning 1st team all league honors on both sides of the ball as a junior, speaks to how much respect opposing teams have for him.
More then anything Stauffer is just a good kid and someone that the Bruins can build around. Head coach Terry Summerfield has consistently done a great job getting the most out of his athletes on and off the field, and Garrett is a perfect example of what a well rounded athlete looks like.
Referencing this up coming season Garrett says, "Personally I want to go out every game, play my hardest, and help my team win….If I do that other awards will follow."
We look forward to following Stauffer and his Bruin teammates in 2013. He's a class kid and someone that will be on multiple collegiate recruiting boards this season.