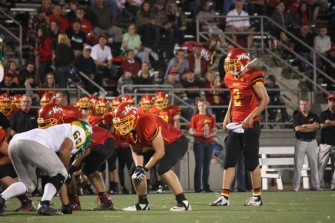 One of the top under-the-radar signal-callers in the state of Washington is Kamiakin's Kylle Robertson. He took over the reigns of the Braves' attack in the playoffs as a sophomore and last year led the way with both his arm and his legs. Now, as a senior, he wants to go out on a high note and has been putting in the work to do just that.
"Last year, we sorta struggled at running back, so I had to run a lot, but this year, it looks like we've had a senior running back step up, Umid Ramizov, and that will let me just sit back and make plays in the passing game," Robertson told Northwest Elite Index recently.
As a junior this past season, Robertson completed 52% of his passes for 1,797 yards with 19 touchdowns and 12 interceptions and he led the team with 456 yards and six touchdowns as well.
"I have been working a lot on making sure I don't force things and take too many chances," Robertson noted. "My coaches were drilling into me all during the spring and this offseason that I can't take as many chances and that is something I needed to focus on. I threw too many picks last year and that's something I definitely want to drop and I want to get my completion percentage up higher and this year I think I have a good chance of doing that since we aren't going to go deep quite as much."
As far as recruiting is concerned, Robertson has been hearing from a few schools and attended several camps during the spring, but, at least at this point, he's still waiting on that first offer.
"I attended a couple of camps and I even got out to Eastern Washington's quarterback camp," Robertson said. "I've been hearing from Harvard, Eastern and Portland State a little and I've been getting a lot of letters as well. I think a lot of schools just want to see what I can do this fall and how I've improved and then maybe things will pick up."
At 6'2″ and weighing 200 pounds, Robertson has the perfect frame to add some size and enough athleticism to be a threat on the run as well as in the pocket. He's got very good leadership skills, his coaches raved about his calm demeanor as he was preparing for his first start as a sophomore in the playoffs and he has been a calming presence for the Braves in a time of transition, something that should pay off during the 2013 season.