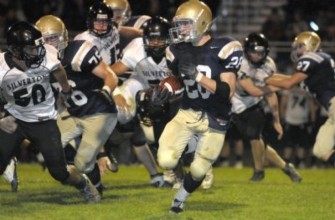 The West Albany Bulldogs are notoriously one of the top 5A teams in the state, with a lot of promising pieces to the puzzle returning.
All league kids are back up and down the board, with Oregon Gatorade Player of the Year Jake Lacoste (5-10 195 Sr.) returning after rushing for 3000 yards and 40+ TDs in 2012. He's a phenomenal talent, holding D1 offers from Air Force, Army, and Portland State.
Jake's brother Anthony is Oregon's 3rd all-time leading rusher, currently at the Air Force Academy. You could say that they have good genes. Randy Nyquist has been one of the most consistent and successful coaches anywhere in the state over the last decade, as the kids continue to flourish under his leadership.
The Bulldogs return double digit all-league athletes, and a host of kids that did well on the Barton Camp and Combine tour this past off season. Joey Roos (6-2 180 Jr. S) and JT Valenzuela (5-9 175 Jr. DB/Slot) could be the top junior tandem of defensive backs in the state. Both of them will end up being three year all league starters, and ranked among the top DB's in Oregon for 2015.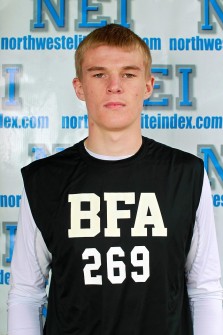 Cody Lahoda (6-2 180 Sr.) returns at QB, after an impressive off season, throwing for 19 Tds/7 Int's and 1500+ yards in 2012. He says, "We want to win league then state.. Silverton and Crescent Valley will be two tough conference teams to beat, and we have all been lifting hard and running routes."
West Albany is (76-12) since 2006 so to say they have been dominant would be accurate. Steely Smith (6-5 275 T/TE) is a kid that will be jumping up recruiting boards, being a very athletic tackle or a legit tight end. Lahoda says, "Steely is in my opinion the player to watch this season, at 6-5 275 he is very hard to bring down, and we are counting on him to make big plays."
Gabe Stone (6-0 200 Sr. LB) is one of the top 5A backers in the state, and will be a three year all league kid. He's not the biggest LB, but he is happy to come up and smack you. He will be the foundation of the D. Cody says, "Gabe will be the player to watch on D this year.. He plays hard, mean, and loves to hit."
The Bulldogs wont be as big on the line this season, but will be fast and strong. Tyler Brunson projects at center with Joe Burchfield (6-3 215 Jr), Alex Boyd (6-2 225 Sr), John Bose (5-10 275 Jr), and Devin Wade (6-1 210 Sr.) rounding out the offensive line kids. Matt Soot (5-10 215 Sr.) returns on the defensive line and will be one of the better up front athletes in the conference.
A potential X-factor for West will be the return of Andrew Ketelson who is for real on both sides of the ball. He was lost to an injury for the season against Crescent Valley last year. He will team with Valenzuela and Matt Wiest (5-7 155 Sr. Slot) to give Lahoda a versatile trio of weapons.
You might want to purchase your tickets now for the West Albany/ Silverton game as they will shut the town down. There will be no love lost, after the Foxes took last years contest on their way to the Mid Willamette Conference Championship. Both are state title contenders with the Bulldogs ranked #2 and Silverton #3 in our initial 5A Top 10, behind Sherwood.
Coach Nyquist runs a top notch program, and we are looking forward to an exciting 2013 5A season. We will bring you updates as they happen.