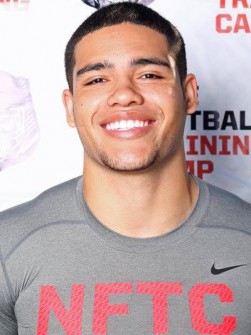 One of the top two way threats in the country, Devante Downs (6-3 230 Sr. RB/LB) of Mountlake Terrace, made his intentions known Thursday committing to the University of California-Berkley.
Downs ranks as our co #1 RB and top LB for the 2014 class in the state of Washington. He rushed for over 1,300 yards and 23 TDs offensively, while accounting for 90+ tackles and 6 sacks on defense. Devante was also selected to partake in the Army All American game with Bellevue DB Budda Baker, but an unfortunate season ending knee injury will most likely negate that.
Referencing his commitment Downs says, "I've talked to Head Coach Dykes a lot during the last 1-2 weeks and I've got much more comfortable with him… I looked up a lot of what he accomplished at Louisiana Tech and I was impressed… I love what CAL provides academically, and when I called coach on the phone to tell them I was committing they were real excited."
Devante is a kid that we have gotten to know well over the last couples seasons. He is an honor roll student already earning college credit, while taking his academics very seriously with a special interest in Biology. More then anything Downs is just a good kid that will do big things on and off the field. We wish the talented Northwest athlete continued success, and look forward to seeing him play on Saturday's and Sunday's for years to come.