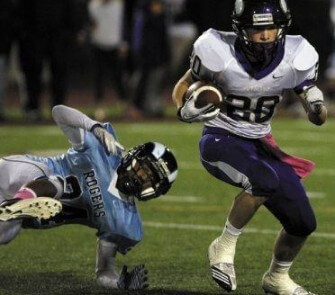 Puyallup has had one of the more consistently productive offenses over the past few years and one of the top targets for Vikings QBs has been WR Levi Jordan who is not only a star on the gridiron, but also the diamond as well.
"I love to play both, but right now, I think I'm probably a better baseball prospect," Jordan, a 5'8″, 170-pounder, told Northwest Elite Index recently. "I'm a middle infielder for our team and I batted .425 for my high school team this past spring.
"In football I play both ways though and I had a pretty good season. I had 62 receptions for 912 yards and 13 touchdowns and on defense I had 28 tackles and four interceptions. I got Second Team All-SPSL and I think with an even better year I'll get First Team."
As one of junior QB Brendan Illies' top targets, Jordan said the two work together a lot on their connection as well as how to read defenses.
"I think we sorta just have that connection where we know what we're going to do and that helps us keep those chains moving," Jordan noted. "I look at how a DB is playing me and see where their leverage is and then I can make adjustments on the run and Brendan usually sees the same thing.
"My lateral quickness is probably what helps me the most. That an my eyes because you always have to be disciplined with that or you can get beat on defense if you don't have eye discipline."
As far as recruiting is concerned, Jordan wasn't able to get out to any camps since he is such a good baseball player, but he hopes to play both sports in college and is open to anyone that wants to give him a look.
"I just love playing sports and competing," Jordan said. "I just want the opportunity to play ball and we'll see where it goes. I love both sports and I'd like to keep playing them at the next level if I can."
In a season-opening 37-21 win on the road against Beamer (Federal Way), Jordan had nine catches for 250 yards and three touchdowns. Puyallup returns home to play Spanaway Lake tonight.