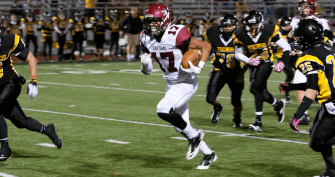 4A Top 10
1. Camas (2-0): The Papermakers rolled to another impressive win over Oregon's Canby HS. Camas is so explosive offensively, and plays great defense as well. With so many weapons, it is difficult to see them losing their spot atop the rankings any time soon.
Next: @ Auburn Mountainview (1-1)
2. Ferris (2-0): Ferris took on one of the top teams in 3A, Shadle Park of Spokane, and were big winners. The Saxons look to be for real, especially on defense, limiting the Highlanders explosive offense to just 14 points. Christian Olson, Jalen Hicks and Cole Karstetter have been stars for Ferris thus far.
Next: @ Gonzaga Prep (2-0)
3. Chiawana (2-0): The Riverhawks have scored 40+ points in each of their first two games and have allowed only one score against them on the year. That balance of offensive and defensive efficiency has Chiawana feeling good about what the rest of the season could hold.
Next: vs. Richland (2-0)
4. Eastlake (2-0): Friday night's victory over 3A power Eastside Catholic was a big one for the Wolves. Don Bartel has the team playing well on both sides of the ball, and Blue Thomas is establishing himself as one of the more special QB's in the 2015 class. Eastlake looks ready to make a run in KingCo.
Next: @ Skyline (1-1)
5. Graham-Kapowsin (2-0): GK won a 24-14 battle against a very good Curtis squad and look like the best team in the SPSL. Running back Teague James had another monster outing and is proving himself as one of the best backs in the entire state.
Next: vs. Federal Way (2-0)
6. Newport (2-0): After getting off to a slow start in it's week one contest, Newport looked much sharper in a 35-14 win over South Kitsap. The Knights have one of the best rushing attacks in the state, and will continue to rely on running back Conner Baumann to carry the bulk on the load.
Next: vs. Woodinville (2-0)
7. Jackson (2-0): The Timberwolves rolled to a huge 49-6 over Everett this week and should continue to do well in Wesco play. Jackson has playmakers all over the field, Nick White and Alex Cheesman each had 3 TD's in the win, and Travante Robinson is a threat to score every time he touches the ball.
Next: Glacier Peak (2-0)
8. Bellarmine Prep (2-0): A narrow 16-14 win over Lakes keeps the Lions in the Top 10. Lakes jumped out to a 14-0 lead, but Bellarmine battled back, eventually winning the game on a 33-yard field goal from Matthew Philichi. Running back Nathan Goltermann had a score, along with a career-high 117 yards rushing.
Next: vs. Central Kitsap (2-0)
9. Bothell (1-1): The Cougars had their hands full in a blowout loss to national-power, Bellevue. We still think Bothell has what it takes to be a very good football team, and possibly make a run in KingCo. The loss to the Wolverines isn't indicative of what the Cougars are capable of. With Ross Bowers under center, Bothell should get back to its winning ways.
Next: vs. Capital (0-2)
10. Union (1-1): The Titans came up short Friday night against one of Oregon's top teams, Jesuit. Union is a team that is still loaded with talent and capable of big things behind the arm of junior QB Nolan Henry.
Next: vs. Peninsula (0-2)
Others Receiving Votes: Federal Way, Puyallup, Skyline
Ryland Spencer
1. Camas
2. Ferris
3. Chiawana
4. Eastlake
5. Newport
6. Graham-Kapowsin
7. Jackson
8. Federal Way
9. Bellarmine Prep
10. Bothell
Jordan Johnson
1. Camas
2. Ferris
3. Chiawana
4. Graham-Kapowsin
5. Eastlake
6. Newport
7. Union
8. Bothell
9. Bellarmine Prep
10. Skyline
Scott Enyeart
1. Camas
2. Ferris
3. Chiawana
4. Eastlake
5. Graham-Kapowsin
6. Newport
7. Jackson
8. Bellarmine Prep
9. Puyallup
10. Bothell
3A Top Ten
1. Bellevue (2-0): Another week, another blowout win for the Wolverines. Budda Baker and company are playing well in all three phases of the game, and likely won't face a real challenge until the state playoffs.
Next: vs. Sammamish (0-2)
2. O'Dea (2-0): The Irish improved to 2-0 with a 49-7 win over Ballard. QB Pierre Le Dorze and RB Jack Flor, along with a host of other Irish players, are capable of making something happen every possession. This week they travel to Issaquah to face an improved Eagles squad.
Next: @ Issaquah (1-1)
3. Juanita (2-0): Offensively, the Rebels are clicking. They scored 40+ points for the second week in a row, this time in a 42-20 win over Monroe. This week they host Mount Si, which should be the toughest test to date for Juanita in a battle of two Top 10 teams.
Next: vs. Mount Si (2-0)
4. Eastside Catholic (1-1): The Crusaders lost a heartbreaker to Eastlake on Friday, but only drop two spots in the polls. The Metro League should come down to EC and O"Dea, and there is a lot to like about the Crusaders – particularly in the trenches.
Next: vs. Lake City (ID)
5. Marysville-Pilchuck (2-0): Jake Luton and Austin Joyner have the Tomahawks on a roll. They picked up a win Friday night against 4A Lake Stevens, and look to be poised for a run in Wesco league play. Pilchuck's ability to run and throw could make them extremely dangerous come playoff time.
Next: @ Snohomish (0-2)
6. Lincoln (2-0): The Abes are playing some very good football under Coach Kitna. They cruised to a big win over Stadium over the weekend in the "Turkey Day Game" between the two rivals. If Lincoln can avoid the mistakes that young teams sometimes make, they could be pretty scary for opponents in November.
Next: vs. Mount Tahoma (0-2)
7. Mount Si (2-0): The Wildcats are proving that despite losing a lot of production from last year's group, they're still a team to look out for in 3A this fall. Running back Bailey Takacs and TE Beau Shain showed their ability to be game-changers in Friday night's road win at Issaquah.
Next: @ Juanita (2-0)
8. Kamiakin (2-0): The Braves won a close one on Friday against Hanford to improve to 2-0. They play host to an 0-2 Sunnyside squad this week, and with a big win could move up in the polls, with two teams in front of them playing each other.
Next: vs. Sunnyside (0-2)
9. Shadle Park (1-1): Thursday wasn't the Highlanders' night, as they fell to 4A #2 Ferris. In spite of the loss, Shadle Park still has what it takes to go deep into the 3A playoffs on the arm of QB Brett Rypien who just picked up and Oregon State offer.
Next: @ University (0-2)
10. North Thurston (2-0): Timberline's loss was North Thurston's gain, as the Rams make it into the Top 10 this week. They will travel to Foss this week, but all eyes will be on the following week's matchup when North Thurston will play host to #6 Lincoln.
Next: @ Foss (2-0)
Ryland Spencer
1. Bellevue
2. O'Dea
3. Eastside Catholic
4. Juanita
5. Marysville-Pilchuck
6. Kamiakin
7. Mount Si
8. Lincoln
9. Shadle Park
10. North Thurston
Jordan Johnson
1. Bellevue
2. O'Dea
3. Eastside Catholic
4. Juanita
5. Marysville-Pilchuck
6. Lincoln
7. Shadle Park
8. Mount Si
9. North thurston
10. Kamiakin
Scott Enyeart
1. Bellevue
2. O'Dea
3. Juanita
4. Marysville-Pilchuck
5. Lincoln
6. Eastside Catholic
7. Mount Si
8. Kamiakin
9. Shadle Park
10. North Thurston
2A Top 10: By Ryland Spencer
1. Tumwater Thunderbirds (2-0)
2. Lynden Lions (2-0)
3. W.F. West Bearcats (2-0)
4. Sumner Spartans (2-0)
5. Othello Huskies (2-0)
6. Burlington-Edison Tigers (2-0)
7. Lakewood Cougars (2-0)
8. R.A. Long Lumberjacks (2-0)
9. Mark Morris Monarchs (2-0)
10. Cheney Blackhawks (2-0)
Others: Ellensburg Bulldogs (2-0), Fife Trojans (2-0), Lindbergh Eagles (2-0), East Valley (Spokane) Knights (1-1)
1A Top Ten: By Ryland Spencer
1. Zillah Leopards (2-0)
2. Cascade Christian Cougars (2-0)
3. Royal Knights (2-0)
4. Montesano Bulldogs (1-1)
5. River View Panthers (2-0)
6. Mount Baker Mountaineers (2-0)
7. LaCenter Wildcats (2-0)
8. Woodland Beavers (2-0)
9. Charles Wright Tarriers (2-0)
10. Cashmere Bulldogs (1-1)
Others: Okanogan (2-0), King's (1-1)