Juniour Opoku-Mensah Highlight Video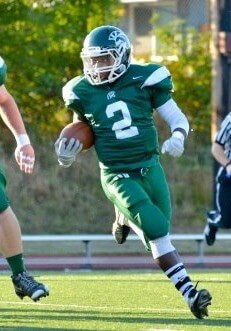 Standing just five-feet seven-inches and weighing around 165-pounds, Juniour Opoku-Mensah has made a name for himself as of late, as the Edmonds-Woodway Warriors have started the season 4-0.
On the year Opoku-Mensah has carried 85 times for 579 yards and 7 TDs. He also has nine receptions for 108 yards and another score. As of today he is accounting for 43% of Edmonds-Woodway's total yards.
"He has a great understanding of our offense, because of this he is able to get the most out of every play," said Warrior Head Coach John Gradwohl. "He is a great running back. He runs hard, is elusive, and only needs 18 inches of daylight. He is fun to coach."
Only four games into the season, Opoku-Mensah is on pace to surpass last season's rushing numbers (160 carries – 1,073 yards) and has already matched his TD total of seven. The biggest impact he has on the Warriors is something that can't be seen on a stat sheet. "One of my strengths is being able to communicate; I'm always talking to my teammates making sure we're on the same page, making sure everyone is okay and ready to make it a great practice," Opoku-Mensah told NEI.
He continues, "My coach always tells me that 'a leader serves others and puts the team first before himself'. I do my best to involve all my teammates and motivate and encourage them to give their best effort and most importantly have fun."
Opoku-Mensah is very humble and a player you find yourself rooting for. While he does have personal goals, they all lead to the team anyway he can. Like most runningbacks he can tell you what his stats are, but he is quick to give credit to his teammates, especially his line.
"My offensive line is awesome. I wouldn't be here without them," he said. "Travis Bakken my left tackle, he is 6'7 250 pounds, adds a lot of size and keeps his pad level low which is amazing for how tall he is, he is humble and soft spoken and he is one of the captains of the team that leads by example."
He goes on to give praise to his entire line, "My left guard Zack Willis, center Will Seigall, right guard Haedyn McGrath and right tackle Zac Holleck. They have all worked very hard and they communicate with the each other really well and do great with blitz calls, reads and assignments, run blocking and pass blocking."
The Warriors came back to beat Jackson last night 35-28, thanks in part to Opoku-Mensah's 200+ yards rushing, but are in the middle of a tough three game stretch that also has them paying vs Cascade (4-0) and at Kamiak (3-1). Should they make it through that stretch unscathed, they should be on their way to the Wesco 4A Championship Game, which is just the beginning of the ultimate goal.
"Our team goal was to win the Wesco 4A division title, and go undefeated in the regular season". He continues, "After that we would make it into playoffs, play some tough games and then see ourselves in the Tacoma dome playing for the state 4A championships."
With a solid offensive line, good backs in Opoku-Mensah and Mac McLachlan, the Warriors have a great opportunity to reach their ultimate goal. Head Coach Gradwohl is one of the better coaches in the area, and has done a great job in what is now his 16th year at Edmonds-Woodway.