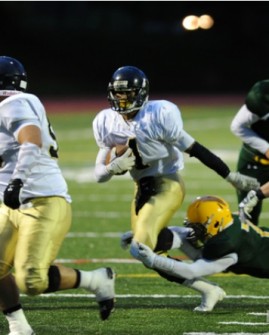 It's hard to imagine that Meridian running back Letrez Jones isn't at 100 percent. The talented tailback, who has torn up fields this season, admits his knee isn't at full strength and he's still battling some nerves each weekend.
On Friday night, at Bellingham's Civic Stadium, Jones looked just fine and couldn't be stopped. Whether it was through the air or on the ground, the senior dashed his way through Sehome's defense in Meridian's thrilling 41-36 victory.
The 5-6, 140-pound senior, who is coming off knee surgery to repair a torn meniscus this summer, tallied 148 yards and four touchdowns. Jones' surgery in June was the second knee surgery he's had in his career. During his freshman season, he tore his ACL, MCL and PCL while playing lacrosse.
"Right now, I'd say I'm right around 75 percent," Jones admitted. "I'm getting there, but I'm still kind of worried sometimes about getting hit in my knee and getting hurt again. Fortunately, I have a knee brace that helps me out a lot."  
Through four games this season, Jones has put up some mindboggling numbers for the 2-2 Trojans. He has rushed for 328 yards and added 185 receiving yards, with seven total touchdowns. All this, as he said, at 75 percent.
"He's been great coming back for us," Meridian coach Bob Ames said. "When you have two knee surgeries like he has, it can be really tough on you. Most kids wouldn't be able to come back from that, so we're happy he's been able to.
"We knew that even if he wouldn't be able to come back and play, he'd still be back with the team supporting all of the other kids."
As for his great numbers through the first part of the season?
"That's what we expect out of him," Ames said. "Letrez is a great talent and a great teammate. He's just a great kid and when he's in a room and smiles, he lights that place up.
"We just have to find ways to put him in a position to be successful."
Jones' teammates certainly put him in that position on Friday night against the Mariners. On several different third- and fourth-down plays, Jones' number was called, including two screen plays that he broke open for big first downs in the first half. On both possessions, Jones finished the drives with touchdown runs.
"I have to give credit to my linemen," Jones said. "The yards I was able to get, that's on them. All of them are great and they provide a great push up front. I feel like they're the biggest part of our offense right now."
Of Jones' 148 yards on Friday, a high percentage came after initial contact. Even with his self-admitted bum knee, Jones didn't shy away from the big bodies headed his way and fought hard to move the sticks.
It was evident both when he took handoffs from junior quarterback Tanner Tutterrow and caught passes out of the backfield from the signal caller.
"I just wanted to get some yards and keep pounding the ball," Jones said. "I wanted to make sure I could do my job, which would make it easier for everyone else to do theirs."
Meridian will now turn its focus this week to Friday Harbor (3-1), who they'll take on at 7 p.m. this Friday. It's the first of five straight matchups for the Trojans against 1A squads, including a big showdown against NWC rival Nooksack Valley on Oct. 11.
"This is what I've been waiting for since freshman year, man," Jones said. "We just have to come together and keep growing. We've been doing that and I think we'll be just fine."