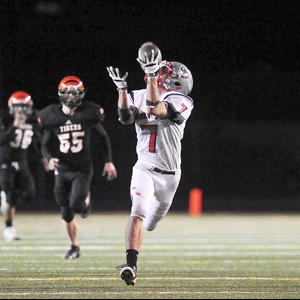 Eisenhower (Yakima) WR Ridge Harmon is, statistically, one of the top wideouts in the state of Washington. He's been a big contributor for the 4-2 Cadets this fall and should be a guy schools start giving a lot of attention.
As a junior in 2012, Harmon led the Big 9 with 53 receptions for 864 yards and he had nine scores which ranked third in the conference. This year, he's seen his chances decrease a bit due to the play of fellow senior Darius Pati, but he still leads the Big 9 with 43 receptions for 689 yards and seven touchdowns (he's tied with Pati in that category), and he's hopeful that he can lead his team to a state playoff berth.
"Things have been going great for me personally and our team is playing pretty well," the 6'0, 175-pound senior told Northwest Elite Index. "I've been getting open and making plays when I have the chance. My stats are a little down, but that's because of the way that Darius is playing right now. We make a good tandem and I think if we can put things together down the stretch, we could make a run."
At 4-2, Ike likely needs to win their four final games to assure themselves of a post-season bid and Harmon thinks that they have what it takes to get it done.
"We played Wenatchee close and they are a talented team," Harmon said. "Our coaches game plan well and if we execute I think we can get in (to the playoffs)."
On the recruiting front, even with his consistency and big stats, Harmon is still waiting to talk to some suitors.
"Right now it's pretty quiet," Harmon said. "I've been updating my senior film and I want to get it out there more, but right now, no one is really talking to me."
With his size, quickness, soft hands and high Football I.Q. Harmon is someone who just needs to get an opportunity to impress. As the season gets closer to the playoffs, you can expect more and more schools to start taking a look at what he can do and when that happens, you can expect things to heat up for him.