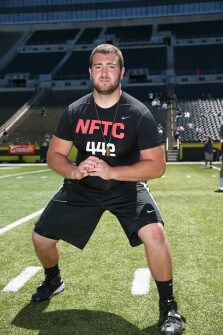 As the regular season comes to an end we will start to see recruiting pick up for some of the state's top ranked athletes. One of the top kids on our board is the #2 ranked Offensive Lineman for 2014, Tanner Davies (6-3 295 Sr. OL) of Sheldon. He is a three year starter who has already played in two state title games, winning last years championship.
Tanner was a 1st team all league and 2nd team all state kid in 2012, that won NIKE NFTC offensive line MVP honors this summer against some of the top athletes on the West coast. He is a very athletic guard that plays with a mean streak necessary to compete at the highest level. Davies is the highest ranked lineman on our list without an offer, as Oregon's top ranked Senior OL David Reese (6-7 270) just committed to Montana.
The standout lineman is (34-3) in his Varsity career, with 2 state title appearances and potentially a 3rd coming this season. Last years state title was big as Davies says, "It was the ultimate achievement as our team did what it took to beat Lake Oswego, after losing to them the year before."
Referencing his goals Tanner says, "I want to play college football at the Division 1 level, but most importantly get a good education at a school that fits me". Davies is a 3.0 student and a kid that speaks to all that is good about Sheldon. As we have said time and time again Lane and Marty Johnson run one of the classiest programs in the country, as the Irish players have done well on and off the field at the collegiate level.
We got to see Tanner on the Barton Camp and Combine tour over the off season, as he was also one of the top athletes at the RDAF Showcase event in Seattle with the other top kids from around the region. Davies is a class kid and is sitting on the D1 bubble with multiple schools as we speak. Expect to see his recruitment pick up as the season winds down. We will bring you updates as they happen.