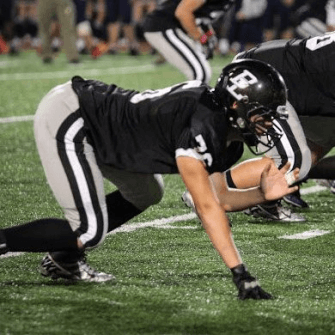 The first half of the 2013 season wasn't exactly what the Bonney Lake Panthers were looking for. They had started 0-5 and were headed down a dark path towards missing the playoffs. A week five homecoming loss to eventual SPSL 3A champion Peninsula would signal the end of the losing.
"The loss really made me realize two things: the direction that our season was heading and the direction I wanted our season to head," said senior captain Brandon Kilstrom. "I know others felt the same way because, after that week, everyone stepped up and gave it there all each and every day which helped us get rolling in league play."
Kilstrom (6'1″ 220) is a returning two-way All-SPSL 3A Lineman from is DE and OG spots. He is a 3.98 GPA student and a member of the Leadership Council. While it is widely considered that Kilstrom anchors the line on both sides of the ball, his athleticism has been put to the test the last few week as he has seen time at Fullback leading the way for two of the SPSL's more exciting athletes in Robert Combs and Ethan McElderry.
Robert Combs (Sr. 6'0″ 175) has done a little bit of everything for the Panthers this year. He is over 1,500 All-Purpose yards and has scored 12 TDs. He has scored a TD five different ways (WR, RB, QB, KR and PR) this season and is one of the state's top Kick/Punt Returners.
"He (Combs) takes what is given to him on the field and turns it into something truly amazing. His speed, athleticism, and positive leadership are what make him a special player," Kilstrom says. "Even though he is not a captain, he does not hesitate to step up at halftime and speak his mind with the captains and get the team pumped up for the second half."
Combs is an athlete we saw attending Barton Football Elite Events in the offseason. His speed and route running were very impressive as he consistently made himself available during head-to-head competition. He also carries a 3.86 GPA and takes school very seriously. "I have nothing more than the desire to keep going to school and playing football at the next level I just need chance to be have my progress seen and the adversities I have conquered," Combs told NEI.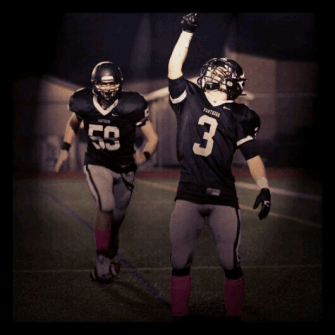 Ethan McElderry (5'9″ 170) is another player we recognized at Barton Football Events. His speed and agility were evident right away. This season he is closing in on 1,000 All-Purpose yards, while scoring five TDs. When our 2015 rankings are released, Ethan is a player you will find in our 'Athlete' category, as we could see his future at multiple positions.
Teammates speak highly of McElderry's work ethic. "Ethan set many goals for himself in the off season and met almost all of them," Combs said. "He pushed him self in the weight room and pushed himself everyday weather we had field days, 7-on-7, football camps, or just getting extra worker on weekends. He has run the ball very hard this season and has been a key part in our success."
Kilstrom says, "Ethan is a great teammate and is always working hard at practice. He takes every drill seriously and is able to transfer that hard work to the field on Friday nights. He runs hard and hits the holes that are opened for him. He also is sure to give props to those blocking for him."
As good teammate do, all three athletes were quick to deflect attention to other players on the team.
One of the big reasons the Panthers have been successful has been the play of the offensive and defensive lines. A lot of credit is given to Cameron Goenner (Sr. OT/DT 6'3″ 300). "I never have to be concerned running behind this kid cause I know no matter what he is going to do his job open the whole and let no one touch me," Combs said.
Kilstrom described Goenner as, "A great leader on the line and is paramount to both our run and pass game, as he is a great blocker. Also, he is fantastic at plugging up the middle on our defensive line.
Reaping the rewards of a tough offensive line is usually the Quarterback. In this case, it is junior Isaiah Weed (6'0″ 160) who is equally adept passing and running. The Panthers have been very fortunate the last few seasons as former QB Chris Brown was one of the state's top passers. Weed worked hard over the offseason to prepare himself and has really turned a corner. Combs says, "Isaiah has made tremendous strides this season with getting better every game and learning from mistakes and never hanging his head."
One of the top players on defense, and the teams top tackler, is Linebacker Cayle Williams (Sr. 6'0″ 180). He missed the first five games due to an injury, but has returned stronger than ever and is a double-digit per game tackler. "He (Williams) has made his presence felt in every game and has stepped up big in his first year of high school football," says Combs.
This week the Panthers will play host to the Mercer Island Islanders from the always tough KingCo 3A Conference. Being in position to host a home playoffs game after the start they had speaks to the not the ability of this team, but its incredible resiliency. The players, coaches and community should be very proud of what they have accomplished. Knowing these kids like I do, they will not settle for being where they are.