Everyone is excited to watch two class programs battle for the 6A State title on Saturday afternoon. Both teams represent a quality group of players, coaches, and families who speak to all that is good about Oregon high school football.
Join us on ROOT Sports TV at 1 PM as two traditional state powers will once again play in a rematch of the Holy War. Central Catholic beat the Crusaders 45-31 earlier in the year, as Jesuit sits at (11-2) with two losses coming to teams with a combined record of (26-0), Camas (WA) & Central Catholic.
** Watch 6A Broadcast; 1 PM kickoff on ROOT Sports with Bob Akamian and Myself**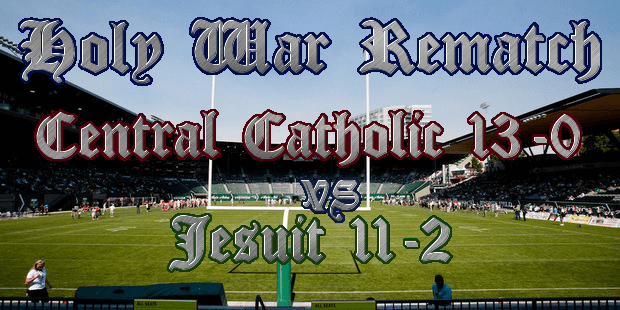 Quarterback
Jesuit
Sophomore QB Eric Restic (5-10 150 So.) has stepped up big for the Crusaders this season. At this rate he will go down as one of the better quarterbacks in Crusader history. He has made significant strides since his last meeting with the Rams, hitting on 60.2% of his passes (71/118) for 1009 yards, and 19 TD's. Restic has shown he is one the top sophomore QB's in Oregon, and he will have to continue to play lights out and turnover free for Jesuit to win.
Central Catholic
Mt Hood Conference Offensive Player of the Year and PSU commit Aidan Wilder (6-0 190 Sr.) is the true definition of a leader. He has accounted for 38 total TD's (27 passing, 11 rushing) while throwing for 2,069 yards on 64.2% passing. Wilder is a 4 year starter and very dangerous as a dual threat kid, as Jesuit will be focused on both backs after CC's Nall and Scarlett ran wild. If an injury was to occur Holden Oglesbee (6-2 190 Sr.) is a very capable backup
Runningback
Jesuit
Chase Morrison (5-10 175 Jr. RB/CB) is ranked one of the state's top Junior's and filled in nicely for one of the top players in the country in Joey Alfieri. Morrison has rushed for 1, 981 yards and 27 TD's on 292 carries averaging 6.8 yards per rush. Alfieri went down with an inury in week eight, after going off and averaging nearly 250 a contest with 23 TD's on the year. Give a lot of credit to Chase who has stepped in and embraced his role. He is ranked our #2 Jr RB state wide behind Cam Scarlett.
Sophomore Fullback's Jason Talley (6-0 185 So. RB) and Mike Petroff (6-1 215 So. FB/LB) are two of the better sophomores in Oregon, and have both stepped up big this season blocking for Alfieri and Morrison. Talley will eventually move to tailback and be the next Crusader 2000+ yard back.
Central Catholic
The Rams feature one of the top RB duo's in the country. Cameron Scarlett (6-2 205 Jr. RB) and Ryan Nall both project as high level D1 talents with Nall committed to OSU and Scarlett listed as one of West coast's top juniors. Saturday's semi final performance will go down as one of the best single game displays in state playoff history, with Scarlett rushing for 356 yards and 5 TD's (84, 80, 67, 51, 29) and Nall matching him with 332 yards and 4 TD's (65, 79, 96, 29).
Cam will be a kid that receives multiple D1 offers over the off season as he has gone for 2, 768 all purpose yards and 32 TD's, averaging 11.92 yards per carry on the year. Nall is equally freaky as its rare to see the biggest kid on the field also be the fastest. He has gone for 1, 642 all purpose yards and 23 total TD's, averaging 12.72 ypc. In my opinion he will end up potentially being the steal of the year for the Beavers as he can play on either side of the ball and dominate.
Sophomore phenom Ronnie Rust (6-0 195 So.) also rushed for 9 TD's and 376 yards, but may play limited time offensively after taking a shot last week.
Wide Receiver/Tight End
Jesuit
Trent Werner (6-1 190 Sr. Slot/S) has been one of the most dominant receivers in Jesuit history catching 50 passes for 814 yards and 15 total TD's. He projects at the D1 level on both the football and baseball field, and will have to have a monster game to counter some of the CC talent. Im not sure if you will find a better pair of TE's in the country in Christian Martinek (6-5 240 Sr. TE/DE) and Henry Mondeaux (6-5 245 Sr. TE/DE/LB), as both are considered high end D1 recruits committed to Oregon St and Oregon. Mitchell Powers could be an X factor in the red zone at 6-5 as he has three receptions on the year, 2 of which have been for TD's.
Central Catholic
Zach Davis (6-0 175 Sr.) has been one of the breakout players state wide, tied for the team lead in receptions (31) with 589 yards receiving and 9 TD's. He has D1 genes and is legit collegiate recruit moving forward. Holden Oglesbee (6-2 195 Sr. WR) is one of the more underrated kids in the state and has had a phenomenal senior campaign catching 23 passes for 368 yards and 5 TD's, while Chase Cole (5-7 160 Sr.) 19 rec/238 yds/4 Td's and Xavier Pinder (6-2 180 Sr.) 9 rec/120 Yds have also been clutch.
The Crusaders need to be aware of Scarlett and Nall out of the backfield as they are two of the best receiving backs in the region. Scarlett has caught 31 passes for 660 yards and 7 TD's and Nall has hauled in 12 catches for 154 yards and 3 TD's.
Offensive Line
Jesuit
One of the most well coached lines in the state under John Andreas. They lost 4 D1 kids from a year ago and have still managed to have a very good season. Mike Miller (6-5 290 Sr. T) leads the group earning 1st team all league honors and sitting on the D1 bubble with multiple schools. Charlie Landgraf (6-2 255 Sr. C) returns as a two year starter after grabbing 1st team all league honors at center.
The teams top underclassmen is Nick Miller (6-2 265 OL) who had an outstanding junior year, earning 1st team all league accolades and projecting as one of the state's top up front young guys.
Central Catholic
The Rams offensive line has three of the state 's top 10 junior O lineman on its roster, with Arizona St commit Connor Humphreys (6-4 265 Sr.) leading the group. Blake Brandel (6-7 245 T) leads the underclassmen ranked our #3 OL state wide. He projects as a big time D1 kid that can play on either side of the ball as Coach Pyne says, " I don't think I have ever seen the kid have a bad day."
Riley Gallant (6-5 265 Jr. T) and TJ Salu (6-2 255 Jr. C) are the two other legit D1 level talents that earned all league honors this past season. Gallant has legit size and Salu is a beast on the interior. Andrew Ustach (5-11 225 Sr. G) has been a pleasant surprise grabbing 2nd team all league honors. He will move on to the University of Puget Sound. Overall the CC line had one of the best performances in recent memory last week, opening large holes against one of the better D's in the Northwest in Tigard. They are young but extremely talented.
Defensive Line
Jesuit
Christian Martinek (6-5 240 Sr.) was the Defensive Player of the Year in the Metro League and is currently a favorite for Oregon Player of the Year honors. Coach Potter says,"Christian is potentially the best D lineman I have ever coached." Anyone aware of the talent that has come through Jesuit knows the significance of that statement. David Brugato (5-11 250 Sr.) had a phenomenal year and was a 2nd team all league selection, while Paul Vickers (6-0 245 Jr.) has stepped up and done a great job.
Central Catholic
Connor Humphreys (6-4 265 Sr.) will go down as one of the best D ends to ever come out of Oregon. He will be an All Pac 12 athlete at Arizona St, while earning Mt Hood Conference Defensive Player of the Year honors. Sam Gomez (6-0 205 Jr. DL) isn't the biggest kid but has been an absolute tear during the season, racking up 1st team all league honors and coming off the ball as quick as any athlete in the state.
Donovan Manning (6-0 195 Sr. DL) and Sean Rogers (6-2 205 Sr. DL) were two of the other athletes that did an outstanding job over the year. Manning is another kid that doesn't possess massive size but is super quick and physical, and was one of the team leaders in tackles (52) and tackles for loss (6). Rogers earned all league honors and will also be a factor.
Linebacker
Jesuit
You can call Henry Mondeaux (6-5 245 Sr. DE/LB) a D end at the next level, but he is maybe the most versatile 6-5 HS linebacker I have ever seen. His ability to maneuver with his size is beyond rare, as I for see him being one of the top collegiate athletes in the country before he is done at the University of Oregon. He is now finally healthy and playing better then ever.
Mike Petroff (6-1 215 So.) and Nate Heaukulani (6-0 195 So.) are two other kids that are part of the elite 2016 group and are gaining valuable experience early in their career while playing very well. Dane Strength (5-11 200 Jr. LB) is another individual that could contribute.
Central Catholic
The CC backers are young and could be one of the best groups to ever come out of the Pacific Northwest. Ronnie Rust (6-0 195 So.) is one of the best overall athletes in the region, earning 1st team all league honors and leading the team in sacks (7), with legit numbers up and down the board; 60 total tackles, 13.5 tackles for loss, 5 pass deflections.
Lamar Winston (6-3 205 So.) is a freak athlete and is equally talented, as he projects at the D1 level in multiple sports much like Rust. Lamar earned 2nd team all league accolades, adding 43 total tackles and 9 tackles for loss. Two other key underclassmen who stepped up big were Matt Vanoudenhaegen (5-11 190 Jr.) and Tyson Cooper (5-11 200 Jr.). Vanoudenhaegen was a 2nd team all league kid leading the team in tackles with (73), while Cooper has been one of the state's most underrated backers. Tyson had an outstanding semi final performance, and showed that he was one of the better junior's in Oregon with 65 total tackles and 5 pass deflections on the season.
Defensive Back
Jesuit
The Crusader DB's have stepped up big this season and are young but very talented. Trent Werner (6-1 190 Sr.) ranks as our #2 safety state wide and was a 1st team all league kid that is the leader of the group. Werner has 2 Int's on the year, with Sophomore's Zach Houlemard (6-1 190 So.) and Jordan Happle (6-0 170 So.) being two of the state's best for the 2016 class. Houlemard is a phenomenal overall athlete projecting at the D1 level, while Happle has been maybe the surprise of the year leading the team in Int's with (4).
Add in fellow sophomores Donovan Baldocchi (5-10 155 So.) and Matt Ferguson (5-11 170 So. DB) with senior Josh Anderson (5-11 160 DB), and you have a group that has played out of their mind for the better part of the year. They will need to wrap up on the CC ball carriers as that was something a very talented Tigard group could not do.
Central Catholic
The Rams secondary is legit led by lock down corner Aaron Washington (5-9 170 Sr.), currently tied for the state lead in picks with (8). His 11 takeaways have proven crucial for the Rams D, who also have talented junior CB Saadiq Calhoun (5-9 160 Jr. ) on the opposite side after he earned 2nd team all league honors on the season.
AJ Newman (5-9 165 Sr.) has been one of the other big surprises after a very impressive senior year where he racked up 1st team all league honors, making 25 total tackles. Derek Reed (6-0 170 Sr. S) was another all league kid.