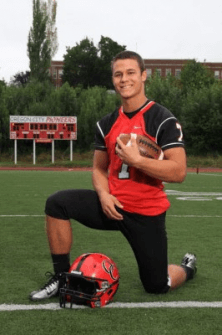 Over the next two seasons you can bank on the Oregon City Pioneers being one of the top teams in the state. The combination of a talented senior class and some elite underclassmen helped OC win the Three Rivers League title, going (9-2) on the year.
The TRL was top to bottom the toughest conference in the state and the Pio's set the tone for the next couple of season's. Conner Mitchell (5-9 180 So. RB) and Trevon Bradford (5-10 170 So. ATH/CB) are two of the top players in Oregon. Mitchell earned 1st team all league honors offensively, while racking up 1590 yards (176.7 YPG) and 13 TD's through the regular season. He will be a conference player of the year favorite next season with Bradford being one of the most exciting players in the western region.
Trevon did things as a sophomore that other athletes just don't do. His ability to accelerate and cut put him in the category of kid that usually resides in California or Texas. He took a kick to the house against Lake O to sure up the conference championship with two minutes left, and is a legit threat any time he has the ball in has hands.
Bradford is an unquestioned D1 athlete with both him and Mitchell excelling on D as well. Kiahve Dennis-Lee (6-1 195 So. LB) is one of the top young backers in the region earning 1st team all league honors, while John Marquette (Jr. CB) will return after earning 2nd team all conference accolades. Dennis-Lee is the real deal and a kid we will hear a lot about.
Hunter Knighton (6-2 200 Jr. WR) will be one of the top senior receivers in the state next season, earning 2nd team all league honors while Chris Mengis (6-1 265 Jr. OL/DL) will be a leader on the line and one of the better Senior's to be in the state.
All of this said as the youth movement at Oregon City has only helped to legitimize the program. Sophomore QB Riley Rexine looks like one of the top young quarterback's in Oregon as the younger classes have consistently won. Moving into 2014 you can expect the Pioneers to be ranked among the top 5 teams in the state and legit title contender.
Scott Lloyd (6-1 170 Jr.) and Tristan Birge (5-7 170 Jr.) are two of the other athletes that should play a key role, with countless other kids getting in the mix. OC is a proud football community that fills the stands as well as any program in the Northwest. Expect to see much more on this group as the off season progresses.