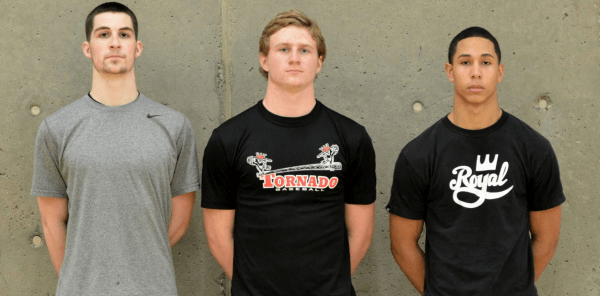 As we head out to Vegas in less than a month, a majority of the top athletes from Oregon and Washington will be in attendance. Two of OR and WA's top ranked receivers will lead the way for Team Oregon/SW Washington and get a chance to show what they can do against some of the top DB's in the country.
In the coming weeks we will provide you with a player by player breakdown of Team Oregon and Team Washington and which kids will be representing the region. Below you will see three kids that have been standouts at our elite events and are D1 projected athletes
Keegen Hlad – 6-4 190 Jr. WR West Salem HS (OR)
Oregon's #1 ranked WR for the 2015 class out of West Salem is the real deal. He earned 1st team all league honors in 2013, catching 45 passes for 854 yards and 12 TD'S. The Titans have one of the top QB/WR combo's in the state with Cade Smith directing the offense.
Hlad is long and can out jump most, making him one of the most dangerous receivers in the west, specifically inside the red zone. His ability to run and cut are unique for a kid his size as he is an unquestioned D1 level kid.
Keegen is already receiving significant interest from multiple D1 schools and will be one of the top prospects in the Northwest for the 2015 class. Vegas will give him the opportunity to show what he can do on a national stage.
Justice Murphy – 6-1.5 185 Jr. Evergreen HS (Vancouver, WA)
One of the freakier athletes that we have come across. Murphy earned 2nd team all GSHL honors in 2013 and will be a double digit D1 offer kid before all is said and done. Watch him run a couple routes and you know that he is in an elite category.
His abilities speak for themselves but his "Jerry Rice" like work ethic is what will make him great. Vegas will be good for a kid like Justice who is looking to show out nationally. In a day and age where you see a lot of very talented kids sit back on their talent, Justice pushes the envelope.
Murphy has been notorious for staying on the field and training after hours late into the night. One of the last things that head coach Don Johnson does before locking up Mckenzie Stadium for the evening is to make sure Justice has left. During our most recent snow storm, when most kids were out heaving snow balls, he was working on his game in the weather to become accustomed to playing in winter like conditions. Nothing like being versatile.
Jared Evans – 6-3 195 Jr. WR North Medford HS (OR)
Evans made the trip with us last year to Vegas and was one of the only sophomores playing on Team Oregon. He will have to miss this year's event as he will be down at Cal State Northridge on a baseball trip. Jared is one of the better baseball player's in Oregon and should have multiple options in each sport.
Last season Jared earned 1st team all league honors in the SWC after catching 49 passes for 818 yards and 9 TD's. He was also an all league safety and one of the better dual threat athletes in the state. Evans has been a big part of the turnaround at North, getting playing time as a freshman during some tough years for the program. As stated previously, he endured a (2-18) record in 2011 & 2012, before helping North Medford to a (10-2) season and the conference title.