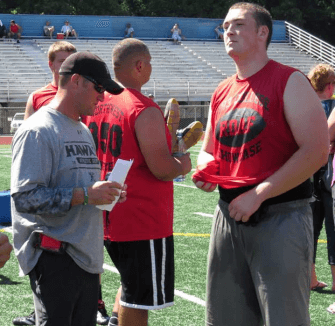 In breaking news over the weekend one of the Northwest's top lineman made his intentions known committing to Boise State. First team all-state tackle Mike Miller (6-5 290 T) of Jesuit chose the Broncos over two other preferred walk on offers from Oregon and Oregon State.
Miller had a phenomenal senior campaign opening massive holes for Stanford bound Joey Alfieri and talented junior Chase Morrison, both of whom rushed for over 2,000 yards on the season. The Crusaders made a state title run, after losing four D1 lineman from the year before, which averaged 6-5 295 across the board.
Referencing the commitment Mike said, "I'm extremely excited to have this opportunity at a great program like Boise State, and I can't wait to put in the work and be the best I can be." His upside is off the charts as he is young for the grade, graduating at 17, while having D1 genes. Miller has an outstanding family support system with his father playing on the line for the Ducks back in the day.
Mike is loved by his teammates with Jesuit standout Trent Werner saying via Twitter, "That's my dude.. best O lineman in the state." He has an unquestioned work ethic and proved himself time and time again at our elite events, and on the Barton Camp and Combine tour over the last two seasons.
All of us are excited for the big man moving forward as he will play for a Broncos team that will be on ESPN weekly. He is a quality kid and that someone that we all agree has a very bright future at the division 1 level. We will bring you updates as they happen.