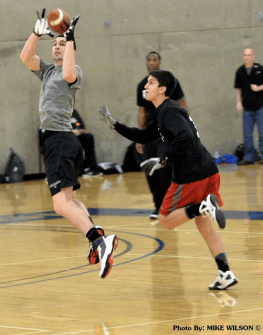 As our elite events continue into March one of the breakout performers state wide has been Chris Adamo (5-11 165 Jr. CB/ATH) of Mountain View High School in Bend.
He has made the trip to Portland almost every weekend, making a name for himself against the top athletes in the Northwest. Adamo has shown the ability to maneuver and make adjustments the way very few DB's can.
Chris was recently invited to be a part of our 7 on 7 All Star squad that will represent Oregon in Las Vegas in 2 weeks. Over the last few months he has battled the NW's top wide outs, while going heads up this past weekend in Seattle with one of Washington's top two receivers, Dayzell Wilson (6-2 190 Jr. ) of Bothell.
Add to this his weekly battles against the region's top junior wide out in Justice Murphy (6-1 185 Jr. WR/CB) of Evergreen, and Oregon top ranked WR's Keegen Hlad (6-4 185 Jr.) and Jared Evans (6-3 195 Jr.) of North Medford. Its been a very impressive couple of months to say the least.
Referencing the elite events and some of his goals moving forward he says, "I'm honored to be able to go to these elite camps where the competition is great and I'm able to go against the best players in Oregon and SW Washington". He continued, "Its a privilege to be coached by some of the most experienced guys in the NW, and I am hoping to earn 1st team all conference honors on both sides of the ball next season."
As of right now that seems very realistic as Chris should be considered one of the top five corners in the state and rising quickly. Speaking on Central Oregon and playing ball at one of the top 5A schools in the state he said, "Mountain View has a great football culture and a very loyal fan base, I think we have the best coaching staff in Oregon and its great to play for Coach Crum". Adding, "He always drives me to be the best player I can be and I know I wouldn't be in this position without him."
Adamo earned 2nd team all league honors in 2013, making 32 total tackles, 1 INT, and a conference leading 9 pass deflections. You can expect him to be a defensive player of the year candidate next season, completely shutting down one side of the field. We will keep you updated on Adamo and the talented kids out of Bend as they should be a 2014 title contender.