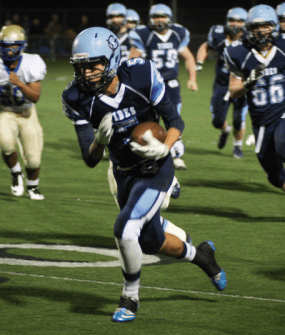 One of the top receiving duos in the state of Washington resides on the Kitsap Peninsula in the pair of Gig Harbor's Santana Johnson and Noah Samsen. Here's a look at what each does on the football field and what it was that made them fast friends after meeting last summer.
"Santana was at Wilson (Tacoma) and moved here to Gig Harbor and (a friendship) happened pretty quickly between us," Samsen, who will be a junior this fall, told Northwest Elite Index. "He's a good guy and you could see his talent level. He's also really competitive so it was pretty fun giving each other the business when one of us would win a race or if we would make a play."
"He was a guy who I knew was going to be good and we sorta feed off of each other," Johnson added. "We compliment each other pretty well and we have a good relationship, a healthy competition, so it just makes us better."
Johnson, who is one of the up-and-coming receiver prospects within the state for the 2015 recruiting class, led the Tides with 29 receptions for 533 yards and five scores while Samsen, working almost exclusively out of the slot, hauled in 15 receptions for 256 yards and a score.
Johnson earned First Team All-Narrows 4A while Samsen received Second Team honors.
"I play both ways, but I think I'm stronger as a receiver because I am not afraid to go up and get it," Johnson said. "My height (6'3") allows me to go up and get it and there aren't many defensive backs my size, so they have a tough time covering me."
While Johnson made his name outside, Samsen worked inside the hashes mostly and was a real thorn in opposing defenses' sides.
"I work the inside routes really well and I'm a good blocker for our running backs," Samsen said. "My quickness helps out a lot too."
On the recruiting front, Samsen, who won't be a serious recruit until next spring/summer, has started to get letters from schools and he's been invited to the Washington State camp and he's been a mainstay at the Barton events held locally.
Johnson on the other hand, told NEI he's been hearing from a few of the Pac 12 schools and has an invited to attend USC's camp this summer as well as Montana and Montana State's camps as well.
"I don't have any offers yet, but I've been hearing from those schools and I definitely want to get out and show coaches what I can do," Johnson said. "I've been dealing with a bum ankle the past few weeks, so I have missed baseball and the chance to work out for football stuff, but it's getting back healthy now and I'll be playing baseball again soon and also going out to football stuff this summer once we're done."
Even though Johnson carried a .422 average with seven triples, 12 doubles and 18 steals, he said he knows where his future lies.
"I'm a football player and that's what I'll do in college," Johnson said. "I love playing both of them, but as far as what I do best, I feel football is where I will have more of a future."
While Johnson is tearing things up on the diamond, Samsen has been focusing his attention on track where he recently set a personal best of 11.38 in the 100 meters although he's currently been hampered by a hamstring injury.
"It's been getting better, but I'm just trying to make sure it's ready to go when I need it and I don't want to miss any workouts for football either," Samsen said.
With Johnson's size (6'3", 180) and athleticism outside and Samsen's quickness, precision route-running and great hands, the Tides are set up offensively to have one of the more dynamic passing attacks in their league and possibly in the state.
Look for both to see their recruitments pick up this summer after they hit the camp circuit and both should garner lots of attention after the season gets underway.