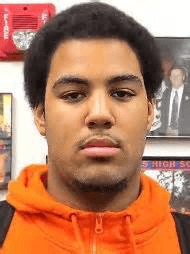 It's been tough to keep track of one of the top in-state athletes in the 2016 class, but Northwest Elite Index was able to catch up with Jared Goldwire recently and he updated us on what school he'll be attending this fall and how the summer after his sophomore year will be spent.
We first got a look at Goldwire when he was lining up at left tackle for Lakes High School which is located in Lakewood, a city just south of Tacoma.
Word was that Goldwire was going to follow his father who was named as the head coach at Mount Rainier High School for his sophomore year, but instead, he wound up enrolling at O'Dea High School up in Seattle.
"I had to sit out last year because of transfer rules for private schools," Goldwire told NEI recently. "It was hard sitting and watching, but I still got to work out and spend time with the team."
That isn't the end of the story however. We all thought O'Dea would be his final landing spot, but instead, his family decided to move him down to Kentwood and he enrolled there almost a month ago and has been working out in the Conquerors' offseason program.
"It's been a good switch for me. I'm happy here and feel it's where I'll be the next two years," Goldwire noted. "I've been lifting and working out and I'm getting stronger and I can't wait to play this fall after I've sat out for so long."
Dusting the rust off of his 6'8″, 270-pound frame shouldn't be that tough as he plans to play tight end and along the defensive line for the Conqs.
"I love playing tight end, but I think I prefer defense more than offense honestly," Goldwire noted. "I just love hitting guys. I've really missed it. I can't wait to get back on the field."
With his size, quick feet and outstanding athleticism, Goldwire could wind up being one of the most highly sought-after prospects in the state in 2016, but many schools have yet to know where he's currently playing. That should change soon.
"I don't think anyone knows where I am, so I haven't talked to anyone," Goldwire said. "I'm looking at going to some camps this summer, but I haven't planned anything yet, so that's still sorta something I need to plan out."