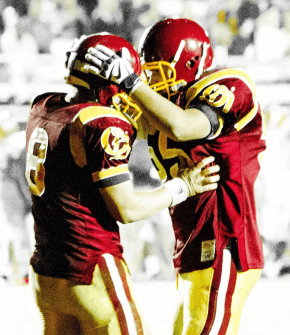 With offers flying around left and right, recruiting season appears to be in full swing. O'Dea (Seattle, Wash.) OL Majid Firoozi ('15) picked up his first offer recently when the Air Force Academy made their intentions known.
"It feels good to know that hard work is starting to pay off but I know the hard work is just beginning," Firoozi told NEI. "Air force came by O'Dea about a week and a half ago and just talked to me about the academy and all it has to offer. They gave me a bunch of info and it got me pretty excited.
"About 3 or 4 days ago I got a phone call and they said they really like my physicality and quickness off the ball and decided they wanted to extend me a scholarship. They said they see me playing as an interior lineman which is what I currently play for my school so I'm pretty familiar with the position."
Standing six-foot-four and 250 pounds, Firoozi was a first team All-Metro selection last season, and was also awarded O'Dea's Outstanding Lineman award last season.
Firoozi fits the mold of a classic O'Dea lineman, as he excels in run-blocking. Fighting Irish QB Pierre Le Dorze described Firoozi, "Big, lots of room to add to frame, understands and executes blocking assignments, doesn't matter who he faces he'll fight till the end."
Right now Firoozi is working to get better every day with the hopes of adding to his offer list. He is a 3.4 GPA student and takes academics very seriously, so finding the right fit is key at the next level.
This could be the beginning of a big offseason for Firoozi, who is seeing serious interest from a few Pac 12 schools, including Washington State and Arizona, as well as Eastern Washington and all three service academies.
"I don't have any plans currently for college visits," Firoozi says. "I'm going to sit down with my family and hopefully figure out all my plans for that. My offseason is going to consist of a lot of hard work in the weight room. O'Dea has a great summer conditioning program and I plan on hitting that just about every day.
"I plan on taking a leadership role next year and I'm going to push myself and my teammates to do whatever it takes to get that state title, because I know we have the talent, we just need to put it together."
The Irish do lose lots of leadership off last year's state semi-final team, but legendary head coach Monte Kohler seems to always have athletes ready to step up. With a runningback like Myles Gaskin, and a tough as nails offensive line, the Irish should once again be near the top of the state's rankings.