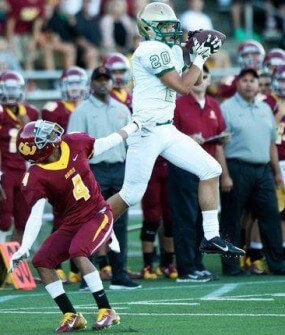 One of the top Junior's in the Pacific Northwest is Jordan Happle (6-1 185 16′ WR/S) of Jesuit. He has been one of the most impressive kids in Oregon thus far, catching 17 passes for 282 yards and 2 TD's in their first two games.
Happle added a 32 TD reception in last weeks 47-14 win over Sunset. When you take his defensive ability into account he projects as one of the top dual threats kids in the region. Jordan led the team in INT's as a Sophomore (4), helping the Crusaders to a state title appearance. He was one of seven sophomores that started for Jesuit in the Championship.
They are currently (1-2), with two losses to top programs in Central Catholic and Sheldon. Referencing the team he says, "The two losses have really helped us get ready for Metro, it taught us we need to finish." Adding, "I feel like we are more balanced than we have ever been, and that should help us in reaching our team goal of winning a state championship."
His numbers become even more real when you look at the Jesuit ground game and how consistent they have been over the years. It's rare to see any receiver in the Jesuit system excel on a state wide level, but Happle has been dominant on both sides of the football.
Speaking on this season and the future he says, "Personally I would love to play football at the next level, win two state championships, and be the best receiver in the state."
Happle carries himself with class and is a team first guy. Look for him to be one of the better athletes ever to come out of Jesuit, as they will once again be a Metro League favorite and state title contender.