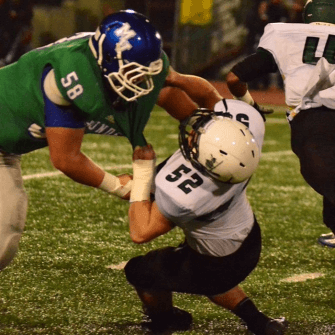 One of the top lineman in Washington for the 2016 class is Chris Mitchell (6-2 270 G/C) of Mountain View (Vancouver WA).
Mitchell earned all conference honors the last two seasons and has D1 potential. He is very similar in stature and ability to his trainer Alex Linnenkohl. As most know Linnenkohl is the head BFA line coach, and a former three year all Pac 10 athlete at Oregon St.
Speaking on Mitchell , Linnenkohl says, "Chris' mindset is unlike any other lineman I've coached, he's mature beyond his years and there is not a lazy bone in his body". Adding, "As a recruit its hard to not compare him to myself… He'll be overlooked because he's not 6'4″ plus, but when he gets his opportunity he will make the most of it from day one, and quickly become a multi-year starter."
Chris is a high end academic kid, sporting a 3.92 weighted GPA, which will draw attention from a host of Ivy League type schools. As referenced above he doesn't have prototypical D1 size, but there are few that are better fundamentally.
Mitchell has been a three sport kid for most of his life (basketball, track) putting his overall athleticism into perspective. He projects at the center/guard position, but is also one of the top long snappers in the West.
The versatility he possesses should help with his recruitment as Linnenkohl chimed again saying, "The biggest difference between Chris and I is that he has stronger legs and better grades." A bold and telling statement from one of the best lineman to ever come out of OSU.
More than anything Mitchell is just a really good kid. Regardless of what he does in life he is going to be successful. We will keep you updated as you can expect Chris to be a GSHL Lineman of the Year favorite heading into 2015.