Click for Connor Johnson Highlights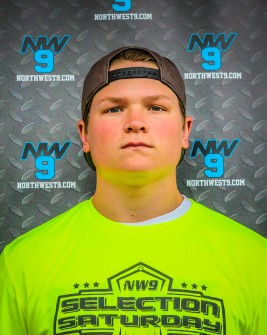 Over the course of the spring, 2017 Archbishop Murphy (Everett, Wa.) QB Connor Johnson has seen his stock rise and he recently received his first offer.
"Southern Oregon just offered me," a happy Johnson told NEI. "I had been talking to them since March and I went down and worked out in front of them on Sunday and we talked strategy and they said they liked what they saw from me and they were offering me a scholarship.
"I'm really excited about this first offer, but I am hoping some other schools come into the picture soon.
"I have been talking to a couple of other schools — Carroll College, Colorado Mesa, Montana and Montana State, Central Washington and Western State Colorado — have been talking to me."
With his first offer in hand, Johnson has already been hard at work this offseason, hitting the camp circuit, trying to show coaches what he has to offer.
"I went to Washington's Top Dawg QB camp last week and that was a lot of fun," Johnson said. "I'm headed to the Rough Diamonds (June 30th) at the end of the month and I was already at the Northwest Stars camp that Taylor Barton did earlier in the spring.
"I have also been invited to the Northwest 9 Finals, so I'll do that one in August, and I am also planning to hit the Eastern Washington and Montana camps as well and I am going to the USA Football National Development Team Academy this July at University of Cal Davis."
As a junior last season, Johnson led Archbishop Murphy to a 12-1 record and a berth in the state semi-finals by completing 65.8% of his passes for 1,784 yards with 20 touchdowns and just four interceptions.
"I'm at my best getting the ball to the right player at the right time," Johnson said. "When your'e the quarterback, you're almost automatically put in a leadership role, but this year I feel much more comfortable doing that and I'm working on getting my guys ready and taking on a bigger role of leadership.
"As far as what I do well technically, my coaches and my dad went through the tape and they said that I completed 65% of my passes that went for over 25 yards.
"I can also run when I need to, but I'd prefer to stay in the pocket or move around to avoid the rush and get the ball out to my playmakers and let them do what they do best."
At 6'2″ and 215 pounds, Johnson is a sturdy quarterback prospect with enough arm to make all of the throws and the leadership skills and toughness necessary to take the reigns of the offense and win games.
Now that he's gotten his first offer, you can expect more schools to stand up and take notice of what Johnson is able to do and it wouldn't be surprising if a few more schools opt to join the fray in his recruitment.