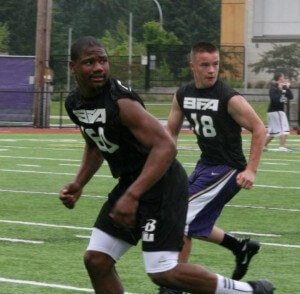 The fact that this kid is still on the board without an offer is beyond me. Micah Breland (6-2 225 Sr. LB) is an athlete that plays with complete disregard for his body and the people that he hits. His film speaks for itself as it looks like a war film with all of his opponents getting blown up.
Breland traveled with us to Las Vegas as part of NEI-North where he showcased how athletic of a linebacker that he could be. One of the biggest hurdles that he faces is the competition within the league that he plays in. He is the captain of the Foster football and track teams, and maintains a 3.6 GPA. Foster is a 3a school, but just lacks much competition within the conference making it harder to justify how talented of an athlete that he is.
In 2011 he made 73 total tackles (53 solo), 3 Int's, 2 fumble recoveries, and 5 pass deflections on his way to first team all league honors. Watching him blast people on video while on special teams is a good way to get a feel for how dominant he is.
The best thing about Micah is the kids character. You will not find a more well rounded individual making him even more appealing to colleges. Breland is the student body president that has always maintained honor roll status, currently taking 4 AP classes. More importantly Micah does a host of great things off the field. He is a volunteer at the union gospel mission and also is a proud member of young life (youth group) . All of this as he will be a Defensive Player of the Year Candidate within the conference, as his video exploits the freaky athlete that he is.
Breland says, " I see a lot of improvement with regards to attitude and

coach ability

this year and definitely more dedication", when referencing his team. He continued, " I truly think the hard work will pay off this year…I tell my teammates all the time that we are capable of anything and everything, it just depends on if we all do our part".
The born leader adds, " hard work beats talent when talent doesn't work hard, and I think this year with our work ethic that we are going to be a force in the Seamount League and even the state".
Micah will be featured as one of the top athletes in the entire region without an offer, as we introduce a host of players that are still right on that scholarship bubble. His upside is off the charts as you never have to worry about Breland making good decisions on or off the field. We want to wish Micah and his entire Foster team a healthy and successful 2012 season, as we look forward to our continued relationship with one of the northwest's top athletes.
Micah Breland Highlights- http://www.youtube.com/watch?v=HDhMlg-2qIs