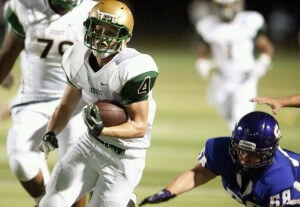 All family and friends not able to get to the game may view the contest on

OSAA.TV

or Playonsports.Com This is one of our games of the week that we are extremely excited to do; Myself (Jordan Johnson) and Todd Pickett will be doing the broadcast
QB
Christian Martinek 6-4 220 Jr.
Martinek is an incredibly talented overall athlete that can throw, but is happy to run if he ever gets a lane. With Christian at QB the Crusaders have options, but the running game will remain prominent at least 80% of the time
Chase Morrison 5-10 165 So.
Glass is nasty and could potentially break a host of conference and state records this year, as he started the season with 325 yards on the ground to go along with 6 Tds. The State's top junior LB Alfieri is also a hard nosed runner getting in the end zone twice (7,1), while young gun Chase Morrison got plenty of reps after the first half blowout (10 carr, 105 yds, 1 Td).
The passing game isn't exactly the Crusaders forte but Werner is a baller and one of our top ranked athletes on both sides of the football. Pierson has got size, and Webb started as a junior on D and is a talented overall athlete with quality speed and hops.
Henry Mondeaux 6-4 240 Jr.
How nice would it be to have these guys be your TE's.. This isn't even counting the line that averages 6-6 290 across the board. Brenner was just offered by Oregon and Mondeaux is our #1 ranked Jr. TE..Wow! Both of these kids are two of the top athletes in the State of Oregon for their class and
Andrew Kirkland 6-5 300 Sr.
Dominic Baldocchi 6-2 270 Sr.
David Brugato 5-10 255 Jr.
Charlie Landgraff 6-2 250 Jr.
What can you say? Its one of the most massive lines in the country and they are all athletic. It could potentially go down as the one of the greatest lines in state history with the TE's included. Kirkland is committed to Washington, with Max Rich having a Washington St offer among 6 offers.
Baldocchi is a returning all league kid that has started since his sophomore season, with Landgraff, Brugato, and Brown getting time at the other spots on the line. They also feature one of the top line coaches anywhere in John Andreas.
Christian Martinek 6-4 220 Jr.
Brayden Nelson 6-1 225 Sr.
Dominic Baldocchi 6-2 270 Sr.
Martinek earned 1st team all league honors as a sophomore, and shows ridiculous athleticism as he is able to post up from his QB position and also a D end spot. Brenner is man amongst boys, and is so strong that he requires a double team on every play if you don't want him to completely disrupt what you are doing.
Add in two returning starters from a year ago in Baldocchi and Nelson and you have a very dangerous up front cast that can completely dominate games.
Ben Hartmeier 5-10 195 Sr.
Henry Mondeaux 6-4 240 Jr.
Alfieri is the real deal, earning 1st team all league honors as a sophomore in the toughest conference in the state. The kid flies to the ball and has anticipation that you can't teach. He is currently the #1 ranked Jr. LB in Oregon. Hartmeier is a kid under the radar that is a very good football player. Both Werner and Mondeaux are ranked among the top underclassmen in Oregon.
DB
AJ Glass 6-1 195 Sr.
Buddy Webb 5-9 170 Sr.
Chase Morrison 5-10 165 So.
Jack Sweitzer 5-11 160 Jr.
Glass is an outstanding defensive back, but didn't get a ton of time there last season due to the fact that he got 30+ carries a game. He will be at safety with two extremely athletic corners in Webb and Morrison.
UNION (1-0)
Nolan Henry 6-1 175 So.
Henry is one of the top QB's in the entire NW for the class of 2015. He is the cousin of St Louis Rams QB Kellen Clemens, and a leader in every sense of the word..Last week he went 12/18 for 100 yards in a solid performance.
Alex Berfanger 5-9 180 So.
Berfanger's a two way stand out that is able to contribute on both sides of the ball, but he is still young so look for Jesuit to provide a challenge up front
RB
Leon Siofele 5-11 200 Jr.
Siofele returned from an injury sustained last season, and looked like the back of the future scoring 4 Tds while rushing for 118 yards on 13 carries. He's a kid that the Crusaders will be focused on.
WR
Bryce Evans 6-2 185 Sr.
Treve' Ensley 5-10 175 Sr.
All three of these kids go both ways and are some of the top athletes within the conference. Cowan is one of the better two way players in the state and has a scholarship offer to Idaho as an athlete/punter. Evans and Ensley are two of the most underrated players in the NW, and provide solid targets for Henry.
Michael Merfeld 6-4 230 Sr.
Merfeld is a beast and will be a much needed player against a very physical Jesuit team. He is a talented kid that can move
Mason Proudfitt 6-2 220 Sr.
Aaron Anderson 5-11 250 Jr.
Kameron Brant 6-0 225 Sr.
The Titans are still pretty light up front and it is the size differential that could pose some serious problems. The Union kids have legit skills up front, but are just significantly smaller.
Michael Merfeld 6-4 230 Sr.
Dennis Mamontov 5-10 235 Sr.
Nick Henderson 6-0 300 Sr.
This is where the Crusaders will take advantage of most everybody they play. The Titans will have to deal with three D1 seniors and the best Junior TE in the state. Nick Henderson will be crucial having to level some of the size differential
Alex Berfanger 5-9 180 So.
Leon Siofele 5-11 200 Jr.
Kevin Grimsted 5-9 195 Sr.
Paul Gladkov 5-11 205 Sr.
Tate Nelson 6-1 220 So.
Union has some very talented underclassmen, but it may be very tough for the LB's to deal with the up front pressure that the Jesuit line will create.
Trent Cowan 6-4 205 Sr.
Bryce Evans 6-2 185 Sr.
Treve' Ensley 5-10 175 Sr.
Caleb Browning 5-10 155 Jr.
Cowan is a baller and will team with the usual suspects in Evans and Ensley. The problem lies with the fact that the Crusaders don't really throw the ball and the DB's will have to step up and focus on making sure tackles, and not letting Glass get loose.
ADVANTAGES
QB – Jesuit slight
RB – Jesuit
DB- Even
The Union program is one of the most respected in the State of Washington, and will never go down without a fight. That said the nationally ranked Crusaders are physically and athletically dominant on almost every front. Expect Jesuit to use its massive line to its advantage once again, as AJ Glass broke off a very decent McMinnville team last weekend.
You can expect Union to implement some trickery as RB Siofele will not be able to do what he did last week to Mt View. The Crusaders will key on him, and make the young and extremely talented Nolan Henry beat them at QB. We can't say enough good things about Nolan as he is the QB of the future in the Northwest.
Jesuit will be celebrating their first home game of the season on Friday, and it will be very tough for anyone to stop the running attack of the Crusaders.
Prediction: Jesuit 49 Union 17