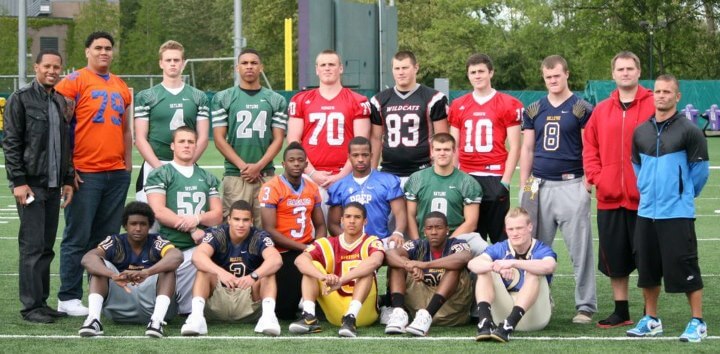 Ryland Spencer Picks
Washington 4A
#1 Skyline (1-0) @ Cottonwood (0-2) (Murray, UT)
I don't know a lot about Cottonwood so this could be considered to be a "homer" pick. I do know they have a very good QB in Alabama commit Cooper Bateman. The Colts are 0-2 on the season and I see them losing again. This is the first of back-to-back weeks out of state for the Spartans who also travel to Idaho. Spartans flys from Utah with a 38-14 win.
#2 Bellarmine Prep (1-0) vs (3A) #6 Lakes (0-1)
Coming off a win over a tough Peninsula, the Bellarmine Prep Lions matchup with a Lakes team who was upset by Woodinville. This is a tough decision for me. Had Lakes done what I expected of them last week, I would probably pick them here. That being said, I am picking Bellarmine Prep 30-24.
#3 Mead (1-0) vs North Central (0-1)
The Panthers of Mead really took it to University Prep last week in a 43-10 win and I have no reason to think they wont do that again here. North Central has one of my favorite players in "Mr. Everything" Jake Hoffman. He wont be enough though as Mead routes NC, 55-10.
#4 Federal Way (1-0) @ Emerald Ridge (0-1)
This is a Thursday game being shown on Root Sports. The Federal Way Eagles put up 41 first half points in their win over Rogers. This week I expect them to do something very similiar to the Jaguars of Emeral Ridge. Eagles in a blowout, 45-14.
#5 (tie) Bothell (1-0) vs (3A) #1 Bellevue (1-0)
I can't imagine a team in the state with a tougher schedule than the Bothell Cougars. Last week @ #1 Skyline and now they host a nationally ranked Bellevue team coming off an OT win over the Trinity Trojans of Euless, TX. The Cougars have a lot of playmakers and are a VERY good team, but Bellevue is a notch better. Bothell becomes the best 0-2 team in the state as Bellevue wins, 41-24.
#5 (tie) Camas (1-0) vs Canby (Oregon) (0-1)
The Papermakers play an Oregon school for the second straight week when they host the Cougars of Canby. Last week it was offense a plenty for Camas who put up 62 points. Canby played a VERY tough Tigard team that we currently have ranked 6th. I think Camas wins, but it is much closer than last week, 34-27.
#7 Issaquah (1-0) @ (3A) #3 Mount Si (1-0)
This is a tough game for me. I really like both teams. Mount Si has one of the best defensive secondaries in the state, while Issaquah has some of the better receivers. The Mount Si secondary likes to be called "The Generals" and this week they will lead the Wildcats to victory, 28-17.
#8 Skyview (0-1) @ Columbia River (1-0)
I like to think that Skyview ran into a buzzsaw last week and what happened was just a fluke, but I am a little scared. Columbia River put up a ton or yards and points, but also gave up a ton. I think this game is going to be a shootout. Skyview back on track 44-38.
#9 Kentwood (1-0) vs Jefferson (0-1)
Last week the Conks made a statement in roughing up a good Auburn squad. This week I expect much of the same. Jefferson doesn't have the horses to compete with Kentwood. Conks continue towards a league title with a 38-10 win.
#10 Eisenhower (1-0) vs Moses Lake (0-1)
The surprise of week one could be the Eisenhower Cadets beating a Wenatchee team that a lot of people thought might go undefeated into the playoffs. QB Kolney Cassel (SMU Commit) throws the ball a lot in the wide open offense and I expect 350+ yards this week. Cadets dismantle Chiefs, 48-7.
Washington 3A
#1 Bellevue (1-0) @ (4A) #5 Bothell (0-1)
See Bothell above.
#2 O'Dea (1-0) vs Ballard (0-1)
The Irish started slow last week against Gig Harbor, but managed to turn things around and come away with a big win. Ballard was a team I was expecting to have a good season, but with a 7-6 loss in week one vs Blanchet, I am now rethinking that theory. O'Dea wins easily 37-7.
#3 Mount Si (1-0) vs (4A) #7 Issaquah (1-0)
See Issaquah above.
#4 Meadowdale (1-0) @ Inglemoor (0-1)
This is a game I hope to attend. Inglemoor is a team that had high hopes at the beginning of the season. The loss of MLB Mikey Tupou really hurt the Vikings in their loss to Juanita. Meadowdale has a lot of weapons on offense led by RB Desmond Young. I expect the Mavs to roll in this one, 34-10.
#5 Eastside Catholic (1-0) @ Eastlake (1-0)
The Eastlake Wolves went down to Oregon and got beat by a VERY good Lakeridge squad. Eastside Catholic easily beat a good Liberty team. These two schools can't be more than a mile apart. Eastlake bounces back and parties on the plateau, 24-21.
#6 Lakes (0-1) @ (4A) #2 Bellarmine Prep (1-0)
See Bellarmine Prep above.
#7 Oak Harbor (1-0) @ Arlington (0-1)
The Wildcats started a little slow but in the end beat Snohomish. I expect them to turn on the offense this week and will be led by QB Ian Koltse. Oak Harbor is trying to open up the offense a little more this season and will have a good opportunity to do it this week. The boys from Whidbey walk away with a 34-13 win.
#8 Marysville Philchuck (1-0) @ Lake Stevens (0-1)
MP is an interesting team. They have a lot of good young players that are really growing and coming together. Tomahawks Sophomore Austin Joyner is a RB that you will be hearing a lot about over the next 3 years. Start the Tomahawk Chop, MP wins 35-20.
#9 Glacier Peak (1-0) @ Snohomish (0-1)
The Grizzlies were a bit of a surprise in week one. They put up a ton of offense led by Sr QB Chris Becerra. This week it is a battle of the two Snohomish school who share Veterans Memorial Stadium. Glacier Peak takes the bragging rights, 45-21.
#10 (tie) Mercer Island (1-0) @ Couer d'Alene (Idaho) (2-0)
The Vikings from Couer d'Alene have been one of the best teams in the northwest in the last few season. This is a team that doesn't rebuild, they reload. I think Mercer Island is a good team, but I can't pick against Couer d'Alene in this one. Vikings win in a tune-up for next weeks game vs Skyline, 40-24.
#10 (tie) Timerline (1-0) @ (2A) Tumwater (0-1)
The Blazers beat cross-town rival River Ridge 20-0 in week one while Tumwater was hammered by a good Shelton squad. I can't imagine a Sid Otton coached team staying down very long. That is why I am picking the upset in this one. Tumwater gets back on track, 30-24.
Scott Eklund WA 4A/3A Picks
Jefferson at Kentwood – Tough sledding for the second-straight week for Jefferson as they take on an improved Kentwood squad that has senior playmakers like Jackson Huerta ready to explode almost every time they have the ball in their hands. Kentwood moves to 2-0 with a relatively easy win. Kentwood 38 – Jefferson 20.
Meadowdale at Inglemoor – The Mavericks have lots of speed and size and are the team to beat in the Wesco 3A. Inglemoor has plenty of talent as well, however, they are missing their best defender — Mikey Tupou — who is out with a broken foot for the first month or so of the season. Meadowdale pulls away late for a comfortable win. Meadowdale 31 – Inglemoor 17.
Eastside Catholic at Eastlake – The Wolves are trying to rebuild after last year's senior-laden team held the number one spot for most of the regular season and were strong contenders for a state title. Eastside Catholic, led by senior QB Trey Reynolds, look like they could really challenge O'Dea for the Metro Mountain Division Title. These two schools seem headed in different directions and I see the Crusaders getting the win. Eastside Catholic 27 – Eastlake 21.
Juanita at Monroe – The Rebels look like they have the players to make some noise this season, but they get a tough test from Monroe, a playoff team last year, who can sneak up on some people. Juanita gets the win, but it will be a tight. Juanita 24 – Monroe 20.
Hazen at Liberty – Hazen traveled to Tacoma last weekend and escaped with a 35-28 win over Franklin Pierce, a 2A team. They come home to play host to Liberty which was blasted last week by Eastside Catholic 41-14. Hazen seems to have the momentum right now and I feel like they will be out to prove they belong in the 3A playoff discussion over the next seven weeks. Hazen 24 – Liberty 17.
Bellevue at Bothell – Poor Bothell. They play the top-ranked 4A school, Skyline, well last week and what is their reward? They get to face the best team in 3A and likely the entire state in Bellevue, which is ranked in the top 10 nationally by several publications. Bellevue will use their ground game to get after the Cougars, but Bothell's rising sophomore signal-caller, Ross Bowers, will keep this closer than people think. Bellevue 31 – Bothell 21.
Woodinville at Mariner – Woodinville shocked a lot of people last week, getting a win over then third-ranked Lakes on the road and this week they get Mariner which got the season started right last week with a 41-27 win over Marysville-Getchell. I expect Woodinville junior RB Wyatt Smith to have a big night and lead the Falcons to an easy win. Woodinville 33 – Mariner 13.
Kamiakin at Hanford – Kamiakin was shocked, as were many of the pundits, when they suffered a 31-29 loss to Prosser to start the season last Friday and things definitely don't get much easier as they travel to Richland to take on the upstart Hanford Falcons who blew out Chiawana last week 24-7. At this point, it's hard to see the Braves getting the win as the Falcons running game and defense are both very good. Hanford 27 – Kamiakin 24.
Columbia River at Skyview – Skyview didn't start of the season how they would have liked, losing to Central Catholic 27-9, however, the Rams are loaded with talent and are one of the top teams in the Beaver State, so while a loss is a loss, it isn't one that has me down on the Storm. Keep an eye out for a big rebound from them this week against an improved Columbia River squad. Skyview 34 – Columbia River 17.
Cascade Christian at Montesano – Two of the 1A powers in the state meet in what could be a state-championship preview. Personnel-wise, Cascade Christian are a deeper and more experienced team than the one that reached the 1A title game last year and they looked good last week in their 39-0 blowout of Cashmere on the road. Montesano blew out Aberdeen at home last week and will be ready for everything the Cougars can throw at them. This could be an epic battle, but, in the end, I expect Montesano to come out on top. Montesano 28 – Cascade Christian 24.