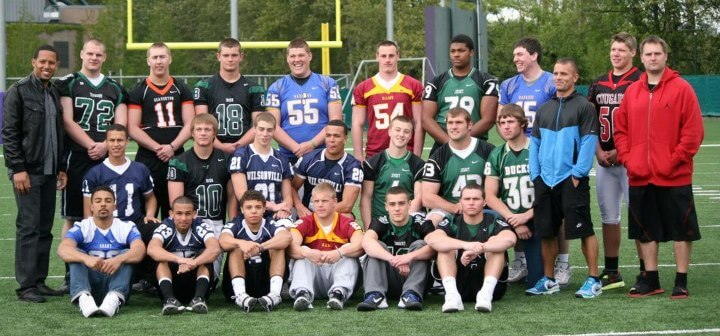 Each week it's always fun to make selections of our Oregon and Washington ball games. Myself (Jordan Johnson), Ryland Spencer, and Scott Eklund will be making picks and putting them up on the site for anyone looking to get a heads up on the weekend games.
Last year I hit on 83% of my 6a Oregon selections..This is a quick note for anyone wanting to send in their picks and attempt to beat me, as I like to talk a little trash and have fun with the process. There are very few things in this world that I know better then Oregon 6a football, as last week I went (23-2) to start the season.
Check out this weeks picks and feel free to send in your selections all in good fun.
WEEK 1- Jordan Johnson
6A- (23-2) 92%
5A- (16-7)
*2011 Winning Pct- Oregon 6a 83%
6A Top 10
#1 Jesuit 1-0 vs Union, WA 1-0 (Jesuit 49 Union 17) … Union is a good football team, but Jesuit is a dominant force with a line that creates huge match up problems for most people. There are very few teams in the NW that will be able to compete with the nationally ranked Crusaders for this fact alone.
# 2 Sheldon 1-0 @ #3 Central Catholic 1-0 (CC 30 Sheldon 27 OT) … It pains me to pick a winner of this game, but whatever happens I guarantee it is close. Just when I thought I had seen Connor Strahm due it all, he put the team on his back last week and helped get the comeback win against a very talented Southridge club. Central will have a guy or two on him at all times, with his good friend Dallin Leavitt probably up in his grill all night long. You can expect these two to be pretty sick of each other by the end of the evening. Both athletes were given the NEI Offensive and Defensive Underclassmen Oregon Player of the Year awards last season.
The Central Catholic defense is extremely talented, and this will unquestionably be one of the best games in the NW over the last couple of seasons. Sheldon has a ton of talent on its roster, and they will have to use some of those key guys other then Strahm if they want to get the win. The rematch of last years state semi final will prove to be a classic
#4 Aloha 1-0 @ #6 Tigard 1-0 (Aloha 27 Tigard 23)….. Two huge games this week with this being the second and just as intriguing. The Warriors have a massive line that is able to push people around at will. Tigard is one of the only teams in the NW that can combat this with ridiculous speed. The Tigers don't have the size up front, but they showed last week what they are capable of blasting a good Canby team.
Thurston is not a good barometer for what Aloha can do as they didn't return many athletes, but Tyner was dominant. The Tigers will provide a much stiffer test as they have legit talent all over the field, and they will be prepped to make sure tackles all week and make someone other then Tyner beat them. If the Warriors have a down fall it would be at the skill positions, although junior Maurice McSwain is a baller and needs to have a big night.
Centennial @ #5 Lake Oswego (LO 39 Centennial 13)… Lake O shut out a typically pretty good Olympia team last week in route to amassing 415 yards. Centennial got a big win over Grant dropping 49 points, so something has to give. The defending state champs have one of the top defenses in the entire northwest, and the Eagles will not be able to do what they did last week.
Tualatin 1-0 @ #7 Southridge 0-1 (Southridge 30 Tual 16)…. The Skyhawks are super talented and still young, they have one of the top coaching staffs in the NW and showed how competitive they could be almost beating a top ranzked Sheldon team at home. Tualatin struggled offensively, but will still provide a tough test for the Hawks.
Westview 1-0 @ #8 South Medford 1-0 (S.Medford 27 Westview 15)… The Panthers are a good football team, and will need to find some electricity offensively..Westview has improved and won't be a push over, but South Medford should provide a much stiffer test the Barlow.
#9 Century 1-0 @ #4 5a Mt View 1-0 (Century 41 Mt View 34)…. Nothing will be easy about beating the 5a state champs at home, but the Century offense is lethal and clicking on every front. The Cougars will be tough, but lose a lot of talent from last season and the Jags from Hillsboro have 10 all league kids returning
Roseburg 1-0 @ #10 Sprague 1-0 ( Spargue 35 Roseburg 14)… The Olympians of Sprague have a ton of senior all league talent returning, and are better then most people give them credit for. Roseburg will not be able to hang as they lost a lot of kids to graduation. Devvon Gage went off last week, and him and Austin Wilson provide one of the best 1-2 LB duos in the state.
6A SCORES
Jefferson 16 @ Grant 42
Beaverton 30 @ Reynolds 31
Canby 14 @ Camas, WA 28
Grants Pass 14 @ West Linn 31
Hillsboro 7 @ McNary 35
Hood River 33 @ Forest Grove 19
Lakeridge 27 @ West Albany 26
McMinnville 30 @ Hermiston 17
Newberg 13 @ Clackamas 36
North Medford 31 @ McKay 24
North Salem 10 @ Glencoe 42
Oregon City 20 @ Crater 26
South Salem 20 @ David Douglas 21
West Salem 27 @ Thurston 13
Willamette 21 @ South Eugene 24
Gresham 21 @ Lincoln 42
Sunset 31 @ Barlow 14
5A Top 10
#3 Sherwood 1-0 @ #1 Marist 1-0 (Marist 33 Sherwood 27)… Frank Geske always has his Spartans prepared much like last week when they they dismantled the Bend Running attack. Marist beat a good Lava Bear team on the road, and Sherwood blasted a sub par Milwaukie team at home. The Bowmen graduated most of their starters from a season ago and will always be good, but I think they will come up short against the Passing attack of Kamerun Smith to Austin Baird & Josh Harper.
St Helens 1-0 @ #2 Wilsonville 0-1 (Wilsonville 44 St Helens 7)… Expect the Wildcats to come back in a big way after losing to 6a Sprague a week ago. You can expect Tanner Shipley to have 3-4 Tds with Johnny Ragin most likely getting in the mix as well.
#9 6a Century 1-0 @ #4 5a Mt View 1-0 (Century 41 Mt View 34)…. Nothing will be easy about beating the 5a state champs at home, but the Century offense is lethal and clicking on every front. The Cougars will be tough, but lose a lot of talent from last season and the Jags from Hillsboro have 10 all league kids returning
Putnam 0-1 @ #5 Crescent Valley 0-1 (Crescent Valley 28 Putnam 14)… The Kingsmen of Putnam will play much better then a week ago, but will most likely still be without Oregon's top WR Deshawn Stephens for one more week due to an academic suspension from last season. CV looks to get back on track after losing to a team from Hawaii that was tough. The Raiders have no excuse not to be a very good 5a football team with a host of talented kids on their roster.
Lakeridge 1-0 @ #6 West Albany 1-0 (Lakeridge 27 West Albany 26)… In one of the most exciting games of the night the Pacers will be called upon to stop Oregon's #1 Jr RB who went for 300+ and 7 Tds last week. The Tom Smythe lead team will be ready after a very impressive opening night win against a good Eastlake program from Washington. Lakeridge also has one of the top coaching staffs in the state.
Liberty 0-1 @ #7 Churchill 1-0 (Churchill 55 Liberty 7)… This game will be over by half, as Churchill is very talented but will have played two teams that are struggling big time on a state wide level
#8 Bend 0-1 @ #9 Silverton 1-0 (Bend 31 Silverton 29)…Expect another very tough, hard fought football game down in the valley as two seemingly evenly matched teams meet up. Silverton is younger but talented , and Bend has legit senior leadership lead by one of Oregon's top QB's in Jonah Koski. Expect to see 1st team all league returning RB Duke Degaetano of Bend have a big day, after being bottled up by a well coached Marist squad.
#10 Redmond 1-0 @ Madras 0-1 (Redmond 28 Madras 13)… Madras is a pretty good 4a school that beat up Stayton last week 36-14. Redmond returns 30 seniors and a bunch of all league kids that could do well at the 5a level.
5A SCORES
Benson 20 @ The Dalles 28
Cleveland 23 @ Woodburn 27
Dallas 26 @ Central 28
Gladstone 42 @ Roosevelt 31
Lebanon 31 @ Ashland 25
Madison 13 @ Parkrose 32
Marshfield 14 @ N.Bend 31
North Eugene 20 @ South Albany 31
Pendleton 17 @ WF West 31
Springfield 28 @ Corvallis 22
Summit 7 @ Eagle Point 38
Wilson 13 @ Sandy 42