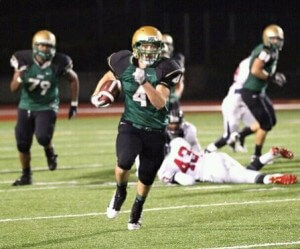 Sam Riddle Sr. QB Century– The 6-2 200 pound Riddle continues to be one of the NW's hottest players throwing for 384 yds and 6 Tds on 26/38 passing. The Jags went to (2-0) beating the defending 5a state champions in Mt View on the road…Riddle has thrown for 11 Tds and 797 yds in the last 2 games.
Thomas Tyner Sr. RB Aloha– One of the Nation's top backs continued his tear with 384 yards and 3 Tds (74, 75, 45) against a stellar Tigard defense..Tyner sits with 8 Tds in the last 2 games as the #4 Warriors beat the #6 Tigers 36-34
Xavier Mitchell/Vance Hamilton Sr's WR Century– These two and Brad Bennett provide one of the most dangerous trio of receivers in the NW for Riddle. Mitchell had 3 Tds and Hamilton 2 against Mt View, giving them both 4 for the season
Cordell Harris Sr ATH Grant– Harris made Jefferson look foolish scoring every which way with 2 Punt returns for Tds, 2 Ints, one of those he took to the house for his 3rd Td of the game..
Willie Pflug So. QB Sunset– The sophomore signal caller came in and helped the Apollos break a 14-14 halftime tie, going 13/25 for 325 yards and 3 Tds and pacing Sunset to a 34-21 win over Barlow
Maurice McSwain Jr. Slot/DB Aloha– McSwain is nasty and just continues to impress; He had an 80 yd Td reception, but more importantly is a very capable #2 resource if the Tyner's magic is at all hampered.
Hayden Coppedge Sr. QB West Linn– In one of the most amazing stories of the night the West Linn QB brought the Lions back from a 34-7 3rd quarter deficit during a 27 point 4th quarter in route to a 41-34 victory.. He finished 24/35 with 4 passing Tds, (2) Jarrod Howard, (2) Joel Larson.
Mitchell Thompson Sr. RB Oregon City– One of the state's most underrated players went off for the 2nd week in a row rushing 34 times for 220 yards and 2 Tds in the Pioneers 30-14 win over Crater
RJ Atteberry Sr. WR Ashland– The senior WR helped the Grizzlies get in the win column catching 3 balls for 102 yds, and a 82 yd Td in Ashland's 23-0 win over Lebanon
Trevor Caldwell Sr. WR Sunset– The 5-7 wide out was clutch all night catching 3 Td passes (27, 86, 13) from Pflug and Clayton Welsh
AJ Glass Sr. RB Jesuit– The senior RB continued his early tear with 32 carries for 237 yards and 5 Tds; In 2 games he has amassed 562 yards on the ground and 11 Tds
Cristian Morris Sr. RB Sherwood– The senior paced the Bowmen to a very impressive victory over a Marist team (38-20), that hadn't lost a regular season game since 2008 with 12 carries for 142 yds and 2 Tds
Micah Tolai Sr. ATH Gresham– Devauntae Hoffman's sidekick is legit, and he came up big helping the Gophers get a 23-15 win against a decent Lincoln team..Tolai had 2 Tds (54, 55) with Hoffman taking a 53 yard punt to the house
Jake LaCoste Jr. RB West Albany– LaCoste is so legit its not even funny..He accounted for 329 yards on 48 carries (not a misprint) and another 3 Tds rushing in West Albany's 48-34 win over 6a Lakeridge, he also threw a 84 Yard Td… LaCoste now has 700 yards rushing and 10 Tds in his first two games
Spencer Payne Sr. RB McMinnville– The Pacific Conference Player of the Year in 2011 had one of the most versatile performances in state history going for 117 yards rushing on 17 carries and 3 Tds/ 82 yd receiving Td/ 34 Td Pass/30 Int return for Td/ 75 kick return yards/ Totaling 6 Tds
Silverton Defense– Both schools shut out opponents and looked very impressive; A young Silverton team blanked #8 Bend at home 27-0 making the Foxes one of the most impressive 5a teams in the last 2 weeks
South Medford Defense– Shutting out any Metro League School is always a tall order but the Panthers did so with a 34-0 win over Westview from Beaverton
Mitch Reese/Tyler Reid/ Andrew Bennion– Churchill is going to be good but there first two opponents are not the appropriate indicators; The Lancers scored 51 points in the first half against Liberty as QB Mitch Reese was 12/15 with 4 passing Tds and 2 rush Touchdowns; Jr. Tyler Reid had another big day gaining 161 yds on 8 carries, and Sr. WR Andrew Bennion hauled in 7 passes for 85 yds and 3 Tds… Most of this in the first half.