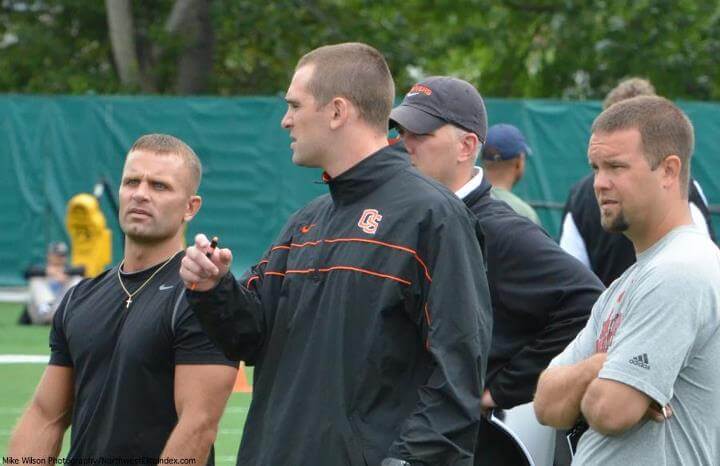 Bringing back our "Top Athletes No Offers" Tab is something that we are very excited about here at NEI… After creating the category last season it became clear that it was a valuable tool for college coaches, athletes, and a host of other individuals using it as a resource.
We feel very fortunate to be able to train with the NW's top athletes from both Oregon and Washington year round. In doing so we are able to make clear evaluations of the top kids who compete against one another all off season. This alone makes our rating system much more accurate then any other publication. We take our rankings very seriously as its important for college football programs to be able to have a consistent and credible outlet. Our relationships with D1 to D3/NAIA programs is unmatched all over the country, as you can see by our "College Campus Tours" Tab on NEI TV.
The Barton Football Academy is going into its 10th season, with countless D1 and NFL guys still venturing back to get workouts in over the off season with Taylor.
Here are the top athletes as of right now who do not hold scholarship offers. There are hundreds of kids that we have ranked by position, and we will be adding to this list on a weekly basis so please keep us informed of other individuals that you feel are deserving. There are people that " Copy and Paste" and claim to send out lists to ALL colleges. The difference with us is that we are football guys that do this year round, and are not persuaded on a subscription basis. As you can see NEI is free and we wouldn't have it any other way.
We look forward to helping as many athletes as we can in this process, and are extremely proud of our NW kids and all of the talent that we have within the region.
---
Washington LB's
---
*Michael Cummings: 6-1 235 LB Meadowdale http://www.hudl.com/athlete/479474/highlights/8500382
Highlights: Just a very physical kid that can run and hit. 1st team all league as a junior, team leader in tackles. Definitely looks the part, and coaches rave about him. Did very well at our regional camp/combine.
Knocks: not much, could be a pretty sick college backer..Needs to get himself out there, maybe an inch to short for some people.
---
Washington DB's
---
*Jimbo Davis: 5-11 165 DB/Slot Mount Si http://www.hudl.com/athlete/667733/highlights/7685384
Highlights: All league DB, that has had as good an off season as any athlete in the NW; Went on lock down mode as part of NEI-North in Vegas where he proved his legitimacy. Has multiple D1 preferred walk on invites, very good speed. D1 genes, Father played at Wash St.
Knocks: Just not your prototypical DB, but the kid is nasty and very talented.
---
Washington OL's
---
*Chris Miedema: 6-6 305 OL Everett http://www.hudl.com/athlete/774695/highlights/8518382
Highlights: One of the fastest rising lineman in the entire NW. Last years film does not do him justice. Started at center the first game of the season showing off outstanding athleticism for a big man; can play C/G/T, MVP'd relevant camp in the off season
Knocks: Injured previously, but 100% healthy now. Has really improved his quickness.
*Chase Madsen: 6-4 285 C/G Bothel l http://www.hudl.com/athlete/543287/highlights/8623386
Highlights: 1st team all league lineman from 2011 that has received significant interest from most Big Sky's, can play C/Guard..The leader of one of the best lines in the state.
Knocks: Academics
*Chris Coffin: 6-4 275 OL Curtis http://www.youtube.com/watch?v=pQ0kIQ1-lW8
Highlights: All league kid that had a very good off season getting to multiple events; has worked extensively with OL Coach Matt Roth and is one of the most technically sound lineman anywhere in the region.
Knocks: Just needs to add some additional upper body strength, work on quickness.
*Macartney McQuery 6-2 305 OL Bellarmine Prep http://www.hudl.com/athlete/697807/highlights/8613381
Highlights: 2nd Team all league kid that has the heart of a lion. Just a phenomenal kid that everyone roots for. The leader of the Bellarmine line that plays like a tank..Easily one of the best guards in the NW
Knocks: Height and speed has been a question mark, but you can't teach the passion he plays with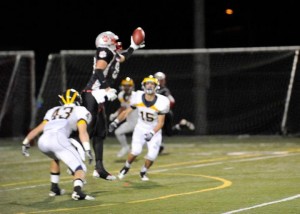 *Griffin Mclain 6-5 245 TE Mount S i http://www.hudl.com/athlete/911587/highlights/7548418
Highlights: 1st team all league kid from last season that was part of our NEI-South Team.. 3 sport athlete with a 90 MPH fastball that is much more athletic then people give him credit for. Has size and can block.
Knocks: Speed, Its not bad but the only question mark.
*Kyle Self 6-4 225 TE Peninsula http://www.youtube.com/watch?v=xwVVIvO5U_U
Highlights: Second Team all league kid from a year ago; was part of NEI North that traveled to Vegas…Tall, athletic kid with good hands that could do some things with a good season.
Knocks: Many teams are looking for a TE can block as well as catch; Self could still add some size.
*Jake Hoffman 6-0 170 SB North Central (Spokane) http://www.hudl.com/athlete/228457/highlights/8953372
Highlights: GSL All Purpose Player of the Year in 2011, one of the fastest kids in the region..Beat Wash RB Bishop Sankey in the 100 & 200 Meters to win a district title as a sophomore; 6th all time total yards, 4th all time receptions (Per Conference).
Knocks: Has had to play QB instead of his natural slot/receiver position which has left questions for colleges; good problem to have.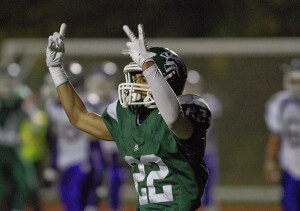 *Desmond Young 5-11 170 RB/Slot Edmonds-Woodway http://www.hudl.com/athlete/480897/highlights/16309384
Highlights: Racked up over 1400 yards and 19 Tds after a monster 2011 campaign, one of the top overall athletes in the state…Moves very well after the catch, had an outstanding UW Showcase event. Broke people off Week 1.
Knocks: Schedule could be much tougher so he will really need to go off in 12′.
*Forrest Russell 5-7 155 WR/Slot Skyview http://www.hudl.com/athlete/839759/highlights/2393403
Highlights: Football junkie and one of the top small athletes in the country; 800+ yds and 9 Tds in 2011 run to the state championship game. Extremely tough to guard. Has legit D1 skills, but lacks D1 size. Camp guru.
Knocks: Fair or not fair Russell will get the downgrade because of his size until the end of time, he will just have to ball and earn everything.
*Risley Lesko 5-11 175 Slot Mercer Island http://www.hudl.com/athlete/90193/highlights/16330377
Highlights: Outstanding track kid that can play 4-5 different positions, will be one of the top players in the conference .. Runs a 4.4 hand time 40 yard dash.. You could see him at RB/Slot/CB/S/PR/KR..Whatever you need him to do.
Knocks: Didn't get a ton of reps as a junior with UW QB Jeff Lindquist running the show.
*Drew Thompson 6-2 185 WR/S Kennedy http://www.youtube.com/watch?v=ZXEptcyBcwM
Highlights: Incredible off season with us on the camp circuit; Outstanding looking athlete that can play on either side of the ball..Has garnered interest from a host of different schools.
Knocks: Didn't get a ton of balls thrown his way last season, because it wasn't part of last years Kennedy system.
---
Washington RB's
---
*Kai Van Sickle 6-0 195 RB/S Capital http://www.youtube.com/watch?v=OTr9S_6Dx2A
Highlights: Nearly 2000 yards and 21 Tds as the kid is one of the top two way threats in Washington; Doesn't usually go down at first contact and is just a very tough kid; Team is ranked #1 at the 2a level.
Knocks: The team has moved down to the 2a level where he probably will run circles around everybody, so lack of competition is a factor; not your prototypical back.
*Davian Barlow 6-0 190 RB/DB Mead http://www.hudl.com/athlete/687390/highlights/7807376
Highlights: Broke off a lot of people last season, and will surely do much of the same this year running behind a line that is one of the best in the state; Outstanding speed
Knocks: Mead will crush people in the GSL so he will need to show what he can do in the playoffs against some the state's best.
*Ralph Kinne 5-10 210 RB Shelton http://www.ncsasports.org/college-recruiting-videos-highlights/ralph-kinne
Highlights: Kids just a beast and he can run. Has gone off early in the season 500+ yards, 2 games… Viable candidate for conference player of the year; As a junior had over 1400+ yards and 18 Tds, plus 50 tackles from his safety position..3.65 GPA.
Knocks: Not the tallest kid in the world, but so far that hasn't made a difference.
---
Washington DL's
---
Highlights: Absolutely went off last year with 13 sacks, 81 total tackles, and 18 tackles for loss…. Extremely quick off the edge, talented overall athlete (basketball).. Very good year on the camp circuit with us, great kid!
Knocks: O'Dea plays in a weak conference so it will be important that he ball out against top competition because he's obviously dominant against the others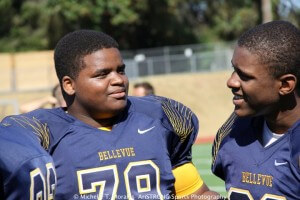 *Darien Freeman 5-11 295 DL Bellevue http://www.hudl.com/athlete/1297746/highlights/9787379
Highlights: This kid is so good, but just overlooked due to height. He is Washington's Mike Kluge, first team all league as a junior and requires a double team on almost every play. Extremely disruptive in the middle.
Knocks: Height; Has unquestioned D1 skills but scouts are worried about his length.
*Titus Makasini 6-3 275 DL Inglemoor http://www.hudl.com/athlete/572021/highlights/10542383
Highlights: There is no denying this kid is a D1 caliber athlete; Just a big, athletic individual that earned lineman of the year honors in the 4a Kingco Conference. Showed up at our elite event in the winter and dominated almost everyone
Knocks: Academic issues are preventing a lot of people from moving forward.
*Nick Santa 6-3 250 DL Bellevue http://www.hudl.com/athlete/82378/highlights/8553527
Highlights: Plays and makes the Wolverines one one of the top teams in the country. Super quick and talented, Army All American Nominee that should eventually break through and get his.
Knocks: Depending on the position he plays, may need to add size.