Bringing back our "Top Athletes No Offers" Tab is something that we are very excited about here at NEI…After creating the category last season it became clear that it was a valuable tool for college coaches, athletes, and a host of other individuals using it as a resource.

We feel very fortunate to be able to train with the NW's top athletes from both Oregon and Washington year round. In doing so we are able to make clear evaluations of the top kids who compete against one another all off season. This alone makes are rating system much more accurate then any other publication. We take our rankings very seriously as its important for college football programs to be able to have a consistent and credible outlet. Our relationships with D1 to D3/NAIA programs is unmatched all over the country, as you can see by our "College Campus Tours" Tab on NEI TV.

The Barton Football Academy is going into its 10th season, with countless D1 and NFL guys still venturing back to get workouts in over the off season with Taylor.

Here are the top athletes as of right now who do not hold scholarship offers. There are hundreds of kids that we have ranked by position, and we will be adding to this list on a weekly basis so please keep us informed of other individuals that you feel are deserving. There are people that " Copy and Paste" and claim to send out lists to ALL colleges. The difference with us is that we are football guys that do this year round, and are not persuaded on a subscription basis. As you can see NEI is free and we wouldn't have it any other way.

We look forward to helping as many athletes as we can in this process, and are extremely proud of our NW kids and all of the talent that we have within the region.
---
Oregon WR's
---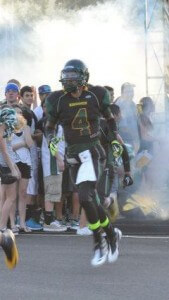 *Deshawn Stephens 6-4 190 Sr. Putnam http://www.hudl.com/athlete/535028/highlights/10176373
Highlights: The best WR hands down in either OR or WA..The kids flat out nasty and killed it at the 7 on 7 national tournament as part of NEI South in Vegas..40 + Tds as a junior, just an incredible overall athlete that is an unquestioned D1 athlete..
Knocks: Academics have been a serious issue, but he has made significant strides coming into this season.
*Lawrence Wilson 6-3 205 Sr. WR Central Catholic http://www.hudl.com/athlete/696458/highlights/8814380
Highlights: 4.1 student with a host of IVY league opportunities, over 20 yards a catch and 6 Td's as a junior, great kid
Knocks: Straight away speed
*Kevin McClean 6-4 195 Sr. WR Southridge http://www.hudl.com/athlete/81222/highlights/8339398
Highlights: 37 rec, 500+ Yards, 5 Tds in 2011… 2nd team all league S/WR , just looks the part with an outstanding frame..Conference leader in reception in 2011, 3.7 student.
Knocks: Speed, extremely athletic but more of a possession receiver
*Josh Harper 6-5 190 WR Marist http://www.hudl.com/athlete/487224/highlights/9259387

Highlights: Lead class 5a Oregon in sacks last season (10), and had an outstanding spring/summer on the camp circuit..Started the season off with 3 Tds against Bend in Week 1..Look for him to have a monster year; 4.15 student with all AP classes.
Knocks: Just naturally a slender kid so size will need to be added
---
Oregon LB's
---
*Mitch Lomax 6-4 240 LB Lake Oswego http://www.hudl.com/athlete/470218/highlights/8812386
Highlights: 1st team all league kid from a year ago with NFL genes (Neil Lomax), super fast kid for his size, 3 sport athlete, Favorite for Defensive Player of the Year in the Conference.. Coach Coury says he is the real deal
Knocks: Didn't get to compete with some of the other top backers as he was playing other sports this off season.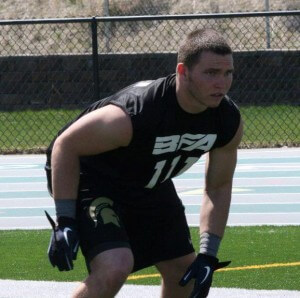 *James Banks: 6-1 225 LB Sheldon http://www.hudl.com/athlete/487229/highlights/8356393
Highlights: 1st team all league kid at Marist as a junior, 4 year varsity football player, kid anticipates extremely well and is abnormally smart 4.0+ taking Calculus at Oregon,
Knocks: People question his size and speed, but when you put the pads on him its a different story..Banks will be a steal.
*Jack Ezell: 6-4 215 LB Pendleton http://www.hudl.com/athlete/225152/highlights/7646458
Highlights: Conference Defensive Player of the Year in 11′, very comfortable on the football field and happy to throw his body around
Knocks: Doesn't really get to play anybody in the Eastern part of the state, so competition is a factor
*John Carroll: 6-4 200 LB/SS Mt View http://www.hudl.com/athlete/667556/highlights/2223388
Highlights: One of the state's top 3 sport athletes, 2011 5a State football title, 28 rec's 500 + Yds, 14 total Tds… Two time all league athlete that can play 4-5 different positions; 1st team all league D, 2nd Team O… Outstanding kid, that could add significant size
Knocks: Offensively would probably be straight ahead speed if we are talking D1, projection comes as a defensive player..Plays in rural Central OR.
* David Henry 6-0 230 LB Oakland http://www.youtube.com/watch?v=z_tPlMFPfrU
Highlights: Second in the nation in total tackles last season (243) and 3rd in tackles per game (20.5) after being named conference POY at the small 2a Oregon School.. Favorite for State 2a player of the Year; offered by D2 SD School of Mines and Tech earlier in 2012
Knocks: Side to side agilty/overall speed..Did very well on the camp circuit, but playing 2a ball in Oregon doesn't help.
*Tanner Fiez 6-2 215 LB Crescent Valley http://www.youtube.com/watch?v=yrxF0YxMRKk
Highlights: 5a state leader in tackles (11.9) with a non stop motor.. Kids a ball hawk and just has better anticipation then most. Look for him to be one of the leading candidates for Conference Defensive POY.
Knocks: Doesn't get a ton of pub out in the Valley, but hopefully we can help change that.
*Dominic Johnson 6-2 245 LB Aloha http://www.youtube.com/watch?v=1KJQ42wF7XU
Highlights: All league PIL kid, before transfer.. Outstanding job at our elite events and on the camp circuit; Two way starter for one of the state's best in Aloha..Super quick off the ball for a kid his size
Knocks: Is he a DL or LB? Injuries have plagued him but healthy now
---
Oregon DB's
---
*Jack Anderson 6-3 195 S Lake Oswego http://www.hudl.com/athlete/802613/highlights/1706381
Highlights: Lead the State of Oregon in INT's as a junior (9), 1st team all league kid, 3 sport athlete…Just a ball hawk that everyone on the team benefits from having around
Knocks: Time playing three sports has limited his time for football
*Beau Duronslet 6-1 200 DB/ATH Central Catholic http://www.hudl.com/athlete/861387/highlights/8243401
Highlights: Two way threat, strong athletic kid.. 4 Ints, 9 pass deflections, 68 tackles as a soph; All league both ways- 882 All purpose yards, 7 Tds, 22.3 yards per catch as a junior
Knocks: very good overall athlete, the question is can he be great.
---
Oregon TE's
---
*Bryson Sullivan 6-4 245 TE/DE Aloha http://www.hudl.com/athlete/569321/highlights/9832380
Highlights: One of OR's top two way threats and TE's; Has phenomenal hands for a big man and is extremely athletic. All league as a sophomore during state title run, can play 4-5 different positions…Extremely athletic
Knocks: Injuries- They continue to plague him as his senior year is in question..We wish him the best, awesome kid.
---
Oregon RB's
---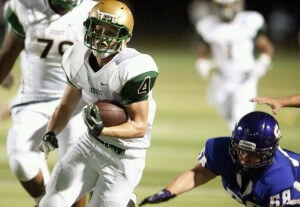 *AJ Glass: 6-1 200 RB/S Jesuit http://www.hudl.com/athlete/762037/highlights/7309432
Highlights: One of the top two way threats in the state.. Was part of NEI-South that went with us to Vegas; Conference and State Player of the year candidate in 2012; Could break multiple records behind line…2006 Yds and 25 Tds as a junior, 1st team all league RB, 2nd team DB as a soph
Knocks: As good as everything is some D1's just want that top end speed (4.3/4.4)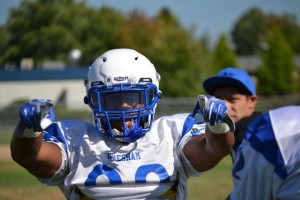 *Devauntae Hoffman 5-8 190 RB/CB Gresham http://www.hudl.com/athlete/602610/highlights/9300387
Highlights: Returning Mt Hood Conference POY, 1324 Yds rushing, 20+ Tds, 4.4 hand time 40, 535 squat, 335 bench, 295 hang clean..Phenomenal 3 sport athlete…Beat out a lot of good athletes for conference player of the year as a junior, 3 kick and 2 punt returns for Tds, 1st team all league as a sophomore.
Knocks: Gresham plays an extremely week schedule other then Central Catholic, nothing he can do about that
*Zach Floyd 5-10 175 RB/CB Tigard http://www.hudl.com/athlete/404374/highlights/7863410
Highlights: Maybe the most exciting back in Oregon with his side to side agility and unique body control..23 Tds as a junior splitting time with two other backs is impressive; 1st team all league, runner up Conference POY, outstanding showcase event at UW
Knocks: Size; super tough kid but can he sustain the beating of running between the tackles at a high D1; could be a slot in college.
*Spencer Payne 5-9 185 RB McMinnville http://www.youtube.com/watch?v=C8xHechOyEU
Highlights: Pacific Conference POY, rushing for 1635 yds and 27 Tds….Video is quality, saw him at our camps earlier in the year and broke the story about his successes last season.
Knocks: Shut down by teams like Tigard, but that was do to a significant difference on the line. How would he do with legit blocking?
---
Oregon QB's
---
*Kamerun Smith 6-6 190 QB Maris t http://www.hudl.com/athlete/487226/highlights/9059374
Highlights: Kids a winner that threw for 46 Td's/8 Ints, 2699 pass yds, 60% com pct… He is very athletic and mobile and seems to be just getting better..Outstanding coaching with Frank Geske
Knocks: Plays in a conference where most games are over by half; When a tough Mt View team showed up last season it was a different story.
*Justin Adams 6-7 210 QB Sandy http://www.hudl.com/athlete/789320/highlights/8192369
Highlights: Student of the game..First team all league QB coached by the legendary Greg Barton; 28 Tds/12 Ints , 2600 yds, 58% com pct; Super smart (3.7 GPA, 5 AP Courses) kid that was our QB in Vegas as part of NEI-South where he did very well.
Knocks: Has thrown to many picks, but look for him to cut down on that this season with more of Barton's mentoring.
*Jonah Koski 6-3 190 QB Bend http://www.hudl.com/athlete/819253/highlights/12132379
Highlights: 2nd team all league kid from 2011 that is just getting better; Kid has a huge upside and a passion for the game that most don't..2178 Pass yds , 25 Tds/10 Ints 2011.. Outstanding job on the camp circuit with us where he shined.. 3 sport athlete, 4.0 student, very good start to the season
Knocks: Lack of competition in rural Central Oregon doesn't help, but he proved what he can do over the off season training with Taylor Barton.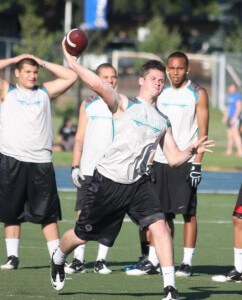 *Sam Riddle 6-2 200 QB Century http://www.hudl.com/athlete/379520/highlights/9155383
Highlights: Was injured part of his junior season, but look for him to continue his breakout year after they moved 1st team all league QB Brad Bennett to WR this year; outstanding multi sport athlete..Broke multiple school records in week 1 throwing for 413 yards and 5 Tds, while rushing for 120 yds and a 61 yd score against a decent Lincoln team
Knocks: First year as the main starter so just lack of reps..Kids a gamer.
---
Oregon DL's
---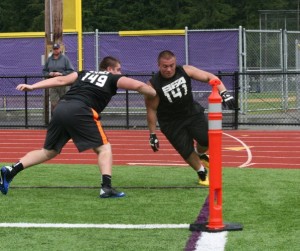 *Mike Kluge 5-10 285 DL Aloha http://www.hudl.com/athlete/569129/highlights/9832375
http://www.youtube.com/watch?v=O2HGibvkH0c
Highlights:Pound for pound one of the strongest players in the country; dominated on the camp circuit beating every offensive lineman in Oregon and Washington..Probably the MVP for all defensive players in the NW on the line..500+ Bench, and an absolute baller…UW Showcase event was incredible in front of all the D1's..3 year starter, 2 time all league kid
Knocks: Height; That said I have not seen a more dominant kid on the line in the last half decade..He is the very rare exception that can play D1 ball at 5-10.
*Fergus Frederickson 6-3 255 DE Central Catholic http://www.hudl.com/athlete/738005/highlights/10786377
Highlights: Outstanding playoff run last season; 3.6 tackles per game, all league kid that has started for the last 2 seasons
Knocks: Injuries have plagues him, but he is ready to go now.