*This list is a way to showcase this weeks top performances. I am sure I missed a few and would like to know the ones I did. You can either comment on here or send me an email at Ringerland@gmail.com.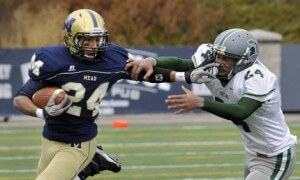 Davian Barlow – (6-0 190, Sr. RB Mead)
Going 67 yards for a TD on his first carry was only a sign of the things to come from Barlow who finished with 248 yards on 11 carries and 3 TDs in Meads 47-6 win over North Central.
Mac Shaw – (6-1 205, Sr. QB Tenino)
Shaw finished with 5 passing TDs and 3 rushing TDs in a 55-28 win over Washougal. He went 31-43 passing for 460 yards and also had 71 yards on the ground. Big day from a big time player.
Devante Harris (5-9 170, Sr. WR Tenino)
With every QB that passes for 400+ yards there is a WR that has a big day as well. For Tenino it was Harris who finished with 234 yards on 12 catches and 3 TDs. Harris is a returning 1A All-State player.
Samuel Mintah – (5-8 175, Sr. RB Franklin Pierce)
Mintah rushed for 280 yards on only 16 carries and finished with 4 TDs in the Cardinals 55-0 win over the Sammamish Totems.
Mario Gobbato – (5-9 160, Sr. RB Blaine)
Gobbato went wild for the second week in a row as he racked up 284 yards on 22 carries and 4 TDs. For the season he is now over 500 yards on only 37 carries. He finished last season with 2,669 yards and should approach that mark again in 2012.
Eli Whitmire (5-7 155 So. RB)/ Cy Whitmire (5-10 170 Sr. RB) – Woodland High School
The two brothers combined for 39 carries for 275 yards and 3 TDs in a 28-21 win over Castle Rock.
Brett Rypien – ( 6-2 175, Soph. QB Shadle Park)
Last name sound familiar? Brett is the nephew of for NFL QB Mark Rypien and he can absolutely throw the ball. Rypien threw for 454 yards and broke the GSL record for passing yards in a game, previously held by former Ferris QB Connor Halliday. Shadle Park would lose, but congrats to Brett Rypien on a HUGE day.
Austin Hall – ( 6-0 190, Jr. RB Kamiak)
Hall did a little bit of everything in helping the Knights beat Marysville Getchel 44-6 on Friday night. He finished the evening with 202 yards rushing, 66 yards receiving and 4 TDs.
Hans VanderWel – (6-0 200, Sr. RB Archbishop Murphy)
The Wildcats traveled to San Diego and came away with a 40-26 win over University City. VanderWel went for over 200 yards and a TD while also returning a kickoff 98 yards for a score.
E'Lon Mack – (6-1 185, Jr. WR Heritage)
Mack is a dynamic playmaker that can burn you in so many ways. He only had 3 catches but finished with 172 yards and a TD of 92 yards. He also returned a kickoff 89 yards, but it wasn't enough to get Heritage past Kelso.
Max Browne – (6-5 210, Sr. QB Skyline)
The Spartans went to Utah for a nationally televised game and came away with a 57-25 win over Cottonwood High School. Browne finished the night 18-29 for 387 yards and 3 TDs.
Luke Rogers – (5-9 195, Sr. RB Rogers-Spokane)
Rogers had 33 carries for 246 yards in the Pirates 41-14 loss to Central Valley. During the game Rogers would become the schools all-time rushing leader passing the previous record of 2,567 yards.
Brandon Atkins – (5-8 200, Sr. RB Eatonville)
Atkins rushed 11 times for 239 yards and 2 TDs as the Cruisers defeated the Elma Eagles 28-14.
Garrett McKay – (5-9 165, Jr. WR Bellarmine Prep)
In a losing effort, McKay managed 17 catches for 227 yards and 2 TDs. For the season he is now at 26 catches and 302 yards.
Sefo Liufau – (6-4 230, Sr. QB Bellarmine Prep)
Completing 27 of 38 passes for 327 yards and 3 TDs, the Colorado commit did everything he could to get his Lions the W, but it was enough as they lost 42-38 to Lakes.
Ralph Kinne – (5-10 219, Sr. RB Shelton)
On what could be considered a bit of a "down week" for Kinne, he finished with 213 yards on 18 carries and 2 TDs. He now has 540 yards and 5 TDs through two games.
Kolney Cassel – (6-3 205, Sr. QB Eisenhower)
In what was probably the wildest game of the weekend, Moses Lake came from behind to win 50-49 over Eisenhower. Cassel completed 22 of 50 passes for 414 yards and 7 TDs.
Jabari Marshall – (6-2 205, Sr. RB Skyview)
While he only rushed for 101 yards, it is the 6 TDs that he scored that puts him on this list. Skyview won 42-0 and my math tells me that he scored every TD for the Storm.