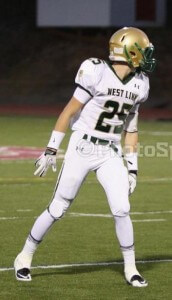 WEST LINN (1-1)
QB
Hayden Coppedge 6-3 175 Jr.
Andy Kalien 6-5 220 Sr.
Matt Fletcher 6-4 220 Sr.
You really can't say enough about Coppedge. He came in last week down big and brought his team all the way back throwing 4 Tds in the second half, during a 27 point 4th quarter in WL's 41-34 victory. The junior QB is the future and Kallien and Matt Fletcher can also play.
RB
Louis Germain 5-7 150 Jr.
The Lions are going to air it out but the junior back can make it tough on defenses being small and elusive
WR
Jarrod Howard 6-1 180 Sr.
Mario Mastrandrea 5-9 160 Sr.
Joel Larson 6-6 200 Sr.
Howard is one of the fastest rising prospects in the NW after earning 2nd team all league honors a year ago; He is the teams top overall athlete and someone that can lead and be a difference maker.. Larson moved here from Idaho over the off season and has become a go to guy opposite Howard.. Both Howard and Larson caught 2 Tds against GP in last weeks incredible come from behind win. Mastrandrea is a quality target as well, getting plenty of PT as a junior. Overall the receiving core is strong
TE
Colin Davis 6-3 220 Sr.
Outstanding two way athlete, that looked good during the off season when we had a chance to see him. Returning starter and someone they will need to rely on both offensively and defensively
OL
Noah Bagley 6-2 320 Jr.
Isaiah Molden 6-0 285 Jr.
Evan Voeller 6-5 280 Sr.
Ben Herrod 6-3 220 Jr.
Ellis Eaton (C) 6-2 240 Jr.
Coach Fanger has a lot to be excited about with four of these kids returning next season, and All American candidate Evan Voeller headed to Oregon and leading the line. The younger guys are still getting game experience, but Eaton and Bagley are both ranked among the state's top junior lineman.. Molden has been under the radar and is athletic enough to play both ways, and Herrod has a legit frame and could add size.
DL
Ellis Eaton 6-2 240 Jr.
Isaiah Molden 6-0 285 Jr.
Noah Bagley 6-2 320 Jr.
Kyle Alarcon 6-0 180 So.
Eaton is a beast and should be considered one of the top two way junior threats in the state, with Bagley being extremely mobile for a big man. Alarcon is only a sophomore and another bright spot.
LB
Colin Davis 6-3 220 Sr.
Kevin Edwards 6-2 205 Jr.
Conner Newrones 5-9 170 Sr.
Gavin Anderson 5-11 185 Jr.
Not the most experienced group, but Davis is a baller and will have to have an incredible season to sure up the middle. This may be the Lions most vulnerable area, but give them credit for going on lock down mode against GP last week after they got up early.
DB
Mario Mastrandrea 5-9 160 Sr.
Jarrod Howard (FS) 6-1 180 Sr.
Cam Schmitz 6-1 175 Jr.
Nic Sullwold 5-8 150 Sr.
Howard patrols the middle and has an understanding for the game better then most. Look for him to be one of the best DB's in the Three Rivers conference.Mastrandrea is solid, and Schmitz is a junior to keep an eye on. He looked very good attending our camps in the summer.
BARLOW (0-2)
QB
Alex Plusquellec 5-11 200 Jr. 16/31/188
Kody Kennedy 6-3 190 Sr. 5-11 14/26 131
Salvador Orozco 6-4 200 Jr.
The Bruins have rotated QB's trying to find a good fit; Kennedy brings back the most experience going 14/26 for 131 yards and a Td while Plusquellec was 16/31 for 188 yards and a touchdown over the first 2 games.. The departure of Campbell Summerfield is big.
RB
Aaron Nelson 5-11 170 Sr. 17-40
Colby Winnett 5-10 150 So. 12-68-1
Dillon Payne 5-8 160 So.
Nelson is a team leader, but two young sophomores have done a good job when in so look for them to continue to get time
WR
Kody Kennedy 6-3 190 Sr.
Tyler Cornelison 5-10 170 Sr.
Kennedy Johnson 5-9 170 Sr.
Jake Ellis 6-3 185 Sr.
Cornelison is an outstanding athlete and has caught 8 balls for 95 yards and a Td, and Kody Kennedy is a kid with size that can play multiple positions. Johnson has 8 receptions for 56 yards.
TE
Will Allen 6-3 250 So.
Another talented soph with legit size; The Bruins should be happy with some of the young kids
OL
Tyler Pemberton 6-1 230 Sr.
Colin Thran 5-10 215 Sr.
Luke May 6-2 205 Sr.
The Bruins line has done OK; The backs haven't really been able to get going against Sunset or Westview so it will be very interesting to see what they do.
DL
Tyler Pemberton 6-1 230 Sr.
Will Allen 6-3 250 So.

Pemberton leads the team with 2 sacks thus far and is the overall leader up front.
LB
Luke May 6-2 205 Sr. LB
Nathan Smith 6-1 175 Sr. LB
May is a good sized backer and will be called upon to lead moving forward; He has accounted for one sack
DB
Tyler Cornelison 5-10 170 Sr.
Kennedy Johnson 5-9 170 Sr.
Salvador Orozco 6-4 200 Jr.
Dillon Payne 5-8 160 So.
Johnson has the only Int on the season, the DB's should have a good opportunity on Friday as the Lions will air it out.
ADVANTAGE:
QB West Linn
RB Even
WR West Linn
TE West Linn
OL West Linn
DL West Linn
LB Even
DB West Linn
Outlook:
I really like this West Linn group. Head Coach Mike Fanger is one of the top coaches in the state of Oregon, and he has inherited a program that traditionally has one of the best youth systems in the region. The team is young with a few very talented senior leaders, that have an opportunity to do some big things moving forward. I really think Jarrod Howard is the X factor and will need to play huge all year if the Lions want to win some tough ball games.
It has to be very exciting for an X's and O's guy like Fanger, to have a talented junior quarterback like Coppedge step up being that the team is still so young. The group showed a lot of character last week coming back from such a large deficit to get the win, so look for West Linn to build off that against Barlow. You can expect the Lions to air it out, and continue on with the last weeks second half game plan.
Barlow has been one of the better Mt Hood conference teams over the years, but has struggled with competition outside of its league. Head Coach Terry Summerfield does a very good job with his athletes, but as many know the Conference has never really been able to gain traction on a state wide level, not counting Central Catholic.
The Bruins hung with Sunset and Westview but really can't compete with Metro teams.The Three Rivers is the other top conference within the state and West Linn could pose problems. I don't for see a blowout, but I think the Lions will catch fire lead by new junior QB Hayden Coppedge.
Prediction: West Linn 34 Barlow 20