Bellarmine Prep just lost what some are calling one of the best regular season football games in state history. Lakes beat Prep 42-38 in a showdown of some of the best teams in the region.
The Lions have some extremely talented seniors including Colorado bound QB Sefo Liufau, D1 athlete Calvin Chandler, and talented linemen up and down the board. Coach Tom Larsen is one of the nicest and most influential coaches you will ever get to meet, and it resonates with his players. In my opinion the 2014 group looks as nasty as they come. The transfer of Gig Harbor WR Garrett McKay (5-9 165 Jr. WR/CB) has only made them that much better, as he went for 227 yards on 17 receptions (not a misprint) and 2 Tds last week. He now has 25 catches in 2 games for 302 yards. This doesn't even take into account the 9 tackles he made in week 2, accounting for one of the most spectacular performances in school history.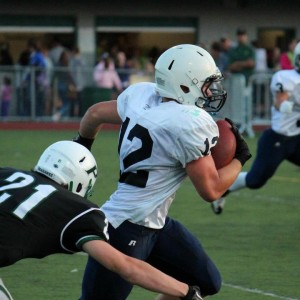 Add in three two way threats and you have a foundation that Bellarmine can be proud of moving forward. Brandon Thompson (5-10 185 Sr. ATH/S/LB) had one of the more impressive nights I have ever seen last year, as Bellarmine lost to Skyview in the state quarterfinals. He plays a backer position, but projects as a safety and is a fearless defender. He has racked up 10 tackles and carried the ball 5 times for 55 yards on the season, averaging 11 yards per carry. His overall athleticism is outstanding, and he is considered one of the top two way threats in Washington for the 2014 class.
Thompson says, " I just want to do everything in my power to help my team win, and of course our goals includes winning a state championship.. Another goal would be to make our god and each other proud, while doing our assignments and trusting in one another". He continued, "If we do all of this I truly believe we can achieve great things".
Many of you have already heard of Lou Millie (5-10 190 Sr. RB/SS) as he now is "the dude" that will get the bulk of the carries out of the backfield replacing Isaiah Flynn. The last two games he has carried the ball 39 times for 170 yards and 6 total Tds. He has been one of the most impressive backs in the state, and is an equally tough safety. Millie leads the team in tackles with 17 after two weeks, and has put himself in the conversation early as another top two way threat much like Thompson.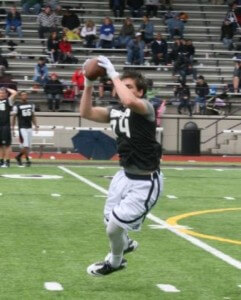 Millie says, " As a team we want to make it back to the Tacoma dome like the team did in 2010, while demonstrating Lion pride wherever we go". Lou added," I don't really have any personal goals except to achieve my dream of playing college football, it doesn't really matter where as long as Im playing". Thompson reiterated the same feeling, " I just want to play college football, it doesn't matter where".
McKay's numbers speak to how talented of a receiver that he is, but he to can D it up accounting for 13 total tackles. Just when you thought you couldn't have another sick athlete Drew Griffin (6-0 200 Jr. WR) shows up. Drew says, "Our goals this year are obviously to make it back to the Dome, and personally I would like to continue playing football after high school. Playing ball at the next level has always been a goal for me". He's the biggest of the group and provides Bellarmine someone that can body people with his size. Griffin will be extremely valuable moving forward as he came up huge against Lakes defensively, while catching 5 balls for 38 yards on the season.
We at NEI have the Lions ranked #5 in the State of Washington at the 4A level, and think they have a legit shot to make a run as the season progresses. The thing that makes these four so special is the fact that they are average size athletes, that are just flat out better then most within the northwest. Its a group that puts their faith above all else, which is something very refreshing. We look forward to following these athletes closely over the next two years, as they legitimately have a shot at a 2012 state title.